Charles Shackleton: Writing messages in objects
By Steve Noble
Charles Shackleton does not fit the image of the lonely craftsman toiling away in the solitude of a studio
"I'm a people person. I really enjoy people. These things that we make are really our way of connecting with people," said Shackleton, a fine furniture-maker whose studio and gallery are located in an old mill in Bridgewater. "They're like messages written in objects."
A native of Dublin, Ireland, who followed his friend, legendary glass artist Simon Pearce, to Vermont in 1981, Shackleton has lately hit on an innovative new way to deliver his messages through the Naked Table Project, which melds art, environment, education, experience, community and charity.
Conceived in 2008, the Naked Table Project invites people to a two-day workshop where they make a table using sustainably harvested local maple and finished with Vermont Natural Coatings' non-toxic, whey-based finish. Participants are taught by master furniture makers, and along the way, they receive instruction in the source and sustainability of the materials, guided on a walk in woodlots by forestry experts and sawyers. When the tables are done, they put them together – often all in a row inside a covered bridge in Woodstock – and all the participants sit down to a meal together. Proceeds benefit local organizations working toward sustainability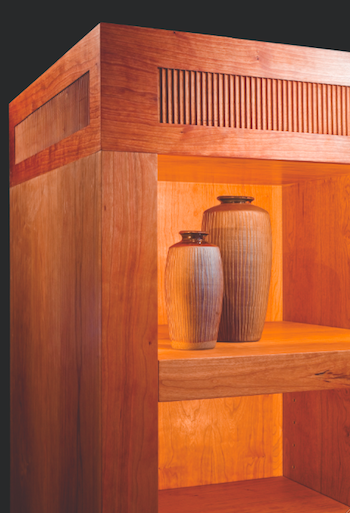 The idea came to Shackleton in an existential moment he had around the time he turned 50.
"I started thinking about 'Why did I get into this?' One of the reasons I got into furniture-making was my love for the environment," he said. "What was mind-blowing for me is that people don't connect furniture with the environment. Wood is the most sustainable, re-usable, re-growable builing material."
To date, Shackleton has done roughly 20 Naked Table Projects, including one in his native Ireland, and has helped open people's eyes to seeing wood and furniture in a new, sustainable light. But something else happens in the Naked Table Project.
"It is so powerful. It is almost a spiritual experience," he said. "People come back (from the forest), and they are just more madly in love with their tables."
Beyond that, they bond with each other. Sometimes two or three people get together to make a table for their family. Even if they come alone, people leave feeling closely connected to their fellow Naked Table Project participants.
"Everyone bonds. It's just the most incredible community of people," said Shackleton. "It sort of captured the essence of why I love making things."
Community is intrinsic to the furniture made at ShackletonThomas, the studio and business he shares with his wife, acclaimed potter Miranda Thomas. In their 180-year-old mill, Shackleton and a crew of 18, produce tables, chairs, beds, bookcases, rocking chairs, outdoor furniture and more in designs that are breathtaking in their simplicity and grace.
In an age of speed, automation and the relentless sameness of production-line goods, ShackletonThomas pushes back, with an emphasis on work being done by hand, by individuals. It's a principle that Shackleton has been committed to since starting out as a craftsman more than 30 years ago.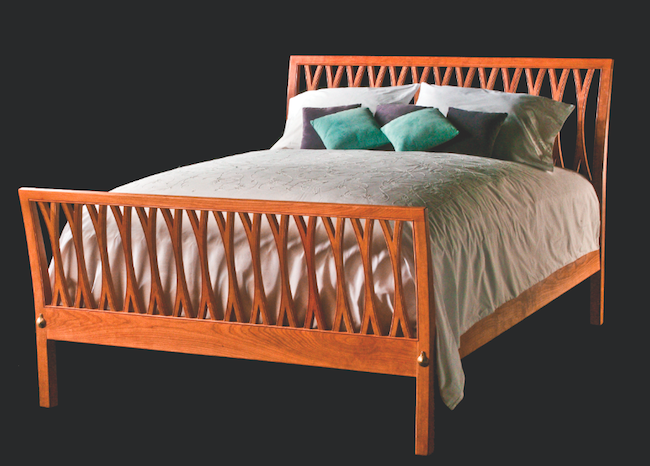 "I felt that people, more and more in this age of technology would be interested in things that humans hand-made. I felt it deeply. I love going into homes where you could see the character, the hand-made things," he said. "It is the power of when humans make things."
Shackleton adopted the centuries-old apprentice approach to hiring people for his business. They come on board and spend several years learning from other master craftspeople.
"I really believe there are a lot of us in the human race that are instinctive makers, and I wanted to create a place where young people could go to make things," he said.
In essence, Shackleton wanted for his team the kind of life he pursued in his early adulthood.
Shackleton grew up on a small farm just outside of Dublin, and he was a bit of the odd duck of the family. His father ran the flour mill that had been owned for a long time by his noteworthy family – he's related to the famed Antarctic explore Sir Ernest Shackleton. Charles' two older brothers were being groomed for the family business.
"I was very much left to my own devices. I used to just love making things," he said. His father always told him his fondness for doing that "was just a hobby; you need to find something serious."
Charles was sent to the prestigious Stowe School Buckingham, where his love of making things was further bolstered by founder J.F. Roxburgh's vision that a boy who goes there would "know beauty while he sees it, all his life."
When he graduated, Shackleton was led, by a couple of life-changing experiences to pursue art. One was a car crash that he says "ended up with me thinking life was finite." The other was a job working for a refugee organization where he set up a crafts program. With that job, he took a tour of the local art school and was hooked. He enrolled, studied drawing, glassblowing, metalwork and clay – and met Miranda, the woman he would marry.
Still wondering what he would do with life, he met his brother's friend, Simon Pearce, who told him he was moving to America to open a glassblowing studio in Vermont. Pearce invited Shackleton to come along. Shackleton blew glass for Pearce for five years and kept making furniture on the side. But Shackleton grew tired of the repetition of blowing glass day after day and decided to make furniture-making his life's work. For 15 years, he sold his furniture through Pearce's Queechee mill and retail outlet. About 10 years ago, Shackleton set out completely on his own, and ShackletonThomas opened its mill workshop and store on Route 4 between Woodstock and Killington.
There, Shackleton, his wife and their team continue to make furniture and pottery that is stunningly, simply beautiful. And they do it, practicing a mission that includes devotion to authenticity, handwork traditions, environmental stewardship, social responsibility, Vermont living and slow living.
"I want to be able to send a hopeful message to humans," he said.