Peggy Farabaugh: Success borne of vision and necessity
By Steve Noble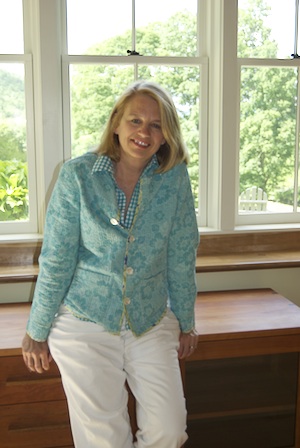 Peggy Farabaugh has a different take on that old predictor of retail success – "Location, location, location."
Vermont Woods Studios, the company she founded in 2005, just opened a showcase for the fine Vermont-made furniture it sells on a hilltop that's accessible but a little off the beaten track in Vernon. Once you get there, the views are spectacular, and the setting is idyllic, but really, Peggy, you opened a retail showroom there?
"There has always been a vision of having a place where people can come to see Vermont-made furniture and the forest where it came from. The word we're going for is 'experience,'" said Farabaugh, who doesn't look like a revolutionary but has spent the last eight years forging a unique path to business success.
Vermont Woods Studios began with a mix of vision and necessity. Farabugh's husband, Ken, who has the title of Vice President of Possibility on the Vermont Woods Studio website, is a furniture-maker who needed a way to sell his work. They decided to work with other Vermont furniture-makers, and launched a website to sell fine furniture over the internet.
"People didn't really believe that you could sell fine furniture over the internet. We had to prove ourselves," said Peggy, who believed the plan would work, especially once she started looking at the furniture business. "We noticed the other furniture stores were going out of business, so there was something wrong with the old model. … We also noticed that people love to come to Vermont."
The trouble was, in Vermont Woods Studio's early years, they had little tooffer the people who came to Vermont. Operating out of Farabaugh's home and some rented warehouse and office space, Vermont Woods Studios had just a small retail space on Route 142. The company did most of its business through http://www.VermontWoodsStudios.com and didn't need the space.
"We used to say it's not worth the trip, and people would come anyway," said Farabaugh. "Now, we can say it's worth the trip."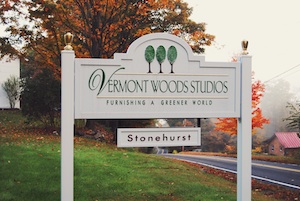 Located at 538 Huckle Hill Road, the new Vermont Woods Studio is indeed worth the trip. Perched on a hilltop, it occupies Stonehurst, a 220-year-old farmhouse that was once home to the Pine Top Ski Area. Vermont Woods Studios completed a year-long renovation to restore the farmhouse and outbuildings, renovate them for the showroom and fill the space with furniture made by Vermont furniture-makers carefully selected for sharing Farabaugh's commitment to high quality, sustainable, local and regionally sourced woods, non-toxic finishes and safe and fair labor practices.
"Vermont does make a lot of furniture. We're trying to reclaim it as a fine furniture capital," said Marketing Manager Dennis Shanoff (the surprisingly funky Vermont Woods website lists him as Marketing Maestro).
The new showroom at Stonehurst opened to the public on Nov. 9, and they drew about 150 people, who not only appreciated the fine furniture, accented by works by Vermont artists and craftspeople, but also saw the potential of Farabaugh's new vision for what might be called experiential fine woodcraft tourism.
"They kept asking us 'Are you going to do weddings? Are you going to do concerts?' We have to do what we know what to do," said Farabaugh.
But the ideas were intriguing. As it is, Vermont Woods Studios takes very seriously its mission not just to sell Vermont furniture but to represent the best of Vermont products and experiences. The entire staff recently spent a day out of the office taking Vermont Ambassador training through the state Agency of Commerce and Community.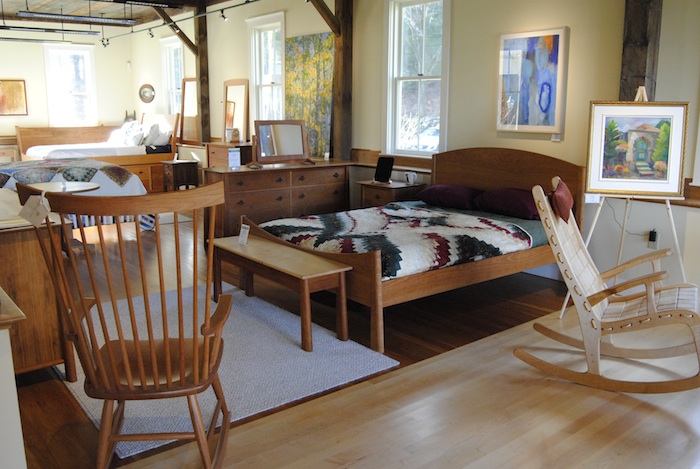 "Our customers come to us because they love the Vermont brand. They have a strong connection to the Vermont brand," said Farabaugh. "Everyone knows Vermont for its furniture or its cheese."
Connecting people with the finest examples of the Vermont brand is embedded in Vermont Woods Studio's mission. In a larger sense, Farabaugh wants people to think globally as they buy locally made Vermont furniture.
"The reason I started this was I was concerned about rainforest devastation," said Farabaugh, who was teaching environmental safety and health at Tulane University as a long-distance teacher when Hurricane Katrina put her out of a job and sent her on her new path.
"I don't have a background in furniture or commerce. I just wanted to explore the winning combination between Vermont furniture and sustainable forestry," said Farabaugh.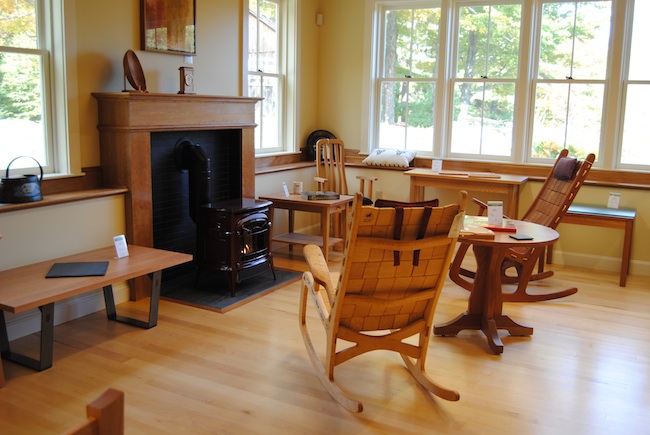 Vermont Woods Studios pledges itself to the triple bottom line of people, planet and profit and gives part of its profits to nearly two dozen local, state and global environmental organizations listed on its website. It also plants a tree for every item of furniture sold.
"Those are the reasons why we had to have Stonehurst. We had to show people something like this," said Shanoff, waving his arms at the vista of forest, fields and hillsides that extends for miles and miles from the showroom.
Farabaugh and Shanoff said they hope the new showroom at Stonehurst will one day make up 10 to 15 percent of the company's sales. That's a tall order, the latest bold and unexpected move from a company that's been doing things its own way from the get-go.
"There's a lot of risk to being a revolutionary," said Farabaugh. "I have every confidence. Everyone really believes in what we're doing. … It takes perseverance."