Local Flavor: A Love Affair with Yeast
By Molly Leuschel — Photos by Emily Hale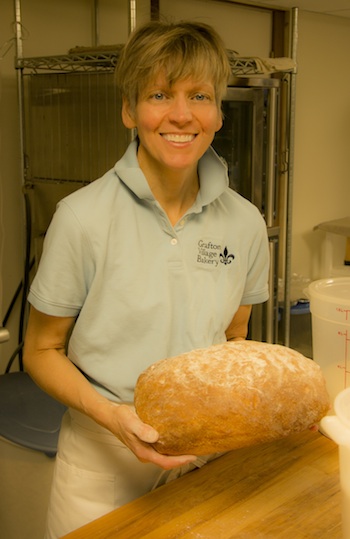 "Yeast and I are really happy together," says Rachel Laliberté, owner of a home-based bakery business in Grafton, appropriately named the Grafton Village Bakery.
Rachel's love affair with yeast began nearly ten years ago, shortly after she moved with her husband, Keith Hermiz, to Vermont from the Washington DC area. She had been working as an executive for a national retailer whose headquarters were in the process of being sold and Keith had a new job that allowed him to telecommute. They had already purchased some land in Vermont so together they decided it was a good time to make a move.
Not long after settling into their new Grafton home, Keith signed the couple up for an Easter holiday baking class at King Arthur Flour in Norwich.  "Except for the basic brownies in a box, I hadn't done a lot of baking," says Rachel. "I had been living more of a corporate life so I didn't have a lot of time."
It was love at first sight. "I couldn't believe that four ingredients—yeast, flour, salt, and water–could make so many different things. I became hooked."
Rachel's weekend fling rapidly developed into a full-fledged love affair. "I started asking friends to try different breads that I would make."  Then one by one, Grafton residents began signing up to have her breads delivered to their homes. In 2006, Grafton Village Bakery became licensed in the State of Vermont at which point she began distributing her breads, cookies, scones and pastries through retail outlets.
It has to be true love to remain faithful to a baker's schedule. On bread-baking days, Rachel gets up at two o'clock in the morning. On pastry days, she gets to sleep in—until 4:30am–keeping up this schedule six days a week. Sunday is her day off which she likes to spend with her husband, at least until around five o'clock in the evening when preparations for Monday's baking begin.
"Most of my breads aren't straight or 'one day' breads," says Rachel, "they are based on a starter that is prepared the day before baking. The next day the majority of ingredients are added, there's hours of rise time, shaping, followed by a second rise and then baking." That labor of love pays off. "Rachel's quintessential French peasant loaf is the bread for a sandwich." says Chef Jane Newall of Jersey Girls Farm Café and Market. "It has a beautiful crusty exterior with a chewy middle. Finally a baker who get's it."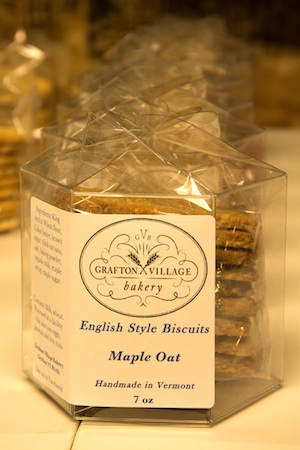 When she talks about croissants and croissant dough, Rachel's eyes light up and her smile broadens.  "There's nothing more satisfying than mastering the process of working a butter pat and dough together to form croissant dough. I love the feel of that dough in my hands." She shows the same glimmer when talking about people eating and liking what she bakes. "When someone who lives in Connecticut tells me he brings five loaves of bread to take home to family, that makes me really happy."
But no relationship is without its challenges. One of Rachel's challenges is growing the business given the perishability of her products, especially bread, combined with her remote location. That's one of the main reasons she has expanded her product line to include English-inspired biscuits. "The biscuits can be enjoyed weeks after they are baked," she says "and I have enjoyed developing their flavor profiles." Her oat, maple oat, cocoa, cardamom-orange, cheddar-rosemary and parmesan-fennel biscuits have been getting rave reviews and are now being sold in a number of locations.
Rachel's personal philosophy is, "if you stop, you die," and she doesn't show any signs of slowing down. And that's a good thing for her growing coterie of customers.
Grafton Village Bakery currently delivers to eight establishments throughout Southern Vermont:  the Grafton Village Cheese Company (in Grafton and Brattleboro), the Grafton Village Store, Mack's Place in Grafton, Jersey Girls Farm Café and Market, Lisai's Chester Market, and the Moon Dog Café in Chester, and at North End Butchers and Mocha Joe's in Brattleboro. Contact:  (802) 843-1160, http://www.facebook.com/GraftonVillageBakery