Airbnb: A New Era of Green Mountain Hospitality
By Troy Shaheen
"When I come up to Vermont and stay somewhere through Airbnb, I feel like I'm staying with old friends," explains Marie O'Brien, a Connecticut resident who travels to Vermont often. She's headed to Montpelier this week, and will be staying in the home of someone she has never met.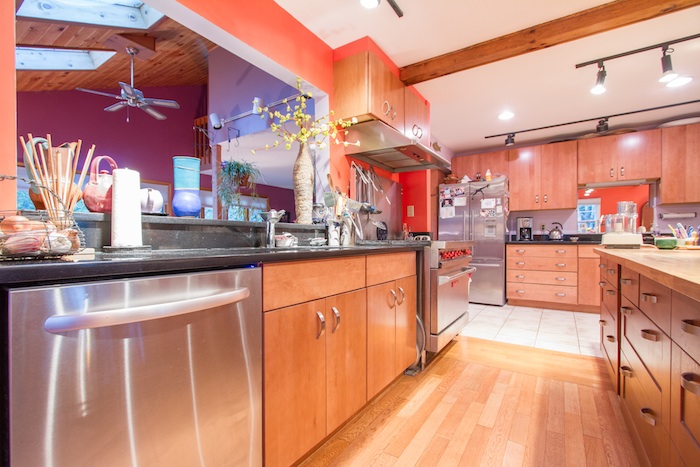 Long a cultural staple and economic contributor in the Green Mountain State, the practice of renting out a room in one's house has evolved along with the state. Bed & Breakfasts date back to the colonial era when land was not yet settled and hotels were few and far between. They reemerged during the 1930s when struggling Vermonters opened rooms in their farmhouses to make an extra income, and greatly expanded throughout the 20th century as historic preservation gained popularity and regulations made an official industry out of letting one's room. These days, the internet hotel service Airbnb is deregulating the traditional B&B experience and perhaps ushering in a new era of Green Mountain hospitality.
An online platform that allows individuals to rent out rooms in their homes to short-term visitors, Airbnb empowers locals to operate their own mini-hotels out of their apartments, houses, and barns. Users post their rental property on Airbnb's website, where those looking to visit the area can view listings and contact hosts. Airbnb collects and culls the listings, vets hosts and guests, and keeps a small fraction of the money exchanged. Guests are drawn to the site for both it's competitive rates and its unique access to local culture and human connection. "Staying in hotels is so impersonal," O'Brien emphasizes, "it's as if you could be anywhere in the world." She prefers Bed & Breakfasts to hotels, but has chosen Airbnb over both many times. "Every experience has been positive,"" she says.
Started in San Francisco in 2008, the service's popularity has ballooned and the site currently operates in 192 countries, offering options for all price ranges and property types. Three million guests found accommodations using Airbnb in 2012 alone and the site has over 400 Vermont properties for rent, ranging from spare rooms in towns like Bennington, to mountain lodges outside of Manchester, to a luxury tree house in Lincoln that was recently featured in Vanity Fair. With a steady flow of visitors, a cultural climate that values sharing and supporting small business, and an economy in which many could use a little extra income, the service seems to make both dollars and sense for Vermonters. Bellows Falls resident and Rockingham Arts and Museum founder Robert McBride rents three rooms in his home using Airbnb and feels it is a natural fit for Vermont. "Living here is a lifestyle where people don't just have one career, but instead juggle a little bit of everything," he says. "Airbnb provides a little bit of that juggle."
McBride also reasons that the practice is beneficial to his community as it entices travelers who might not otherwise visit the area. "These are people who wouldn't have come to Bellows Falls as a destination," he says. "They might be driving through on a road-trip around New England and see my house on the site and want to check it out. This gives them a whole different perspective on the community and I think hosting with Airbnb is a natural extension of being a community ambassador."
Like McBride, who has had exclusively positive experiences renting out his rooms on Airbnb, Brattleboro resident Sharon Myers enjoys the convenience of added income to supplement her business. Myers owns her own catering company and rents out a spare room using the site. She enjoys making connections with people she wouldn't have otherwise met, and feels that the clientele is quite different from those looking for a traditional B&B experience. "They don't want to just go to their room and go to sleep," she explains. "They want some kind of connection with real Vermonters."
McBride agrees, saying, "I don't think it's an 'either or' sort of situation in which Airbnb takes business away from hotels or formal Bed & Breakfasts. I don't think there is any conflict. It just presents people with another option, another way to experience Vermont. Airbnb is simply part of a healthy spectrum of hospitality options."
Others aren't so sure. Vermont's Commissioner of Tourism and Marketing, Megan Smith, has the sense that the service is taking business from local Bed & Breakfasts, and isn't about to promote the site's use. "We're so proud of our Inns and Bed  Breakfasts and what they represent," she says, "and I'd hate for something like this to put even one of them out of business." While Smith notes that tourism numbers in Vermont are better than ever and that she has heard virtually no complaints from her industry regarding Airbnb, the state will be monitoring the practice closely and making sure to check that Airbnb hosts are collecting and paying their Rooms and Meals taxes.
The issue of competition between the hospitality industry and Airbnb has already escalated into a well-publicized legal battle in New York City, where it is illegal to rent out one's apartment for less than 30 days at a time. Airbnb argues that many people using the service could not afford to visit the city otherwise, and that those using Airbnb stay longer than those using traditional hotels.
In addition to the issue of competition with Vermont's hotel industry, Megan Smith stresses the unpredictable nature of a stay in someone's private home, saying "The health department inspects our inns and bed and breakfasts for safety, cleanliness, bed bugs, etc. There are a lot of issues that aren't going to be addressed when you're dealing with someone's home."
"At the rate its growing everywhere," Smith continues. "I think it's probably going to have a big effect on tourism throughout the nation." As more and more Vermonters welcome visitors into their homes using Airbnb, the state will undoubtedly have some decisions to make. "We'll be discussing it at tourism conferences here in Vermont and around New England at large. We'll have to wait and see how it plays out," she says. "Unfortunately, it's not something we have any control over right now."
Airbnb by the numbers
Founded in August of 2008 and based in San Francisco, California, Airbnb is a trusted community marketplace for people to list, discover, and book unique accommodations around the world — online or from a mobile phone.
Whether an apartment for a night, a castle for a week, or a villa for a month, Airbnb connects people to unique travel experiences, at any price point, in more than 33,000 cities and 192 countries. And with world-class customer service and a growing community of users, Airbnb is the easiest way for people to monetize their extra space and showcase it to an audience of millions.
TOTAL GUESTS
9,000,000+
CITIES
34,000+
CASTLES
600+
COUNTRIES
192