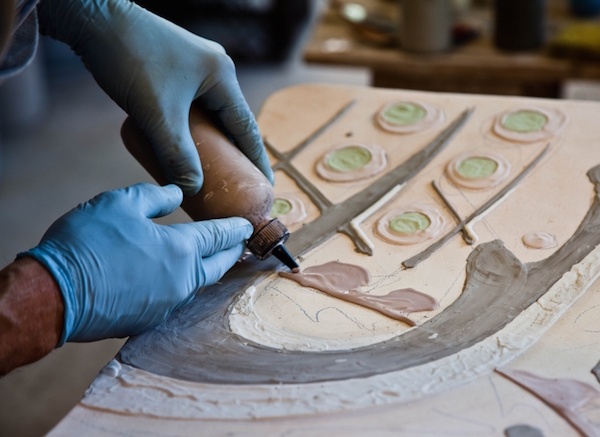 38th Annual Putney Craft Tour, Top Ten Vermont Winter Event
Various locations around Putney
Nov 25-27: Spend Thanksgiving weekend at our craft, culinary, and stage event, meandering our back roads, purchasing one-of-a-kind crafts, eating fabulous food, drinking local wine, and taking in a performance at two at our local theaters. For the third year running, the Putney Craft Tour is voted one of Vermont's top 10 winter events.
North Bennington Outdoor Sculpture Show
Downtown Bennington
http://www.betterbennington.com
Thru Oct 23: Through the ages, classic sculpture, whether Greek or Roman marble or a Far East depiction of Buddha, tends to follow a visual aesthetic with which most lovers of art, as well as the lay public, are familiar. Enter sculpture with an edge to it and leave behind any notions gained from classic renditions of that medium. In North Bennington, artist Joe Chirchirillo conducts his annual labor of love: organizing and curating the 19th annual North Bennington Outdoor Sculpture Show.
River Valley Artisan Tour
Chesterfield, Spofford and Westmoreland, N.H.
http://www.rivervalleyartisans.com
Sept 10-11: Self-guided tour through the towns of Spofford, Chesterfield, and Westmoreland, N.H. Visiting artists in their own studios and in Fellowship Hall. Viewing reception Oct 9. For a map and more information, visit rivervalleyartisans.com.
Bennington Quiltfest
Mt. Anthony Union Middle School, Bennington
http://www.benningtonquiltfest.com
Sept 17-18: Show offers new quilts, demonstrations, queen-size quilt raffle, challenge quilts, special exhibits, many vendors, and mouthwatering fare from Quiltfest Cafe. Featured quilter and lecturer Joan Ford, of Hummingbird Highway and author of "Scrap Therapy" and "Scraps Plus One," lectures at 1p both days. Consignment Boutique offers a large selection of sale items.
Annual Vermont Fine Furniture Woodworking & Forest Festival
Billings Farm & Museum, Woodstock
Sept 24-25: Enjoy furniture and wood product shopping at Billings Farm & Museum at this year's event. Vermont woodworking vendors sell unique wood products such as carvings, home accessories, jewelry, bedroom and dining furniture, and toys and games. In the barns, see farm-work firsthand, including care of the Jersey herd, draft horses, sheep, oxen, and chickens. Explore the horse barn, calf nursery, milk room, and dairy barn and get comfortable with the farm's livestock through interactive activities, programs, and events. Activities include wagon rides, horse logging, hands-on wood crafting, sawmill demos, forest walks, and many other educational programs.
Weston Antiques Show
Weston Playhouse, Weston
http://www.westonantiquesshow.org
Sept 30-Oct 1, 10a-5p; preview Sept 29, 7:30p: Featuring renowned dealers from across the United States with American and English furniture, accessories, Americana, folk art, silver, samplers, paintings, oriental rugs, jewelry, and more. Since the Weston Antiques Show's inception, more than 85,000 attendees have enjoyed the show and over $1 million has been raised for historic preservation. The Weston Antiques Show, one of the oldest such shows in the country, and widely regarded as one of the best small shows, is distinguished by its dealers, location, attendees, community support, and beneficiary.
28th Manchester Fall Arts & Craft Fest
Route 7A, Manchester
Sept 30-Oct 2: Celebrate the wonders of American craft. Every day, thousands of American artists share their vision and talent by producing amazing handmade decorative and functional objects. Patrons demonstrate their love of these items by coming to the shows, meeting the artists, and buying handmade products. This is the creative economy.
Vermont Celebrates Statewide Open Studio Weekend
Statewide Foliage Tour
Two weekends this year
Oct 1-2 & Oct 8-9: Brought to you by the Vermont Crafts Council, 108 craftspeople and artists look forward to welcoming you to their studios for conversation, browsing, and sales. Studios are located throughout the state in picturesque villages, along back roads, and in vibrant town centers. Where to begin? Maps are available at Vermont welcome centers and galleries. Some Open Studio travelers begin by choosing a section of the state they have always wanted to visit; others seek out a specific medium such as pottery or furniture or watercolors. Some just follow the yellow signs along the roads that highlight designated open studio locations.
Bratt West Arts Open Studio
West Brattleboro
http://www.brattleboro-west-arts.com
Oct 1-2 & 8-9: BWA infuses the tours with its members, making the Brattleboro area a major destination with a critical mass of studios at the state's southern gateway. The tour features 17 artists in 13 studios and one gallery in Brattleboro, West Brattleboro, and Marlboro.
34th Stowe Foliage Arts Festival
Topnotch Field, Stowe
http://www.rivervalleyartisans.com
Oct 7-9: Stowe is the place to experience the classic New England autumn, and the Stowe Foliage Arts Festival is the perfect destination. Surround yourself with autumnal perfection—the Festival takes place at the height of the fall foliage season—and enjoy exquisite art and fine craftwork from more than 200 juried fine artists and artisans. Live music and other entertainment, great food, draft beer, wine, and demonstrations of traditional craftwork.
32nd Annual Weston Craft Show
Weston Playhouse, Weston
http://www.westoncraftshow.com
Oct 7-9: Juried exhibit of exceptional Vermont artisans representing works in baskets, ceramics, folk art, glass, jewelry, lighting, paper, fiber, leather, mosaics, pastels, sculpture, wearable art, and wood. The Weston Craft Show is held at the Weston Playhouse, which provides a manageable, pleasant shopping experience for those looking for something special. With a carefully juried array of exceptional arts and crafts in a distinctive setting, the Weston Craft Show offers discerning collectors high quality, diversity, and beautiful displays.
Art in the Park Rutland
Downtown Rutland
http://www.chaffeeartcenter.org
Oct 8-9: Art in the Park has been named a Sunshine Artist "200-best" and voted the Rutland Herald's "Best of the Best" among arts festivals. Food, music, craft demonstrations, and kids' activities are also offered. All gate donations go to sponsor the Chaffee Art Center's exhibitions, art education classes, and community outreach programs.
43rd Annual Harvest Arts & Crafts Show
Main Base Lodge, Mount Snow, West Dover
Oct 8-9: Get a jump on your holiday shopping at the 43rd Annual Harvest Arts and Crafts Show, which features 50-plus vendors including local artisans and specialty food makers. Conveniently located throughout the main base lodge and base area. Expect to see original works of art, handmade jewelry and furniture, and homemade fudge samples. Speak with the purveyors then head outside and check out our 18th Annual Oktoberfest: two great events and truly a weekend not to be missed. Free admission.
Annual Walpole Artisans Tour
Various location around Walpole, N.H.
http://www.thewalpoleartisans.blogspot.com
Nov 26-28: New artisans and many returning favorites. Enjoy shopping for the holidays, meeting the artisans, viewing demonstrations, and having a few snacks along the way. Pick up a map at the Walpole Artisans Cooperative Gallery, 52 Main St., in Walpole across from Burdick's Chocolate.
Cotton Mill Open Studio and Holiday Sale
Cotton Mill, Brattleboro
Dec 2-4: Cotton Mill Arts presents the 18th annual Cotton Mill Open Studio and Holiday Sale on Friday, 4-8p, Saturday, 10a-5p, and Sunday, 11a-4p. This juried show is a much-anticipated family event showcasing artists and artisans from the Mill and surrounding communities. Experience culinary offerings, circus acts, music and dance performances, pottery demonstrations, and shopping throughout the three floors of the Mill. Free admission and raffle. Handicap accessible.
Readsboro Glassworks
6954 Main St., Readsboro
http://www.readsboroarts.org; 802 423-5600
Dec 10-11 & Dec 17-18: 34th annual Holiday Open Studio and Sale. Simply awesome!