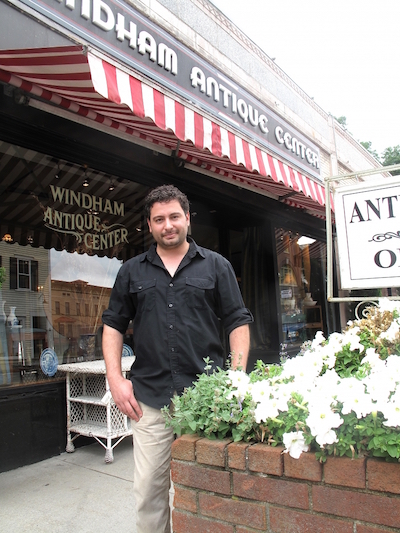 By Katherine P. Cox
It's a classic story: visitors to Vermont stop in a small town or village and are smitten with its charm and beauty. Next thing you know, they've left their old life behind and moved here for good.
It was a simple stop for gas that changed Michael Bruno's life. Some 10 years ago, Bruno, 35 who grew up on Long Island, N.Y., was working as a gemologist for Tiffany & Co. in Manhattan. Passing through Bellows Falls, he was struck by the town's notable architecture. As a history buff, he says, he "really loved the historic downtown, with its level of preservation."
Before long, he decided to buy a house, fix it up and make a go of it. It being his passion for antique jewelry from the Georgian (1700-1830) and Victorian (1830-1900) eras. Bruno operated a small jewelry business out of his home then quickly outgrew the space and rented a small storefront downtown, where he began expanding into antiques.
"It ended up doing better than we expected," Bruno says. But it was in 2010 when he really established his place in Bellows Falls, buying the former Sam's Army-Navy store on The Square—"it was an anchor building to downtown [that] had such great retail potential"— and turning it into Windham Antique Center, a stunning antiques store that draws people from all over New England and beyond.
Bruno received a tax credit from the state tax credit program for historic buildings to upgrade the place and bring it up to code. A $50,000 loan from the Town of Rockingham Revolving Loan Fund allowed him to make needed renovations. That fund, he says, has helped a lot of businesses get off the ground. "We paid it back shortly after we opened," he explains.
After a year and a half of renovations, Windham Antique Center opened in January 2011. The look Bruno envisioned was a turn-of-the-last-century department store with niche sections arrayed throughout the two floors of the building. According to Jon Midura, who manages the shop, the team tried to capture the feel of a 19th century museum that's being unpacked for an installation.
'That sense of history…'
A multiple-dealer shop specializing in 18th and 19th century furniture, the 7,000-square-foot store is a treasure trove of antiques of impeccable pedigree that takes browsers back in time. It's that sense of history that initially captivated Bruno and informed his interest in antiques, and it's what he says drives the popularity of his store.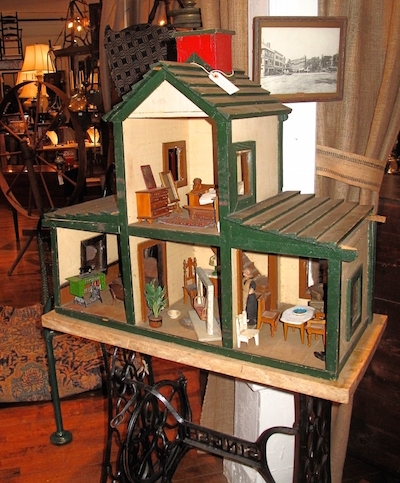 "You can own a piece for not a lot of money and purchase something that has a story, authenticity, and great craftsmanship," Bruno says, explaining that it's the difference between shopping at Pottery Barn for an ersatz piece or snapping up the original at an antiques store. Bruno says he has dealers who bring in goods from all over New England to sell through him, earning him a great retail client base.
Indeed, he says, "a lot of our customers are other antiques dealers who buy here and sell to other places around the country."
Large furniture in prime condition dominates much of the store, including dining room sets, dressers and side tables, and unique pieces such as a late 19th century oak altar from the chapel at Brattleboro Retreat. Several distinctive armoires evoke the glamour and romance of stately homes of long ago. An enormous carved mahogany French Rococo armoire and an 18th century European oak armoire with fruitwood marquetry front panels and original hand-forged hardware are among the standouts.
Antique landscapes and portraits grace the walls, and tables are set with elegant fine china, delicate crystal stemware, cut glass bowls and polished silver.
'We all work together…'
Business has been booming since the store opened, which Bruno attributes in part to the spirit of Bellows Falls.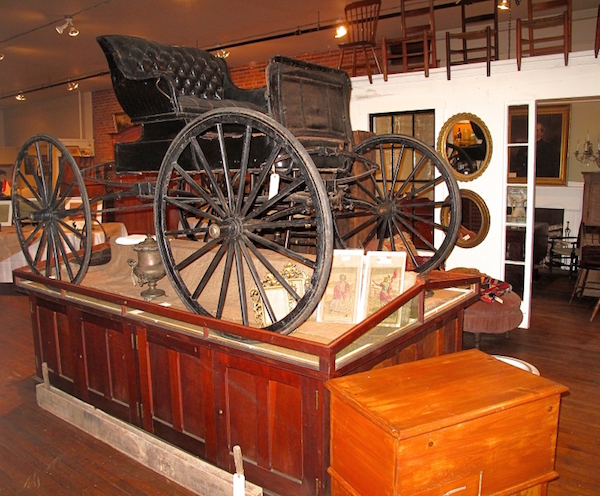 "This area is really good for retail. Bellows Falls is a crossroads for so many communities. There's definitely been a resurgence. The shops that have been opening are doing well," he says, citing the Valley Café next door, Popolo restaurant across the street, and Flat Iron Exchange café down the street. "We all work together and host events together for the community," he says.
According to Mary Helen Hawthorne, executive director of the Bellows Falls Downtown Development Alliance, much of the revitalization that is occurring downtown is thanks to Bruno and the antiques shop.
"They have brought many young people into the area, people who have settled in Bellows Falls and have started businesses. They come for the farm-to-table food, the night life, the movies at the Opera House and the music and arts programs. Michael is very community-minded and is instrumental in bringing in a younger group interested in business development," Hawthorne says.
She adds that Bruno has been a huge influence in the revitalization efforts downtown "with his support and encouragement of new business ventures. He always looks out for other people. I'm so happy he's here."
Midura, who manages the store and is one of five employees there, says he believes Bellows Falls is a natural spot for the shop with its historic homes, beautiful setting, and accessibility to New York.
He and Bruno were neighbors on Long Island. He followed Bruno up to Bellows Falls and also fell in love with the town.
"We've established something here," he says.
"The mission," according to Midura, "was to attract a diverse group of buyers and young people and show them you can do things in a fresh way with antiques." Business has been growing to include designers and decorators, Midura says. "Now that people know we're here, they've put us on their list."