State, entrepreneurs offer modern twists on the old road atlas (and special provisions for cellular dead zones)
Technology isn't something you necessarily think of when you think of Vermont," admits Doug Allbee, CEO and Co-Founder of Viewboost, a newly launched Vermont tourism app. "There are a lot of traditional ways that Vermont is marketing itself, a lot of status quo approaches. But we really feel strongly that it's a great laboratory not only to create good technology, but to create and promote good business."
Doug and his father, Roger Allbee, are looking to put Vermont on the digital and mobile map with their custom-built Vermont travel app, Viewboost. Viewboost serves as both a directory and a map of Vermont businesses, communities, and attractions, with interactive features including customizable settings, visitor reviews, and photo submissions. On Viewboost, businesses and organizations list their location and details, and visitors access this information on their smartphones as they make their way through the state. Tourists enjoy a seamless, customizable travel map for their entire Vermont visit, and businesses and communities enjoy added exposure and valuable data generated by the mobile app.
Differing from pre-existing travel apps like TripAdvisor and Yelp, Viewboost is entirely Vermont focused and developed. It's also a native, rather than a web-based, app, meaning it can operate in areas without broadband or cellular service. "We felt that Vermont is so unique that it needed a unique application," Doug explains, "so we created an application that gives added exposure to rural destinations, it has offline functionality for blackout areas, and it's based on a model of local collaboration and partnerships."
These local collaborations range from traditional investors in the app, to data sharing agreements and promotional boosts. The Lake Champlain Regional Chamber of Commerce was an early, albeit less than 1% investor, and has developed a strong relationship with Viewboost. The Chamber plans to recommend the app on its media, website, and to the more than 800,000 annual visitors to their center. "We like Viewboost because it's a custom based app that focuses on Vermont and Vermont businesses, primarily," says Lake Champlain Chamber of Commerce CEO and President Tom Torti. "The Allbee's have come a long way. They've traveled around the state listening to the tourism and hospitality industry, and they've built that feedback into the application. They've taken their time to understand the Vermont visitor experience, and they've blended that with some really cutting edge technology." A percentage of proceeds from the app will be reinvested into community initiatives in Vermont such as the agriculture convention Strolling of the Heifers.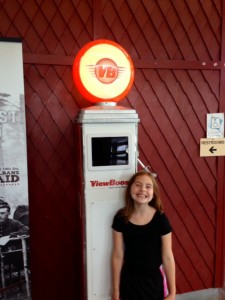 The Allbees have also developed a non-mobile side to the app in the form of 1950s style gas pump information kiosks that will allow visitors to try the app before downloading it for free on their smartphones. Information kiosks are installed in sponsor locations, with the first in the Williston Rest Area. "The fixed app, the kiosk, is very attractive," says Tom Torti. "It's a tourist attraction in and of itself because of the look of it. It's the kind of thing that will draw a tourist or visitor to it so that they can start using it."
Viewboost isn't the only Vermont tourism app looking to shake up the way Vermont's travelers Vermont access information. The Vermont Department of Tourism and Marketing and the Vermont Chamber of Commerce have recently chosen Route 802 to develop their new VisitVT app. While Route 802 has developed apps for specific regions like Manchester and Stowe, this will be their first statewide effort. Doug and Roger Allbee concede that some of the services that the two apps provide will indeed overlap, but feel there are key distinctions between the two and welcome businesses and visitors to try both. "We're particularly excited about the data capabilities of our app," Roger Allbee adds. "Businesses and industries will be able to know who is going where, where they're spending their money, and why. This will allow for much smarter marketing decisions in the future."
No stranger to tourism and marketing decisions in Vermont, Roger Allbee began developing Viewboost after leaving his post as Secretary of Agriculture, Food, & Markets for the State of Vermont in 2011. This position gave him an insider's perspective on the opportunities for innovation within the tourism industry and the improvements that could be made regarding the way the state markets its traditional industries. "I still think Vermont is behind when it comes to technological innovation, and it isn't only Vermont. State governments aren't generally where innovation comes from and it's mainly because states don't have the money to do it. It takes a lot of capital. Private businesses like Viewboost are pushing the real innovation, and they're doing it with a model built in Vermont from the ground up."
Although Viewboost revolves around its origins in Vermont, Roger and Doug are open to expanding the model and applying it to locations outside of the state in the future. Reporting interest from New Hampshire, Maine, and New York, they're focused on first developing the model in Vermont. "We're committed to doing this well and doing this right in Vermont before we try to get too big too fast, says Doug Allbee. "We want to scale appropriately. We'll have to wait and see."
While only time will tell which, if either, of these Vermont tourism apps will take off, Tom Torti of the Lake Champlain Chamber of Commerce believes the future of Vermont's tourism industry will feature a strong mobile application component. "It's the way things are going and you have to get on board. You can either be at the table or on the menu, and we'd much rather be at the table than be what's being eaten." —Troy Shaheen