From the opening of its Fine Arts Gallery to the student art displayed front and center, Landmark College celebrates a 'fundamental element of education and life.' 
By Steve Noble
If art is the result of artists seeing the everyday world in a way others don't, then the existence of the Fine Art Gallery at Landmark College is, itself, work of art.
In what was then the pleasant well-lit lobby of the Greenhoe Theater in the college's Fine Arts Building, Humberto Ramirez saw greater possibility when he came as chairman of the Fine Arts Department seven years ago.
Landmark, a small liberal arts college founded in 1985 in the quiet, earthy Vermont town of Putney, serves 500 students who have learning disabilities. The arts program has always been an important one there – alumni include prominent young visual artists Dave Cole and Yishay Garbasz – but the college lacked a gallery. Someday, he thought, that lobby would make an ideal gallery space for student and faculty work and for exhibits by other artists.
Ramirez's idea found the right champion when Dr. Peter Eden took the reins as president of Landmark College in July 2011. Eden had hardly had a chance to settle in before Ramirez told him of his dream for a gallery.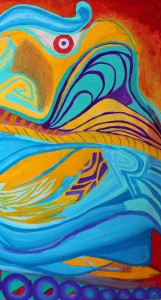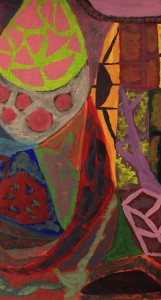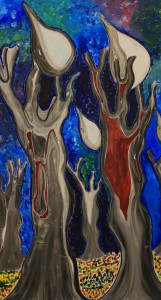 "The first week or two I was there, I met Humberto in the Fine Arts Building. I remember the look on his face as we stood there in what was the undeveloped art gallery. … I said, 'Oh boy, are we going to do something, Humberto,'" Eden recalled, explaining he never had any hesitation committing to it. "We are a college, and at a college you provide opportunities for students. … It's a fundamental element of education and life – arts, expression and creativity – and there's so much of it on campus."
After renovations that included rebuilding one wall, finishing others and installing art-friendly lighting, the Fine Arts Gallery opened in March 2013 with an exhibit by Tim Segar, a art faculty member at nearby Marlboro College, and his Rhode Island School of Design classmate Craig Stockwell.
Since then, Landmark has shown four exhibits, featuring student work, faculty work and faculty-curated exhibits by professional artists. This past spring, Landmark presented "No Country For Old Men," a multimedia show which showcased the work of eight emerging New England women artists, who offered diverse viewpoints on the idea of "landscape." Curated by Landmark Fine Arts faculty member Samuel Rowlett, the show was popular and caught the attention of the art world beyond the gates of picturesque Putney camps.
"It made out of a little place, a big place culturally," said Ramirez.
The Fine Arts Gallery has become a popular spot on campus for students to engage with art or just hang out and for gatherings and receptions of all sorts.
"It's been a pretty extraordinary addition to the campus. It's also been a big resource for the entire community," said Ramirez, who notes that visitors to the gallery repeatedly express their pleasant surprise at how great their experience there was. "They all say something about not anticipating the quality of the space and the art. They're delighted to have another cultural resource in the community."
Upcoming plans include another faculty-curated show in the Spring of 2015 and, before that, the second annual art faculty exhibit. This summer, the gallery is undergoing renovations which include more work on the walls to make them exhibit-ready, expansion of the exhibit space, improved lighting and new carpeting.
Beyond the exhibits, Ramirez hails the gallery as an important educational asset. Students not only get to see first-hand the work of visiting artists, they also learn, for student shows, what it means to be a working artists and how to prepare and present art for exhibition.
"It's been a huge resource for us. It is, after all, a teaching gallery," said Ramirez.
Landmark College is also in the process of adding a bachelor-level degree program in fine arts, something it doesn't offer now. If all goes, the hope is to have the program accredited and ready for launch by September 2015, Eden said.
Enthusiasm for art at Landmark has spilled out beyond the walls of the Fine Arts Gallery. There's been a concerted effort to place student art work in prominent places in campus buildings. And one of the first things Eden approved was a student graffiti wall, where students can express themselves, as long as it's not profane or indecent.
And this past spring, 18 colorful art-print banners created by student artists were hung on lamposts throughout the campus.
"Everyone loves the color they bring to campus – and it's a wonderful way to recognize the creative talents of Landmark students in a very public way," said Rowlett.
It all adds up to a renaissance of art on this quiet campus, which also includes classes in painting, drawing, sculpture, ceramics, digital photography, video art, digital sound recording, graphic and digital design, as well as in the performing arts like acting, performance, chamber music, dance, screenwriting and music theory. Campus organizations include jazz and chamber ensembles and theater productions.
"The student population at Landmark College finds in art and art education a place where great success can be experienced," said Ramirez.
For more on all the creativity happening at Landmark College, including Fine Arts Gallery exhibits and hours, visit http://www.landmark.edu.