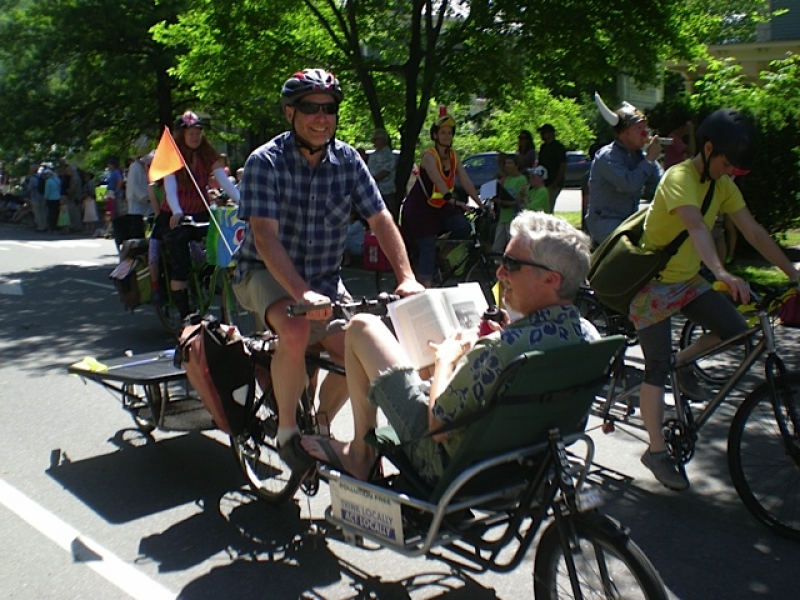 By Troy Shaheen
Could cargo bikes sweep through Vermont, minimize carbon emissions, alter our notions of space and time, and revolutionize the way we organize our communities? Go Vermont and their "Cargo Bike Guru" Dave Cohen, can't wait to find out. These utility bicycles, already a mainstay in Europe and in West Coast cities like Portland, Oregon, are poised to enter the transportation mainstream in Vermont — with an added boost from electric assist technology and statewide promotion from the Vermont Agency of Transportation. The alternative transport is gearing up for its big moment, with roots extending from the state's cargo biking capital: Brattleboro.
Dave Cohen, a Brattleboro therapist and counselor by profession, has been a cargo bike enthusiast and advocate for more than 20 years. He started his own cargo bike delivery business in Berkeley, California, in the 1990s, and is perhaps best known these days for peddling his young children up and down southeastern Vermont's hills on his bright orange, long-tail electric assist cargo bike. With kids in tow, Cohen still easily fits the family's groceries for the week as well as his camping gear. He holds regular discussions on the benefits of cargo bikes, and was recently hired by Go Vermont — a branch of the Vermont Agency of Transportation — to spearhead Vermont's cargo bike movement.
A man of many titles, Cohen goes by "Cargo Bike Guru," "Cargo Bike Czar," and "Cycle-Therapist" and he takes the psychological and neurological benefits of cargo biking very seriously. "I think that this is therapy for us," he says, "because we've become so disassociated from the world that we inhabit. We're literally losing our senses."
His voice echoes much of what's known as the Slow Transportation Movement, a growing push for slower modes of transportation that engage the body and maximize sensory awareness. "Cars distort our connection to the ecological and social worlds that we pass through," Cohen explains. "The automobile has become so embedded in our psyche that we literally conform to it." He believes that by stepping outside the confines of the automobile, people become more present in their environment and ultimately more mindful of their effect on it. "It's all about showing up," he says. "And we really haven't been showing up lately."
The advent of electric assist technology, which gives bikers a boost while keeping their speed under 20 mph, has added new capabilities to the traditional cargo bike and expanded the possibilities of who can use one, and for what. Getting places faster, carrying more cargo, and climbing hills easier are good things in a mountainous, cold place like Vermont, and Cohen feels this may just be the boost the movement needs.
Ross Macdonald, director of Go Vermont and a Public Transit Coordinator for the Vermont Agency of Transportation, focuses more closely on the monetary benefits of cargo biking. "Transportation has become the biggest line item in a Vermont family's budget," he says, citing a recent AAA study showing the average national cost to maintain a vehicle at $8,000 per year. "Electric assist bikes could be part of a solution if a couple wants to get rid of one of their cars, maybe trade in that $20,000 car for a $2,000 cargo bike." Go Vermont also promotes vanpools and carpool matching in their effort to bring innovative transportation solutions to the state. "We want to make sure we're supporting those early adopters." he says "We want to support those who are trying to move the dial on the realization of the options that we have outside of our Single Occupancy Vehicle."
Macdonald and Cohen linked up after Brattleboro Representative and House Transportation Committee member Mollie Burke put them in touch. They met in Brattleboro, where Cohen laid out his vision for a cargo biking Vermont and even took Macdonald for a spin on his bike. "It was awesome," Macdonald recalls. Shortly thereafter, Macdonald asked Cohen when he could start working for Go Vermont. The two have since teamed up to push cargo biking statewide, developing a page devoted to cargo biking on the Go Vermont website that includes information on bikes, a listing of Vermont bike shops selling cargo bikes, and contact information for the deployment of Cohen as a consultant for Vermonters seeking guidance.
While the service is already operating, Go Vermont will push cargo biking in earnest in the spring with an official rollout. In the meantime, Cohen is cultivating cargo biking converts, developing a cargo bike loan program through the Vermont State Employees Credit Union's Green Loan program, and mobilizing a fleet of cargo bike and electric assist devices. He'll travel the state with this fleet, building awareness and allowing prospective cargo bikers to try them out. "People have to get on these and experience them to learn what it's all about," he says. "Everyone who takes a test ride has one word to describe it: 'game changer.'"
Alas, the cargo bike has its limitations and Cohen is frank in acknowledging that it is not a "silver bullet." He does, however, believe that if the cargo biking movement can change the culture, changes to infrastructure can follow and the future might feature shorter distances, less obsession with expansion, more locally organized communities, and more mindful transport. "We have to do something," he implores. "We have to reevaluate the car, otherwise we're going to keep on inventing it and thinking that we've solved the problem." —Troy Shaheen