The Great River Theatre Festival promises to be one of the most exciting theatre collaborations Southern Vermont has ever seen. The brainchild of Main Street Arts in Saxtons River, and an outgrowth of the Four-County Theatre Collaborative MSA also spearheaded, this festival showcases a Who's Who of community and professional theatre companies in its inaugural program. The festival runs July 6-9 at several locations in the Putney area with six companies performing 18 shows.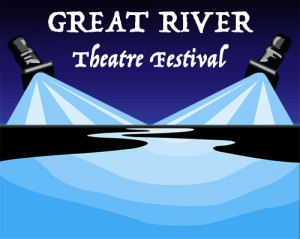 Joining Main Street Arts are Weston Playhouse, Vermont Theatre Company, Putney's Apron Theatre Company, Brattleboro's New England Youth Theatre, and Sandglass Theater.
According to Main Street Arts co-chair Gina Cote, the festival has been a priority for MSA Artistic Director David Stern:
"Since David first came to MSA he wanted to showcase the outstanding quality of the work offered in this area and bring it before a larger regional and even national audience. He also wants to have those audiences see our region's theatre companies working together."
And according to Stern, although each participating organization has its own strengths, they're increasingly sharing resources. And that, he says, is key to everyone's shared success.
"Sometimes it's talent. Other times it's costumes or lighting equipment. Most importantly we constantly inspire each other to produce better art and to engage more effectively with the communities who have supported each of us over the years. I hope that audiences will see that inspiration on stage. Both the dedicated theater buff and the person who has never seen a live show before should have a fantastic time," Stern reports.
Among the shows planned for the festival are family favorites such as the "Really Rosie," with a book and lyrics by Maurice Sendak and music by Carole King, to be produced by Weston. Main Street Arts will present the award-winning musical comedy "Little Shop of Horrors." Apron will contribute the Bertolt Brecht classic "Mother Courage and Her Children," a work that has been characterized as the best play of the last 100 years. In giving audiences a chance to compare classics, Vermont Theatre Company will mount Shakespeare's "A Midsummer Night's Dream"—outdoors, naturally.
Stern adds that the organizations want to give their audiences "a chance to sample the full spectrum of the area's live theatre, and that means integrating original works into the mix. We are happy to announce that New England Youth Theatre will produce a new work for the festival and we look forward to Sandglass reviving its wonderful, original 'When I Put On My Glove.'"
According to Cote, although the festival might be Main Street Arts's most ambitious challenge undertaken to date, it is only the latest in a series of MSA projects aimed at promoting the performing arts in Southern Vermont.
"We have taken shows on the road, sponsored original works, and are mounting a production of Sweeney Todd in the Bellows Falls Opera House that, as a result of collaborative input, will break new ground. Together with our participating theater companies, I think we can we make the Great River Theatre Festival the can't-miss event of the summer," Cote explains.
To give audiences a taste of what's in store for them Main Street Arts will offer audiences a sneak peek of "Little Shop" at MSA's own theater in Saxtons River a week before the festival opens.
Great River Theatre Festival runs July 6-9 at multiple locations in Putney. Main Street Arts's preview of presentation of "Little Shop of Horrors" runs June 30-July 2 in Saxtons River. "Sweeney Todd" runs at Bellows Falls Opera House March 16-18 and 23-25. For more information, including series schedule and prices, contact Main Street Arts at 802 869-2960 or http://www.mainstreetarts.org/great-river-theatre-festival.