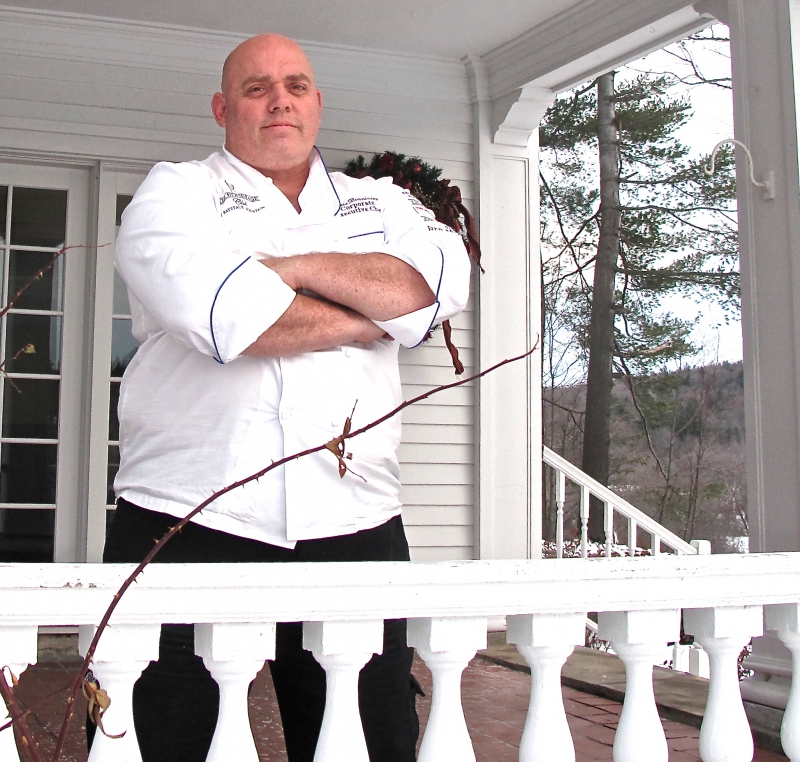 By Nicole Colson
Chef Chris Bonnivier serves fried chicken on the menu at the White House Inn in Wilmington. Before you go thinking this is just any fried chicken, you should know the recipe takes three days before it's ready to serve.
First, the heirloom variety birds, purchased from Ephraim Mountain Farm in Springfield, are broken down. The legs and thighs sit in a pale ale brine for 24 hours before going into a blend of high-fat buttermilk (procured from Jersey Girls Dairy in Chester) and sriracha sauce and pickle juice. Then they're vacuum-sealed for four hours to retain moisture, and soaked in the buttermilk mixture for another night.
Chef Bonnivier serves the bird atop sweet potato johnnycakes in a chipotle maple butter with a shot glass of horchata: a Mexican rice milk drink flavored with kettle popcorn and sea salt.
"Our food is recognizable but interesting—and intriguing," Bonnivier explains. "We put a play on everything."
Bonnivier carries his traditional concepts with an inventive spin through the menus he and his team have created for the kitchens of six restaurants he operates across West Dover and Wilmington in the Deerfield Valley. Together they are part of the Hermitage Club properties, established in 2011. Owner Jim Barnes acquired the Hermitage Inn nearly 10 years ago determined to connect it with the surrounding Haystack Mountain ski resort and provide luxury accommodations and fine dining.
The crown jewel is the Hermitage Clubhouse at the base of Haystack Mountain, an 90,000-square-foot timber frame structure—the largest of its kind east of the Mississippi—with a giant fireplace that snacks on a cord of wood at a time.
Bonnivier, who signed on as executive chef of the Hermitage Club properties a year ago, works with a staff of 100 to create menus that change twice a year and provide each of the half-dozen restaurants with a novel identity.
There are two eateries at the Clubhouse: The Brasserie, which offers Vermont family-inspired dining and features a dry aged steak program, and Penstla Commons, which serves everything from artisanal sandwiches and pizza to ribs and sushi.
For the Mid-Mountain Cabin, Bonnivier created a menu that features Hermitage alpine cuisine, featuring the delicious likes of duck poutine: shredded duck confit, french fries, gravy and cheese curds with an herbed chili sauce.
Ristorante Piacenza, which opened in December 2016 at the Inn at Sawmill Farm, features Northern Italian rustic farmhouse cuisine and Bonnivier's freshly made pasta.
The French-inspired Vermont country dining menu at the Hermitage Inn and the farm-to-table cuisine served at the White House Inn are styles of cooking closest to Bonnivier's roots.
Originally from Dalton, Mass., he now lives in Adams, Mass., and says his first job in a kitchen was at 14, when he worked with Maître Cuisinier Jean Morel at the Hostellerie Bressane in Hillsdale, N.Y. He started out washing dishes and wasn't sure he wanted to work in a kitchen for long. Then Morel began to teach him French cooking techniques.
"By the time I was 15 I was making soufflés and ice cream," Bonnivier says.
He was most inspired by the restaurant's farm-to-table concept, in practice with Morel long before it became a trend.
"Farmers were bringing in a whole animal and the restaurant used it," Bonnivier explains. "I would go and pick tomatoes from the garden to use in dishes and this food was all eaten at the staff meal. I thought, These guys are creating this. I want to do that. I want to be that.
After graduating Johnson & Wales University with a degree in culinary arts, Bonnivier went on to work with the world-renowned French chef and restaurateur Roger Vergé at the Michelin-starred restaurant Moulin de Mougins in France.
Now 49, Bonnivier is enjoying the fruits of a career spanning more than 35 years working for Michelin-rated and AAA-rated four- and five-star restaurants and resorts.
"I've spent those 35 years supporting local farms, agriculture, and communities," he says. "To me, farm-to-table is nothing new; it's something I've always done as a chef and I'm not the only one."
When Bonnivier purchases meats he doesn't just place an order: he visits the farm and handles each animal before buying it.
What he hasn't been able to source from local farms, Bonnivier grows himself. Tomatoes, leeks, peppers and herbs last summer and squashes and pumpkins last fall came from the garden he planted behind the property this spring. The garden also yielded two different kinds of raspberries and blueberries used in everything from brunch fare to ice cream bars at the height of the growing season.
What wasn't used on the menu was composted for this year.
Bonnivier's classic, eclectic profiles work on his menus across the board, he feels, because he bases his offerings on what the customers want.
"I can cook anything," he says, "but if there's no one there to eat my food it won't work."
Can-do 'tude
Although Bonnivier has served as head chef of several kitchens, he'd never been in charge of six at once. He says his experience as a United States Marine helps him the most now in his career:
"It taught me structure, discipline, direction, and a sense of urgency. It's helped me bring a team of over 100 people together to work in fluidity and make things happen."
He involves his staff in menu planning not only to develop consistent standards that help him operate several restaurants, but also to empower them and give them their own identity in the kitchen.
"When people can't wait to get to work every day… if they can do that we'll be successful with everything we do," he says.
For more information, visit http://www.hermitageclub.com.