Deep Background: For Westminster Artist David Stern, a plain painted wall just won't do
By Arlene Distler
The well-worn view is that people come to Vermont to learn how to slow down, leave city or corporate life for the more mellow gifts of gardening, gentleman-farming or getting into their long-postponed craft or art. Then there is David Stern, who stands that notion on its head. Stern is possessor and purveyor of so many artistic talents and enterprises, that he seems like an over-achieving city guy who transplanted himself into rural Vermont without missing a note, with a real working farm of ducks, pigs, and chickens, who paints, makes jewelry, and has a design and fabrication business called "Artscapes"…and bakes chocolate chip cookies!
Stern and his wife Vanessa were students at the University of Vermont when the   desire to live in the Green Mountain state started brewing. However, it was many years before the couple could make it a reality. Stern and his wife ended up in New Hampshire after graduation. He went on to teach English and lead theater programs at The Meeting School in Rindge (a Quaker school) and Middlesex School, while his young children attended the Waldorf School in Keene, NH.
In 2000 David and his wife bought an old farmhouse in Westminster, Vermont. They became farmers, raising hogs, rabbits and chickens––almost all their own meat. But in 2006 they sold all the animals and rented out their house to go on a "family adventure" to Morocco for seven years. "There was a lot I wanted to explore as an educator," says Stern. They ended up overseeing an international school, the family living in a dorm. When they returned they once again took up residence in their Westminster house. He taught at Kimball Union Academy in New Hampshire, and then Springfield High School in Vermont, but eventually left teaching so he could "be home and have more control over my time."
A year and a half ago Stern started "Artscapes." His specialty is faux effects, such as the look of wood or tile, and creating textural effects of all sorts. Says Stern, "In the natural world sky, leaves, are never one color. A plain painted wall is too sterile! I see myself as a designer of human space––we want depth of color, texture––we just don't know it anymore. But it's why people love wood––it has those properties." Stern comes by his faux finishes honestly, via a degree in set design. This background earned him a position as senior exhibit designer at the New England Aquarium.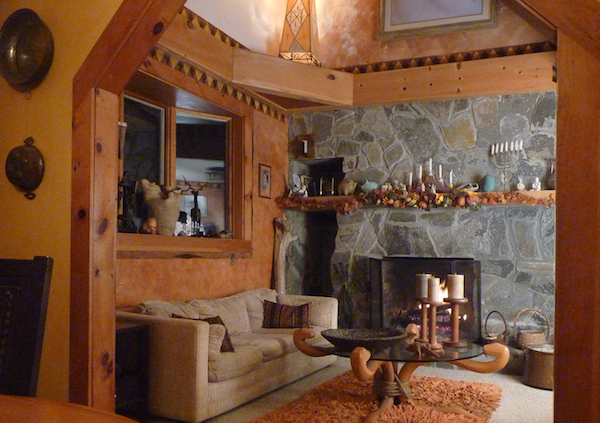 Besides transforming spaces through paint, Stern also works in three-dimensions. Those can be anything from found-object sculpture, such as the ones in Ramunto's (restaurant in Brattleboro) that are constructed from the likes of old barn board, railings, chains, driftwood, re-bar, old farm equipment gears. Or carved from wood, such as the relief sculpture of doves and snakes installed over a door at Kimball Union Academy.
But, Stern says, he is "less moved to make a sculpture and more moved to create something suited to the space." On-site work takes some hustling – without "hanging out a shingle," clients need to find him, or he must actively seek them out. Stern does all his own marketing, including designing his brochure. He says, "I market as tirelessly as I can." He uses early jobs, such as the Walpole Tavern in Walpole, NH, even his own house, as calling cards to show what he can do.
Stern played a big part in the interior design of Milagro's, a Mexican restaurant on Brattleboro's Main Street owned by Matt Blau, a local entrepreneur, "I allowed myself to get attached to that work––it hurt when it recently closed." However, between the time of our first and last interviews Stern found out he will be doing the interior design work for Blau's new restaurant in the same location. "I couldn't imagine anyone else painting over those walls," Blau told Stern, to his relief and delight.
A new gallery on Route 30 just north of Brattleboro, Fulcrum Arts, is a showplace for the ceramics of Natalie Blake and the glass of Randi Solin. It features not only Stern's faux marble floor, but his jewelry designs as well. Mostly self-taught (with some professional training at the deCordova Museum), Stern uses silver and semi-precious stones such as malachite and lapis lazuli. In his home's basement studio, he designs and crafts his unique creations, bending, welding, melting the silver around the stones or dichronic glass­­––colored glass that contains metal specks, giving it the shimmering effect of a butterfly wing. His non-traditional designs are also available on Etsy.
Stern tells me he loves being in charge of his own time. "I haven't been swamped, which is great. When I don't have work I get to do other things. Theater is a huge part of my life." He's helped on shows at New England Youth Theater, and recently directed Les Miserables at Main Street Arts in Saxton's River. The show, the first production of Main Street Art's newly rebuilt theater, had a much lauded, sold-out run.
Stern admits he will probably have to slow down at some point. "Maybe give up the animals." When I ask him about the artist's need to scramble to make ends meet he answers, "I don't need a lot of money––I need to have a healthy earth. Vermont is an amazing place. People care about the earth." His life and work are testament enough. He takes pride in his fabricating business being "green." "I don't waste a thing," he explains. Much of his work at Ramunto's and elsewhere involves repurposing and reusing materials on hand.
We last conversed at his home way up several dirt roads, where I got to meet David and Vanessa's two dogs, and to see and admire Vanessa's ceramic bowls. Pictures of their two children, now out of the home, crowd the walls, along with David's watercolors, and friends' artwork. He has just taken a batch of delicious from-scratch chocolate chip cookies from the oven.
Perhaps the most enduring of Stern's enthusiasms is his and Vanessa's life on their farmstead, what he calls their "joint product." Says Stern, "I'm so called to it and by it." Though I am visiting mid-winter, not the ideal time to visit a farm, it's clear the couple have created a base that is comfortable and nurturing, full of art and plants, including Stern's bonsai trees, a recently acquired interest.
While showing me his basement studio, set-up for sculpting, jewelry-making and fabricating, Stern explains his esthetic: "What I'm interested in is that place where man's desire to control intersects with nature's tendency to destroy, to undo that control. I love rust and decay, like old piers and barn board." He demonstrates this by showing me the process of working with silver––acetylene torch, dipping it into acid, soldering, to change a boring flat square piece of silver into something alive, that compresses those natural forces of decay and deconstruction to create an organic form that is beautiful.
"I'm interested in all the art forms," says Stern. "I used to say, 'and master of none,' but I'm beginning to gain some mastery." They all flow into each other, he explains––the watercolor painting, painting walls, painting theater sets, directing plays. I have a hard time buying that his proficiency in such an array of artistic disciplines is no big deal. Anyone would feel accomplished to excel in any one of these areas! But David Stern is clearly not "anyone" — not even several "anyones," as it sometimes seemed doing this story.
Residents and visitors alike are fortunate indeed that David Stern has chosen to call Southern Vermont home. Full of energy and passion for what he does, this artist/entrepreneur seems uniquely qualified to help Southern Vermont fulfill its destiny to be a premier creative hub.