Grafton sanctuary returns to its former glory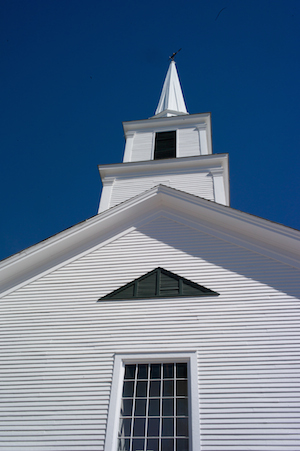 In 2010, the Grafton Church council determined that the outside of the Grafton Congregational church should be repainted. While the outside needed painting for maintenance reasons, the inside suffered only from age and some cosmetic cracks and accumulated dirt and soot in patterns on the walls and ceiling. The last significant painting of the inside was in 1969. The outside was painted white in 2011.
The inside of the church has two bands of stenciling around the walls, one at chest high level and the other, larger band, at the top of the  fourteen foot window level. In consideration were the three options; paint over the stencils entirely, paint over the existing stencils and completely replace them or, three, repair the existing stencils as needed. We chose the latter.
By early 2015 we had assembled our team, Jim Ravlin of R and B Painters, Chester, John Hallock of JWM Construction, Grafton, and Kim Ray, muralist of Londonderry. Jim Ravllin did the wall and ceiling painting as well as helping Kim. John Hallock designed and built the full house platform and provided the scaffolding and Kim Ray did the research and treatment of the stencils.
Since we stipulated that the pews could not be removed for fear of significant damage, a full house floor/platform was designed and constructed at an eight foot level in such a way that almost all of the timbers and plywood sheets could be reused on standard house  construction. Standard wheeled scaffolds were used on the plywood platform.
The earliest challenge with the stencils was what to clean them with. The red paint was water soluble. Some of the other colors might be water soluble as well. Originally a weak solvent such as mineral spirits was suggested, but that proved unusable as well. Finally, a stiff clay eraser was recommended. This took off the dirt and soot right down to the original paint. It was very laborious, but effective and did not damage the paints.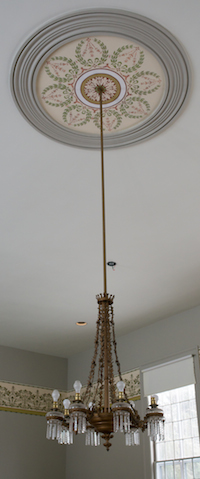 Once down to the original paints they turned out to be bright and shiny.  It also demonstrated that repairs to the paints, in the past, had been based on matching the colors of aged (dirty) paints as they appeared at the time of the repair. Since our new base,  or standard, was now the original colors, a thorough dry scrubbing of the stencils was called for, all 630 sq. ft..This has been accomplished and the room is brighter than ever. Numerous color photographs of before and after states have been taken and preserved.
The help of Kim Ray , her research into the history, chemistry and practices of stenciling in Victorian America, and her work effort can not be over stated. Similar thanks to Jim Ravlin and John Hallock and his crew.