New and Notable: From marmalade to wet paint
NEW GALLERY ON DEPOT STREET
Dorset resident Lisa Helmholz-Adams, known by many for her passion for the arts and the artists she represented at Tilting at Windmills Gallery in Manchester where she was Gallery Director for 19 years, is now a gallery owner with her name on the door of Helmholz Fine Art, more centrally located on Depot Street in Manchester Center, VT and established in November 2014. The gallery is open Tuesday to Saturday from 11a to 6p and Sunday from 11a to 4p. Helmholz Fine Art also has a satellite, by-appointment-only, gallery featuring 2000 square feet of space located in Tribeca, New York City.
This space will feature and host special exhibitions and events. Collectors and enthusiasts are invited to
explore the artworks from the many artists Helmholz-Adams has worked for years who have made the move with her to Helmholz Fine Art. Most important to her is that they all share a passion for what they do, an expertise in their medium of choice, work with rare and hard to find materials and successfully and consistently convey their artistic vision and message.
The artists featured at Helmholz Fine Art offer unique artistic visions and techniques. Elizabeth Torak embraces many of the same techniques handed down by the Old Masters, from preparation of the linen with white lead to the careful cooking (literally) of Maroger medium, and the hand ground paint. She is currently working on a series of large-scale figurative pieces titled "Feast of Venus" (80" x 108") and vibrant semi-abstracts. 203 Depot Street, Manchester, 802-855-1678, http://www.helmholzfineart.com
CALL OUT FOR ARTISTS: Wet Paint Live
An early "Call for Artists" is now out for watercolor, oil, pastel, and acrylic artists to paint at a new Southern Vermont outdoor painting (Plein Air) event scheduled for all-day, Saturday, October 10, 2015 in Springfield,
Vermont called "Wet Paint Live" (WPL). Both professional and emerging artists are encouraged to register soon. WPL will be held rain or shine on a designated route or "Plein Air Walk". The walking and painting loop winds along the Black River into downtown and lingers at three spectacular waterfalls Falls cascading against a backdrop of 19th century factory buildings and the vibrant colors of fall. Two demonstration artists, Jamie Townsend and Matt Chinian will be painting and explaining their style and technique throughout the day. Visitors are encouraged to view artists as they paint. The day begins at the Great Hall Public Art Showcase, One Hundred River Street, Springfield, and ends with an art show, judging, and awards. The judge is Springfield resident, Robert Carsten, PSA-M, an internationally known pastel artist and experienced judge in all media categories.  For more information and artist registration form, visit http://www.wplvermont.com.
WINNING CARAMEL
Big Picture Farm of Townshend, VT wins its second GOOD FOOD AWARD for its Raspberry Rhubarb Goat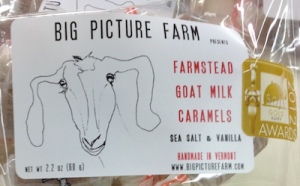 Milk Caramel at a ceremony held at the Palace of Fine Arts in San Francisco recently. The winners were chosen from a record 1,462 entries across 11 categories. The opening remarks were given by Mark Bittman and the awards were handed out by Alice Waters and Nell Newman. Lucas Farrell, owner of Big Picture Farm was asked to speak on behalf of all of the confection winners. "We are so honored to be amongst such great company. It is not easy to farm your primary ingredient—and to be honored for sustainability and good practices makes it all worthwhile." This is the second GOOD FOOD AWARD for Big Picture Farm. Their Chai Goat Milk Caramel was honored in 2013.
SO VERMONT MARMALADES TAKE THE GOLD
Blake Hill Preserves, specialist producer of chutneys, conserves, marmalades and preserves in Southern Vermont wins Gold for its "Orange, Lime & Ginger" marmalade and "Seville Orange" from over 2,000 entries at The World's Original Marmalade Awards held at Dalemain Mansion, England. In 2014 Blake Hill became the 1st US producer to win Gold at the Awards, and to win another two Gold Medals in 2015 deserves a shout out.
Blake Hill's latest Marmalade Awards are also hot on the heels of their success at the US Good Food Awards. Recently Blake Hill was in San Francisco celebrating their second consecutive win in the Preserves category for their chutneys, another special Blake Hill variety fast becoming a firm favorite of some of the nation's top cheesemongers. Located in Grafton, Blake Hill can be reached at 802-289-1636 or http://www.blakehillpreserves.com
CONTEMPORARY ART FAIR LAUNCHES THIS SUMMER
In response to a growing interest in the arts in Vermont, Eons Creative will launch Art Manchester (ARTMA), a new contemporary art fair set in the Village of Manchester. ARTMA will feature painting, sculpture, photography, mixed media and video art for sale by selected artists, galleries and arts organizations. ARTMA, held at the Inn at Manchester, opens Thursday, August 6 2015 with an Opening Night Preview from 4-7pm and will be open to the public Friday to Sunday, August 7-9.
ARTMA's launch is an opportunity for selected artists and galleries from anywhere to reach collectors that visit Manchester from all over the world in August to enjoy summer resorts, summer-stock theatre or to compete in the Vermont Summer Festival, Northern New England's largest "AA" rated hunter and jumper horse show. August is the peak month of Manchester's summer season, delivering higher revenues in food, hospitality and retail sales than in any other month of the year.
The ARTMA 2015 inaugural edition will offer an indoor footprint of 2,500 square feet of exhibition space and an expansive outdoor area for exhibition of outdoor sculpture. Over the span of three days ARTMA will be enriched by cultural and educational events, offering a unique opportunity to interact with artworks, artists, curators, and other professionals from the art world.
Exhibitor applications to ARTMA are being accepted until June 12, 2015. Please contact Michael Ellenbogen of Eons Creative for more information about exhibiting and to submit an application at (802) 768-8498, (917) 842-2669 or https://www.facebook.com/ArtManchesterVT.