By Lynn Barrett and Christine Rolland
The story of Springfield, Vermont might echo the tales of many rust-belt towns across the country which are facing changing times.
Mention Springfield, and someone will immediately say, "The Simpsons," thanks to its winning the right to be considered Homer Simpson's "real" home and to premiere The Simpsons Movie in 2007.
But the town has a colorful and inventive history that goes beyond the Simpsons event, which was only one of many steps along the path that charted a new dynamic for the former industrial community, whose population has dipped below its 20th-century level.
During the height of the Industrial Revolution, factories in the center of town lining the shore of the Black River hid the Comtu ("Big Noise") Falls.
There, visionary inventors created the objects to which Springfield owes its illustrious history, and today, that creative imagination is resurfacing.
In the last quarter of the 19th century, Springfield attracted a variety of singularly innovative individuals who not only specialized in gear design and production but also invented a diverse array of items we now take for granted: the movable-limb doll, the common clothespin (two wooden prongs joined by a spring), the steam shovel, the corn planter, hay and straw cutters, the mop wringer, a sheep-shearing machine, and guitar and violin cases.
Then, in the early 20th century, Precision Valley, as the town came to be known, began supplying unique high-caliber gear shapers and grinders internationally.
By mid-century, Springfield produced 10 percent of the nation's machine tools: these particular inventions generated the actual elements that made mass industry possible: accurate machines to produce gears.
The town, listed on the National Register of Historic Places, became such a major manufacturing center that it was listed as number seven on Hitler's list of cities to bomb during World War II.
Post-war Springfield prospered and placed high value on both education and innovation. The steady population of 10,000 was made up of stable working-class people — characterized by inventiveness, creativity, native stubbornness, and toughness — were employed in the agricultural, commercial, and professional sectors.
Students systematically scored in the highest percentiles for national exams and competitions. The high school was also a regional vocational school. Cooperative programs developed with local factories meant that these students graduated straight into stable jobs.
Prosperity continued until increasing fissures produced labor disputes; in the 1970s, unemployment rates increased in line with national trends. By the 1980s, jobs were being shipped overseas, and factories started to close. One large employer became a new high-security state prison.
By the time of the early 21st-century housing and financial crises, Main Street had become a haven for families living in multigenerational poverty, with social problems presenting severe challenges to a diminishing and increasingly impoverished population.
First impressions count
In the mid-1990s, a group of citizens volunteered to make the town more welcoming by bringing out its old beauty. They formed Springfield on the Move (SOM) and, to reinvent Main Street, gained accreditation as a state Designated Downtown, which lets the community access tax credits, grants, and technical assistance.
As a result, façades, shops, and murals have been receiving a facelift. An electric vehicle charging station will be installed. A developing farmers' market features local produce, crafts, and musicians.
Additionally, efforts are being made to demolish abandoned collapsing buildings in order to create neighborhood "pocket parks," opening up the vistas of the Comtu Falls.
The late 1990s saw the arrival of Nina Jamison to Springfield. With a background in retail management, she understood that stimulating creativity and building self-confidence are essential to reinvigorating a town. With the support of the local art center and a bank, she started Windows on the Arts, a program that lets local artists and schoolchildren alike create works to fill empty storefronts.
This successful effort led to a Main Street space — Gallery at the VAULT (Visual Art Using Local Talent) — in a former bank. It was designated one of three official Vermont State Craft Centers in 2009.
Organizers of the gallery, which provides a critical bridge between artists and the community, are particularly concerned about reaching out to disoriented youth and families to find ways to establish a sense of accomplishment in individual expression.
Public art space in old factory building
For years, the Fellows Gear Shaper building loomed, rundown and derelict, along the Black River, a symbol of Springfield's former glory as the machine-tool capital of the world.
The factory's hidden creative possibilities were just waiting to be discovered. Now, over 40 years after the old factory closed its doors, the 160,000-square-foot sprawling complex has a new name, a new look, and a new purpose. The building, now known as One Hundred River Street, has been transformed into Vermont's newest venue for the arts.
Inside is the Great Hall, a splendid, soaring space capable of showcasing large artwork and sculpture, performance art, dance, music and lectures. The space "is unique for the region," said Jamison, its arts and events coordinator.
"The entire project is a model of redevelopment — the Great Hall is icing on the cake," said Bob Flint, executive director of the Springfield Regional Development Corp., a prime mover in the effort to assemble the private investments and public grants that made the project possible.
"It's leveraging this vital part of Springfield's heritage to once again become a center of activity for the future," he said.
Arts events show off the area's new identity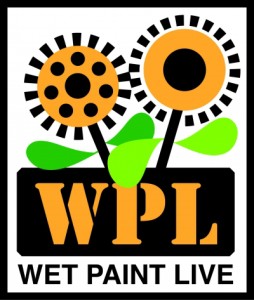 A multitude of volunteer movements have mushroomed over the years and are transforming the municipal landscape.
"Bus Start" displays student artwork at the downtown bus stop.
Springfield's 33rd Annual Vermont Apple Festival is timed for Columbus Day weekend, when tourists flood the state to see foliage at its height — the perfect moment
to showcase local crafts, artists, and musicians.
In October, visitors to Wet Paint Live will see painters working from views along the "Plein Air Loop". The event will culminate in a competition judged by an internationally known local pastel artist, followed by a sale.
September brings a new event…the Springfield Steampunk Festival, which hopes to reenergize Springfield's innovating spirit.
The Wet Paint Live website proudly declares, "Springfield offers a one-of-a-kind Vermont setting, surrounded by cascading waterfalls, turn-of-the-century factory buildings, beautiful old homes and working farms, mountain vistas, flower gardens, and classic New England… Discover an Authentic Vermont Painting Destination!"
The first annual Steampunk Festival
Youth and the young at heart are stepping in to add a new dimension to the town's do-it-yourself heritage. Steampunk — a sort of sci-fi reverie of steam-powered Victoriana or Jules Verne rocketed into the 21st century on a Metal Moose (think Lemony Snicket) — is right at home in this Valley of Gears.
The newly formed Steampunk Society of Vermont, Ltd. is organizing its first festival in Springfield this September 11, 12, and 13, which will feature exhibitions, panel discussions, live music, and readings at Great Hall and Hartness House. The festival's net proceeds will go
to the Community Center.
The Steampunk Society hopes to put Springfield back on the map as a place where imagination happens and gears still turn.
"I think we are on the brink of new true beginnings while standing firmly on the base of our industrial-innovating-inventor history," said Sabrina Smith, the festival coordinator.
A key link to Springfield's Victoriana past and inventor history is the Festival's presenting partner and main venue for the festival, the Hartness House, an elegant Victorian turn-of-the-century mansion turned inn that features a secret tunnel system built by inventor James Hartness, governor of Vermont from 1921 to 1923. The tunnel accesses the Hartness Equatorial Turret Telescope and observatory and museum.
One of the main events is the Stargazer's Ball at the Hartness House Inn. Guests are encouraged to dress Steampunk to mingle and enjoy cocktails and bar fare. HUMANWINE and Electric Sorcery will be performing. This is a special ticket event with limited capacity, so you are encouraged to sign up early.
The festival features musical groups including Venus Lens Cap, Rusty Belle, HUMANWINE, Ida Mae Specker & The Honest Mistakes, Suitcase Junket, Electric Sorcery, and Tritium Well.
Workshops and talks will include Bruce Rosenbaum, dubbed the "Steampunk Guru" by The Wall Street Journal and the "Steampunk Evangelist" by Wired.
Festivalgoers can also sign up for the absinthe Workshop and tasting conducted by expert S. B. MacDonald, who is devoted to the world of absinthe and hosts regular tastings around the world.
From children's activities to a fashion show, from tea dueling to a tweed ride, from vendors to a closing event picnic, the weekend promises to be full-blown steampunk.
For more information, visit springfieldvtsteampunkfest.com.
Christine Rolland is a Springfield High School graduate (class of '72) , tour guide, and art historian. This article was adapted from a series of articles that were published by AAWE in winter-spring 2015. AAWE is a non-profit association of American women living permanently in France.