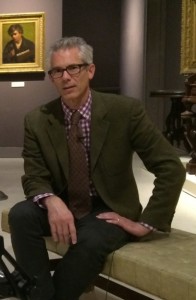 By Robert Wolterstorff
A museum can't just be about old art by dead artists—it's got to be about the present, and inspire the future. That conviction has been driving all the recent changes at the Bennington Museum. Our goal, simply stated, is to be more edgy, more relevant, and more deeply embedded in the southern Vermont community. That's why we have created new galleries for photography and Bennington Modernism, why we're hosting events like a forum on economic development and a "one-night living tattoo exhibition," and why we're creating ground-breaking exhibitions like this summer's show of Folk and Outsider Art, and Milton Avery's Vermont in 2016.
Bennington Museum was founded in 1852 as the Bennington Historical Association. In the 1920s it became a collecting museum. Eventually, it acquired portraits, furniture, Bennington pottery, landscape paintings, and the largest public collection of works by Grandma Moses, so it became a museum of art as well as history. Our diverse collections range from letters written by George Washington to contemporary art.
How to present such diverse material? The traditional way would be a wing for art over here and a wing for history over there, but we find that arbitrary and uninteresting. Much more exciting is to install art and history side-by-side, bringing things of different type and period into lively conversation. For example, in the new "Gilded Age Vermont" gallery some of the greatest artworks in the museum—paintings by William Morris Hunt and Frederick MacMonnies—rub shoulders with industrial patent models, Tiffany glass, an automobile made in Bennington, and a parlor organ. Fine art and industrial manufactures are presented as equals, with the result that a new, holistic sense of creativity emerges. Artistic "creation" and industrial "invention" are related. The process of intuition and experiment that creates a painting or poem suddenly seems not that different from the one that invents a new product or a new industrial procedure.
We also make connections across time. Alice Neel/Erastus Salisbury Field, our big summer show in 2014, brought together two great American portrait painters who were separated by 100 years. By hanging their works side-by-side, we learned about the continuity of humanity across the centuries. It also led to new revelations about Neel's artistic vision, and the show won accolades in The Wall Street Journal in December as one of the nine "most memorable exhibitions" of 2014, putting Bennington Museum in select company with the Metropolitan Museum, MoMA, the Museum of Fine Arts, Boston, the National Gallery of Art, and the National Gallery of Canada.
As we go forward re-thinking and reinstalling the museum, we will engineer more of these "creative collisions" that make connections across genres and across time. It's like rubbing two different materials together to see what will happen—sometimes sparks fly, and it's these sparks that inspire new creativity, ignite new invention. To underscore this, we have rebranded the museum as one of Art + History + Innovation.
It's easy to see that a vibrant museum can have an economic impact on its community. By focusing on innovation, a museum models and inspires a spirit of invention. One way we're doing this is by shining a light on contemporary innovation in the region. Bennington has long been a center for carbon composite molding. In 2016, in partnership with Bennington College and Kaman Composites, the museum will mount an exhibition focusing on 3D digital modeling and molding. By bringing together industry, the academy, and the museum, we're forging a potent triad that could have a real impact on economic development in southwestern Vermont.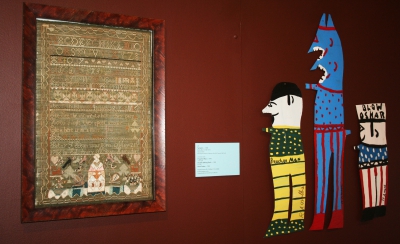 Another way we can inspire innovation is by embracing our role as a connector. Connecting artists to artists lets them know they are part of a like-minded community. Bringing together inventors and entrepreneurs supports the exchange of ideas, and might even help launch the next firm that will make an impact on Southern Vermont. That's why we host Bennington Young Professionals, and why we'll be launching PechaKucha (the art of concise presentations) in the fall. Ultimately, what we're talking about is a new sense of responsibility on the part of the museum, a conviction that we're here not just to collect and preserve, but also to inspire and change our community.
Come visit to see all the changes. This fall, our new gallery for works on paper features an exhibition of photographs curated by students at Bennington College, showcasing works by Lee Friedlander, Garry Winogrand, Jonathan Brand, and John Hubbard. Our big summer show, Inward Adorings of the Mind, is a wild and crazy assemblage of highlights of our own Folk Art collection, installed alongside works by outsider, visionary, and self-taught artists from the Blasdel/Koch Collection of Burlington. Our exhibitions celebrate creativity in all its myriad forms, with the purpose of inspiring and delighting you. The new Bennington Museum—get into it!
Robert Wolterstorff is executive director of the Bennington Museum.