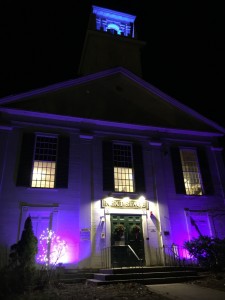 By Elaine Clift
In 2010, when a few people gathered to contemplate starting a performance center in the village of Putney, they could not have imagined where their creative efforts would find them six years later. Today, the result of their energy and artistic vision is Next Stage Arts Project, a beloved part of the Putney community and a model for community-based theater.
The idea for Next Stage Arts Project (NSAP) is rooted in another important community project: the reconstruction of the Putney General Store by the Putney Historical Society in 2008 after the 200-year-old store burned down. Eighteen months later, the renovated landmark suffered an arsonist's fire that destroyed the renovated market.
Devastated by the fires, along with a growing economic recession, the village found itself with vacant storefronts, a newly vacated church that dated back to 1841 and was on the National Register of Historic Places, and a threatened village economy.
Facing a troubling future, the Putney Historical Society and Putney's Sandglass Theater gathered community members at the empty church on Kimball Hill to explore how the village might move forward. Out of that gathering came the resolve to rebuild the store yet again.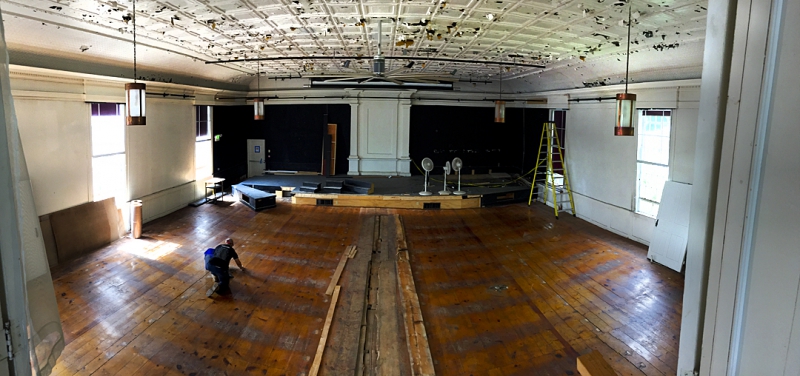 It was also the genesis for NSAP. When the group of NSAP founders and representatives from the Historical Society met in 2010, they recognized the beauty of the church space, but also spoke to its limitations. So, rather than plunge into fundraising for renovations, they decided to begin programming in order to assess how the space worked as a performance venue—and to sense how much community support there would be for extensive renovation.
A feasibility study that year revealed a significant problems: The old church was not handicapped accessible, it was not heat efficient, and its wiring was inadequate. It also had 100-year-old horsehair pew cushions for seats.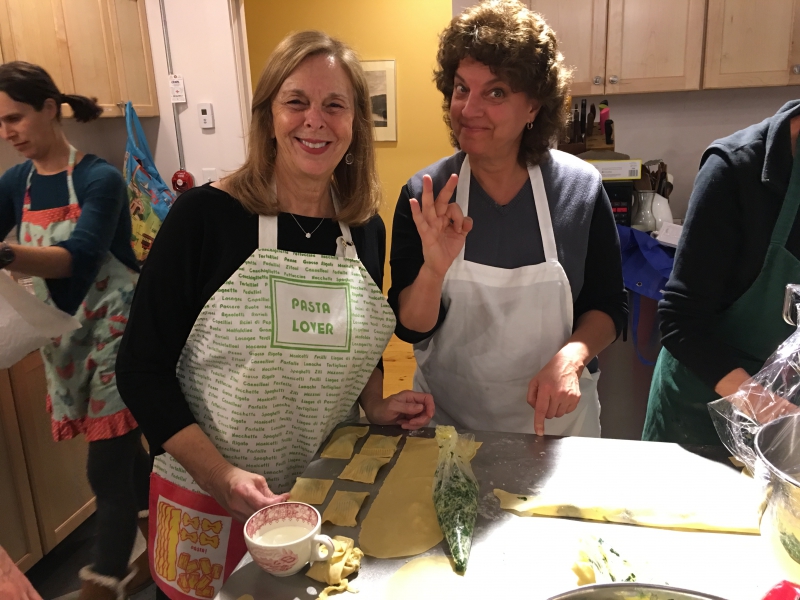 The first objective NSAP's leaders met was securing funds for new, more comfortable pew cushions. The team raised the funds, although at that time the seating still did not address sightlines. (Theater seating allows for unobstructed views by gradually raising the level of seating.) Then they began addressing other problems: the lack of restrooms, a poor lobby space, and peeling lead ceiling paint.
According to NSAP Executive Director Maria Basescu, the ceiling was the group's greatest technical challenge.
"It was also one of the most expensive parts of renovation because removing peeling lead paint is a very complicated process and requires qualified, approved vendors and permits. We also wanted to be mindful of historic preservation and the details that existed in the beautifully crafted ceiling," she explains.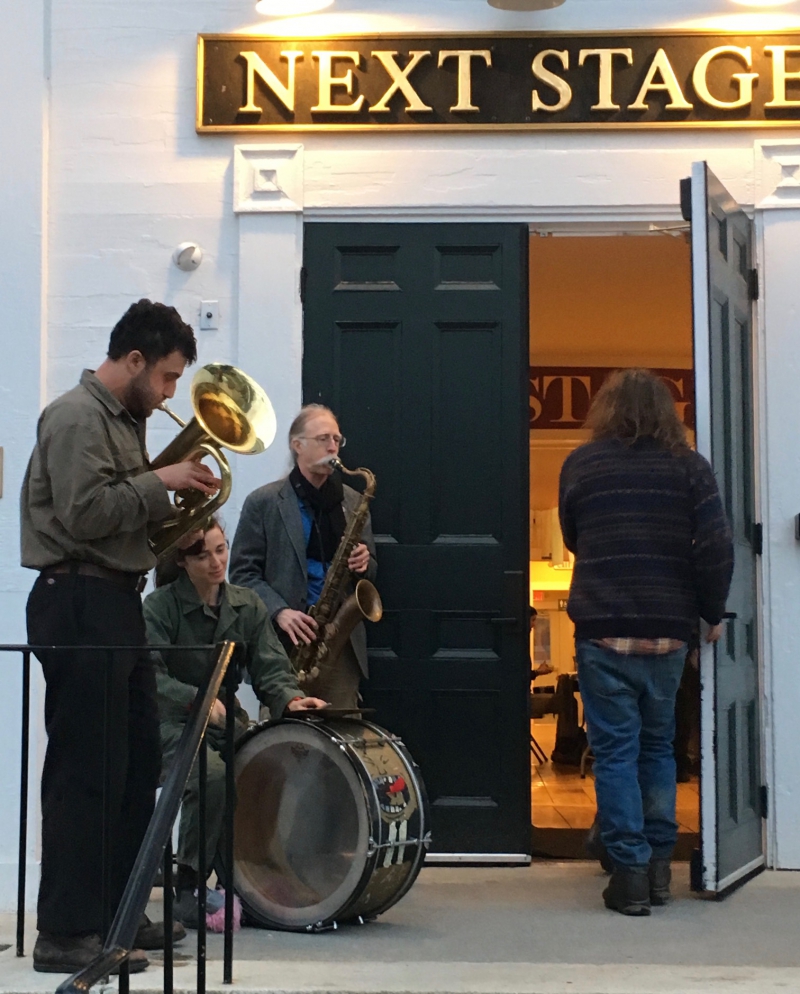 Other aspects of the renovation were challenging as well, and they were addressed with as much care as the ceiling.
For example, an important priority for the interior design of the performance space was ensuring that it would help to build a sense of community. That led to the idea of a unified audience section in which there was no middle aisle to disconnect people. Aisles do run on either side of the seating.
"We're very proud of that," Basescu says.
Other completed renovations include the addition of an elevator and improved building access—that latter not just for disabled visitors, but also for elders who said they found it difficult to access the building and the upstairs theater.
Hearing assistance is also available now, too, as are comfortable new theater seats on raked tiers providing great sightlines for 200, with half the seats in permanent place and the other half easily added or removed on demand.
Stackable risers and stage extensions enhance the staging of plays and dance concerts, and the stage is now accessible by ramp, conforming to the Americans with Disabilities Act, making NSAP eligible for numerous grants. An addition at the rear of the building provides a performers "green room" and restroom.
Inclusive—and expressive—by design
Lobby changes have made it possible to add an art gallery and enable NSAP to more efficiently serve as a community center and theater.
Moveable walls allow for accommodating smaller group activities, while the large open space is a welcome setting for the community suppers that regularly take place there.
And one of the final and most exciting renovations, organizers say, was the recent addition of a fully licensed commercial-grade kitchen overseen by a professional kitchen manager, adding to the community's connection to local food and agriculture. Cooking classes are proving to be a treasured addition to NSAP's offerings. And NSAP recently won a liquor license.
Improvements are also visible externally. Noted landscape designer Gordon Hayward donated his services along with Eric McGowan, Will O'Brien, and Turner & Renaud. Paul Bemis built a beautiful stone wall in front of the building. Nick Keil handcrafted the lobby reception counter.
"There is so much love built into the renovation," Basescu says, including that delivered by architect and NSAP Chip Greenberg, and GPI, the Brattleboro construction company that tackled the renovation challenges.
Preserved and growing
Lyssa Papazian, a preservation consultant and Putney Historical Society board member, says she is particularly proud of the commitment to historic preservation demonstrated by everyone who worked to restore the church on Kimball Hill.
"This incredible project that marries preservation, community development, and the arts was recognized in 2016 with a Preservation Trust of Vermont Honor Award. It strikes just the right balance of great architectural restoration with sensitive adaptive changes to ensure it serves the community well into the future," Papazian says.
Making all this possible was $650,000 raised through community support, a bounty of state tax credits, and more than $1 million in grants from arts councils, private foundations, and historical preservation donors.
NSAP also received a $320,000 grant from ArtPlace America, making it one of 55 recipients awarded from a field of nearly 1,300 applicants. ArtPlace America noted in its approval that NSAP easily meets is criteria for "advancing the field of creative placemaking, in which art and culture play an explicit and central role in shaping communities' social, physical, and economic futures."
Today a sustainability fund is in place against the need for an additional $70,000 sought for ensuring years of building maintenance and program development.
Billy Strauss, board member and a founder of Next Stage Arts Project, notes he is "very proud of the way the community stepped forward to help define and support the transformation of this wonderful building in service to our downtown and the broader region. It was a complex undertaking and the success of both the renovation, and our still relatively new organization, is a testament to the team of folks who collaborate week in and week out, including our small but mighty staff, the Next Stage board, and the many community volunteers and constituents who shape the Next Stage story."
"Next Stage is a place for our community to come together to share the experience of live performing arts," Basescu adds. "We seek to be a haven for inclusive, respectful, creative expression that challenges us to stretch beyond what is familiar, to learn from other perspectives and to embrace our differences. Through our partnerships with the Putney Historical Society, Yellow Barn Music, Sandglass Theater, Apron Theater Company and collaboration with many others, we celebrate a community rich with an unparalleled spirit of collaboration and the understanding that our well-being is fundamentally interconnected."