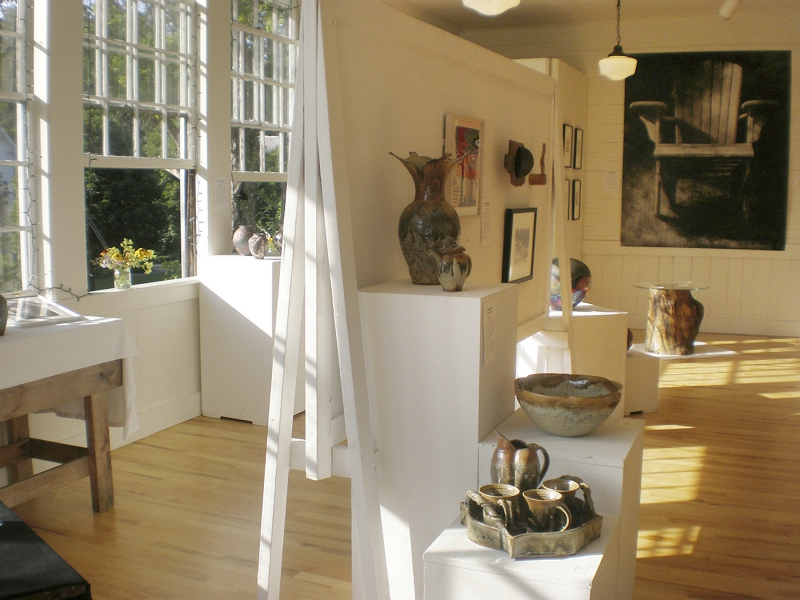 By Ann C. Landenberger
The arts thrive along the winding, craggy Rock River in Southern Vermont. Witness the Rock River Artists Open Studio Tour: What started as a humble cooperative among Williamsville, South Newfane, and Newfane artists now heralds its quarter-century mark.
In 1993 photographer Christine Triebert, then new to South Newfane from a career in Boston, noted a cluster of area artists all producing extraordinary work in a variety of media from studios tucked away on the banks, in the woods, and along dirt roads lacing the area. She cast the notion of an artists' open studio, and soon she and co-founder Carol Ross launched the tour as a one-day offering that drew a largely local audience.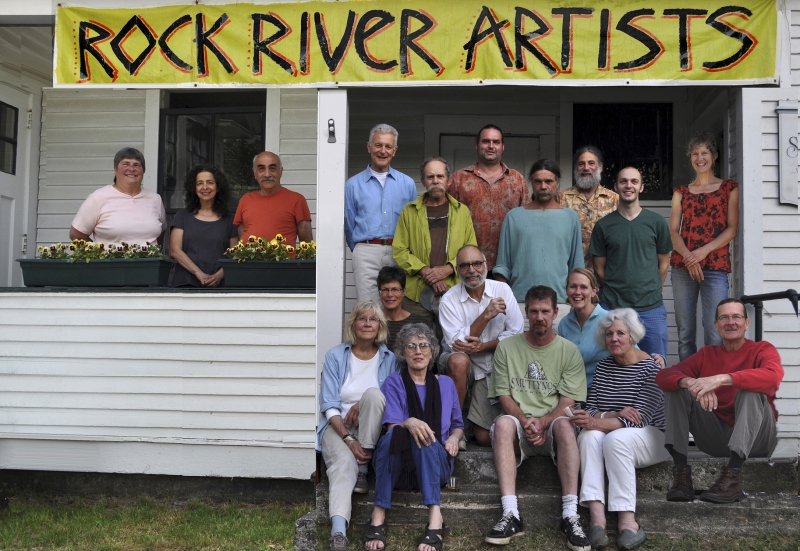 Twenty-five years later, Triebert tells us, the participating artists, the tour event, and her own work have grown and evolved significantly.
"New artists have joined, some have retreated, and others have rejoined. Throughout, the RRA has been a collection of established professional artists working consistently in their field who welcome visitors from within a boundless radius to learn about the art that's spawned along the Rock River," she says.
In that time the RRA tour has matured into a full weekend event with a strong web and social media presence and connects with a much broader audience that it did in its inception. Guests delight in unique, behind-the-scenes looks at the locations where each artist works.
In part because many tour visitors return year after year, Triebert tells us, being part of a group that's committed to producing a top-notch show every summer charges her up and gives her the impetus to push herself to create something unique for each tour.
Triebert also notes the event has brought an awareness to the region as an artist-rich community.
"Before the RR artists, there wasn't much known of the uniqueness of the Rock River region beyond its famed swimming holes. I think the name 'Rock River Artists' gave a new face to this area as both a unique geographic locale and strong, cohesive community populated by many creative individuals."
And, she explains, that community identity resonates:
"The arts are an extremely valuable and quantifiable aspect of economic life anywhere they are allowed to thrive. Visual and performance artists create a vibrancy in a community by the very nature of their creative endeavors. Artists bring visitors, participants, and dollars to the regions in which they do their work. The arts are a dynamic force behind much of what makes a community and a region feel good, lively, and complete."
According to founding member (and collage artist) Mary Welsh, the quarter-century mark naturally invites reflection.
"We've all had ups and downs—artistic, financial, and personal—but one constant we can count on is that mark circling the third weekend in July every year. How lucky is that? And how many places with a population this size have as many 'fellow travelers' who get it?"
The reward on that weekend in July is not insignificant either, Welsh notes. Over the years it's yielded several very good friendships from farther afield.
Many RR artists have used their arts and crafts to help the community as mentors to students at Leland and Gray, the local middle and high school; mounting art shows at local nursing homes; and adjudicating Student Art Month competitions. Collectively they've raised much-needed capital and supplied the muscle for the renovation of the historic South Newfane Schoolhouse.
Other founders include raku potter Richard Foye, printer and painter Roger Sandes, potter Matt Tell, and custom furniture maker Dan DeWalt.
It's DeWalt who reflects that 25 years ago he wouldn't have recognized as his own the work he produces today.
"While artists always evolve, develop, and push boundaries, I am grateful for the inspiration and criticism of my fellow Rock River Artists that kept me exploring and growing," he says.
Meet the artists
Rock River Artists (RRA) 25th Annual Open Studio Tour is slated for Saturday and Sunday, July 15 and 16, from 10a-6p daily. A tour that has earned its following well beyond Southern Vermont, the event features 15 accomplished artists in a range of media, from functional ceramics to thread on fabric.
Artists on the 2017 tour include Rob Cartelli, functional pottery; Ellen Darrow, pottery; Dan DeWalt, custom furniture; Chris Ericsson, furniture and jewelry; Georgie, oil painting; Richard Foye, raku pottery; Richard Gillis, wrought iron work; Caryn King, painting; Steven Meyer, painting; Leonard Ragouzeos, painting and drawing; Roger Sandes, painting and prints; Deidre Scherer, thread on fabric; Matthew Tell, pottery; Christine Triebert, photography; and Mary Welsh, collage.
Visitors are encouraged to start their RRA Open Studio Tour at the Old Schoolhouse in South Newfane village, where participating artists present a group show. Pick up a map of studio locations and begin a self-guided tour of the studios, all within short driving distance of the Schoolhouse. Admission is free all weekend.
The Schoolhouse, a classic 19th-century structure that once housed a one-room village school, is itself worth a visit.
To find it, take Williamsville Road off Route 30, eight miles north of Brattleboro. At the end of the road, just over the old stone bridge, take a left. Drive along clapboard-lined Dover Road through a covered bridge, and past riverside homes. At the fork in the road, look to your left—there's the Schoolhouse.
Were it not for modern vehicles, you'd feel yourself thrown back a hundred years or more—but the work to be found inside and along the tour is fresh, innovative, inventive, and rich.
Just as it will be a quarter century hence, we expect.
For more information, contact Roger Sandes at 802-348-7865 or rs@rogersandes.com, or Chris Triebert at 802-348-7440 or chris@rockriver-studio.com.