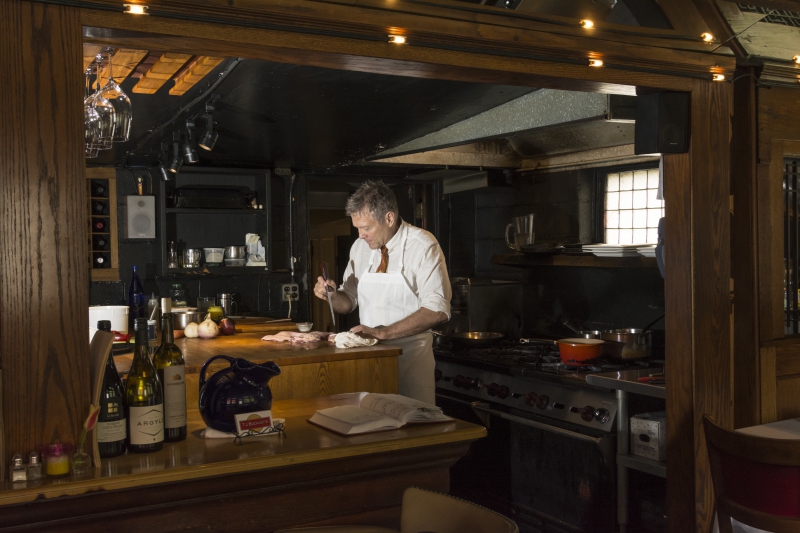 The movement that would sweep the world didn't yet exist when Chef Michael Fuller went into business 34 years ago, but even then he was running his restaurant and living his life according to its main tenet: local is king.
Fuller opened T.J. Buckley's in a restored 1925 Worcester dining car that had housed a so-called greasy spoon eatery.
"We served breakfast and brunch. It was a small place with a limited menu and a lot of attention was given to detail," Fuller recalls of the restaurant's early days.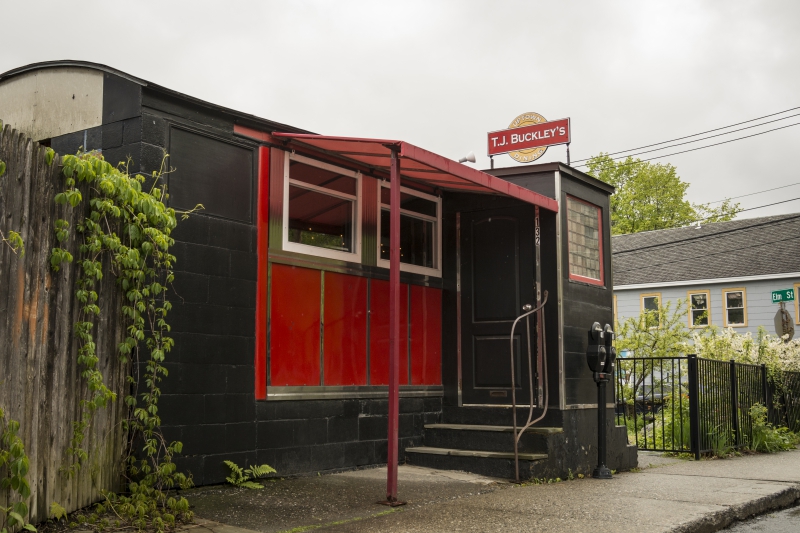 A few years later, he decided to serve dinner only and focus on an ingredient-driven menu. The evolution of serving local produce and products started immediately, he says.
"It was before farm-to-table was a thing. I know all the area produce growers within a 15-mile radius, some for more than 30 years."
These days, the intimate eight-table Elliot Street restaurant, which features an open kitchen and vintage decor, is listed as one of two reasons Brattleboro enjoys its standing among Fodor's and Frommer's Top 10 Best Small Towns in America and best restaurant rankings in America, respectively.
Fuller has lived the farm-to-table lifestyle since he was 19 years old in the mid-'70s. He lived in a collective household and helped care for communal organic gardens. There were many communes in the area then, Fuller recalls.
By the time he had the opportunity to apprentice for Rene Chardain, then owner of Four Columns Inn and Restaurant in Newfane, he was comfortable working with these ingredients. Four Columns was the first true farm-to-table restaurant, preceding Alice Waters's Chez Panisse, in Berkeley, Calif., by four years.
"Rene was an old-world French chef who ran the Four Columns like a country inn," Fuller explains. "The menu was very seasonal, and the restaurant closed during the off-season."
He adds of Chardain, whose property boasted a trout pond and visiting birds, "he had a patch of wild watercress I used to pick from, and I'd collect chanterelle mushrooms. It introduced me to foraging."
Fuller's French culinary training is evident in that he cooks simple, elegant food with clean flavors.
A vegetarian along with his wife and children, he has perfected the art of—and often builds his menu around—what he collects in the wild during his mountain biking excursions. His skills were featured in a recent episode of "Filthy Riches," a National Geographic series that focuses on foraged and wild foods and the chefs who integrate them into their cuisine.
Fuller's favorite wild edibles include ramps (wild leeks, which he either candies or pickles), and morel, chanterelle, hedgehog, and maitake and matsutake mushrooms. Black trumpet mushrooms feature in his diver scallops and crispy pork belly dish on the seasonal menu.
"These all thrive in certain environments," he says. "You can cultivate a spot to ensure they'll continue to grow in the same area."
Though he holds his foraging locations as a close secret, he readily divulges the sources of the rest of the ingredients he uses in his menu, which changes daily depending on what's local and seasonal but always includes vegetarian, vegan, and gluten-free options.
Meats such as pork belly come from Wild Shepherd Farm in Cambridgeport; Japanese greens and Asian pears, which Fuller serves in desserts such as his pear-apricot layered rustic tart with apricot almond filling, come from Akaogi Farm in Putney.
Sheep milk cheese from Peaked Mountain Farm in Townshend was the star ingredient in the ricotta gnocchi and polenta he prepared for his appearance on "The Big Cheese," a Cooking Channel show that promotes America's artisanal cheese producers and the chefs who work with the food they produce. The episode marked the first time T.J. Buckley's was the focus of a national cooking broadcast.
The cornmeal he uses for the polenta he serves with his scallop dish comes from Lost Barn Farm in Putney.
Fuller says he feels locally sourced food still suffers from the stigma that it's inaccessible, but he argues good food is worth the extra expense.
"I know there's a cost factor but I tend to overlook that," he says.
And that's easy to do considering the rewards of serving food prepared with ingredients grown and raised by one's neighbors.
"It's a huge incentive to stay with a farm-to-table menu, having that asset in this community," he says. "It's been inspiring and it continues to be."
T.J. Buckley's, at 132 Elliot St. in Brattleboro, is open for dinner Thursday through Sunday year-round, and seasonally on Wednesdays. For reservations, call 802-257-4922. For more information visit tjbuckleysuptowndining.com.