There's something about ordering your menu selection from a sandwich board, watching the chef prepare your meal, and enjoying it picnic-style out in nature. Whether it comes from a truck, wagon, or stand, food that's made to order in this fashion is the thing to sample on long summer days. There are many to try while traveling, shopping, and exploring in the region, and the following picks are a varied representation of both types of outdoor establishments—mobile and stationary—that help keep world cuisine on the map in Southern Vermont.
Andrzej's Polish Kitchen
79 Flat St.
Brattleboro
802 490-9679
Serving lunch and dinner Wed-Sat, noon-6p; Fri, noon-8p
Former New York City Russian Tea Room chef Andrzej Mikijaniec cooks the traditional food of his homeland at his stand. His menu is authentic and basic. His four primary dishes are golabki, a cabbage roll of minced pork; pierogi, boiled dumplings with sweet or savory filling (his are potato and onion and he plans to add other varieties, including one with chanterelle mushrooms and a blueberry); kapusta, a dish of braised cabbage with bacon, mushroom, onion; and kielbasa. Mikijaniec uses as many local products as possible in his cooking, including vegetables from his own garden. A new menu item is bigos, a Polish stew of finely chopped meats with sauerkraut and shredded cabbage. "It takes six hours to cook," says Mikijaniec, who this year will be using honey from his own beehives for his borscht, a cold beet soup.
Bert's Chuck Wagon
63 Main St.
Putney
802 387-2751
Serving breakfast and lunch Mon, Tue, and Thur, 8a-5p; Wed, 8a-3p; Fri, 8a-7p; and Sat, 10a-3p
Bert Wilkins has thrived in business behind the grill for 26 years because he cooks simple fare anyone can enjoy. His burgers are freshly ground and his chicken is all white meat. If he had to choose, he'd say his steak and cheese sub and hand-cut fries (made with canola oil) are the pride of his down-home food truck, which sports a unique pioneer-themed mural.
Dosa Kitchen, Ro's Petite Fête, and Tito's Taqueria
Retreat Farm
400 Linden St. (Route 30)
Grafton Village Cheese parking lot
Brattleboro
Though these three mobile food services offer very different cuisines, each incorporates Grafton cheese…
Dosa Kitchen. Dosa Kitchen's food truck is known for its from-scratch South Indian food featuring the dosa, a naturally gluten-free fermented rice and lentil crêpe with a distinctive sour, tangy flavor and crisp, airy texture. Some inventive ways it's presented on the menu include the signature dosa dog and burrito-style dosa wrap with masala sauerkraut and Grafton cheddar. Be sure to try a mango lassi (yogurt drink) to complement your meal. Serving lunch Wed-Sun, noon-3p; call 646 388-2221.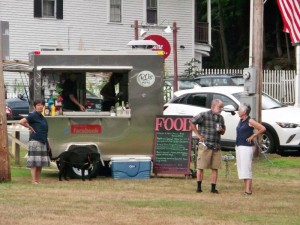 Ro's Petite Fête. Set up next to Dosa Kitchen at Grafton Village Cheese, chef Ro Corbin's mobile sandwich shop serves something to suit every taste. Corbin's specialties are her fresh grilled sandwiches made with Grafton Village Cheese on Rock Hill sourdough. Her Vermont twist on the French croque-monsieur, served with applewood smoked ham and caramelized onions, earns its place at the top of the list. Vegans will be happy with Corbin's organic quinoa bowls. She also makes a mean hot dog and fries. Serving lunch Wed-Fri, 11:30a-2:30p; Sat, 11:30a-12:30p; call 802 380-0284.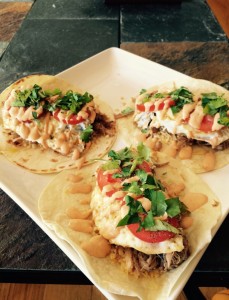 Tito's Taqueria. Tito Garza learned to cook authentic Mexican food from his grandmother, who lived just over the Texas border from him in Mexico. Many of his dishes feature his hand-rolled tortillas, and you should bring your taste for spice—his Mexican rice fireballs are a must-try for lunch. Serving lunch Sat and Sun, 11a-4p; call 802-246-7217.
Jamaican Jewelz
5983 Route 5
Westminster
802 289-2632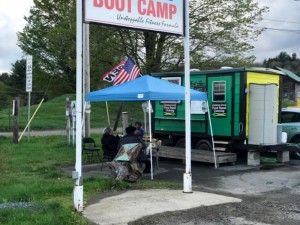 Serving lunch and dinner Mon-Thurs, 10a-8p; Fri and Sat, 10a-8:30p; Sun, 10a-7p
Chef Julian "Jewelz" Perkins serves up traditional and family recipes from the Caribbean. Among the most popular dishes on the menu at her food stand are saltfish, a dried cod served with ackee—a Jamaican fruit—and oxtail with butterbeans. Perkins lists as specialties her jerk and sweet and sour sauce (served on chicken or pork) as well as desserts such as sweet potato pudding and black rum cake.
Mio Bistro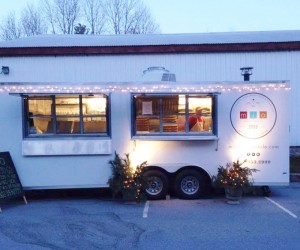 JK Adams Kitchen Store lot
1430 Route 30
Dorset
802 353-2999
Serving dinner Fri-Sun, 4-7p; lunch Sun, 11a-2p
Although pizzas with organic sauce, imported Italian flour, and freshly grated cheese are on the menu at this mobile food trailer one night a week, Mediterranean cuisine isn't the only specialty of chefs Beverly Buber and Leo Ledoux. Frequent offerings on the menu include Indian specials such as chicken tikka masala and seafood. A favorite is the crab and corn chowder. "We sell out of it," Buber tells us. Of course, it's important to try one of the mobile bistro's gourmet pies—perhaps the Tuscan veggie with roasted garlic, artichoke hearts, organic spinach, and Vermont chèvre.
Smokin' Bowls
831 Rockingham Road
Bellows Falls
802 463-9800
Serving lunch and dinner Thurs-Mon, 10:30a-6:30p
Although the food stand is sought for its large variety of soups in winter when ski traffic is heavy, in summer it's all about barbecue. Meats, which come from Ephraim Farm in Springfield, are smoked in a kitchen a few miles away and go into the popular pulled pork sandwich, which comes on a bun made by Chef Jason Kobel. (Sarah James and Kobel operate the food stand.) Smoked pulled chicken and beef brisket are other must-try items, as are Kobel's homemade desserts.
Taste of Thai, Brattleboro
1114 Putney Road
Brattleboro
802 490-4482
Serving lunch and dinner Mon-Fri, 11a-7p
At this brightly colored food truck and family-run restaurant specializing in both Thai and Laotian food, dishes are made fresh daily before diners' eyes. Frequent menu requests include drunken noodles (rice noodles with red and green peppers, egg, onion, scallion, carrot, bean sprouts, basil, and chili sauce) and chicken satay (marinated, skewered grilled chicken with peanut sauce). Fresh spring rolls are a popular starter.
Two Neanderthals Smokin' BBQ
361 River St.
Springfield
802 886-1000
Serving lunch Thurs-Sat, 10:30a-5p; Wed and Sun, 10:30a-4p
Trevor Watkins and Mike Deschaine make their own rubs and barbecue sauce as well as side dishes—baked beans and coleslaw star on the list. Watkins says it's a toss-up between ribs, brisket, and pulled pork as the most-asked-for menu items at the food trailer. And try their hand-cut fries!