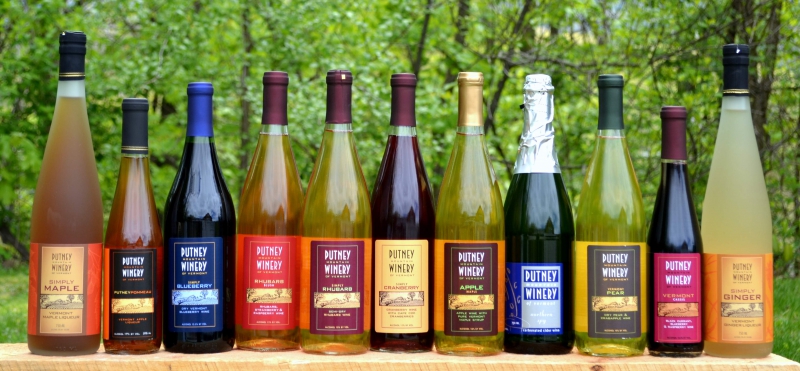 By Kate Dodge
Rhubarb wine? A ginger liqueur? Blueberry wine? Blackcurrant cassis? These are just a few of the creative drinks we make at Putney Mountain Winery. From dry, premium dinner wines to spicy and sweet liqueurs, the flavor and feel of our wines reflect the varied, often subtle, beauty of the region and its distinctive character.
Putney Mountain Winery is both solar powered and certified as a Vermont Green Business, and a highlight of the winery's mission is to create its wines and liqueurs from locally sourced ingredients. Our winery has been locavore since before the term was coined. We create our drinks from berries, apples, pears, other fruits, and rhubarb and ginger grown on a dozen family farms in the area.
Simply Rhubarb is a rich, semi-dry white table wine made from organic rhubarb grown in Dummerston, just down the road from us. This wine showcases the tart essence of fresh-picked rhubarb, underscored with a subtle earthiness. We enjoy Simply Rhubarb by itself as a cocktail, as an apéritif with cheese, with seafood, and with lemon chicken.
Simply Rhubarb contains no sulfites. It is treasured by those allergic to sulfites who often proclaim it the best sulfite-free wine they ever tasted. Alas, this popular wine is only available directly from us beginning in May until it sells out in the late summer.
Simply Pear, fermented from organic pears and crabapples, is a dry white table wine that pairs perfectly with scallops and lobster. The subtle pear flavor with its crabapple astringency complements the creaminess of a rich Vermont cheddar. We sometimes add a splash of our Simply Ginger liqueur to a glass of Simply Pear.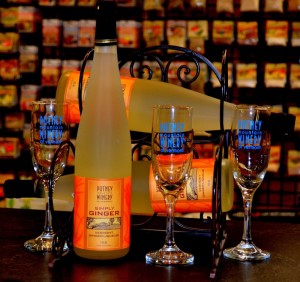 Customers smile with their first taste of Rhubarb Blush. It is our most popular summer sipping wine, which we make by blending three fruit wines: rhubarb, strawberry, and raspberry. By itself Rhubarb Blush is fruity with a hint of tartness and a tantalizing aroma of fresh strawberries. We love it with a summer salad adorned with walnuts and craisins. It makes a refreshing spritzer and a satisfying tall drink in a tumbler of ice cubes. As a base for sangria it is unsurpassed.
Ginger is not a traditional New England crop, and we are grateful that local farmers are beginning to cultivate it. We make our Simply Ginger liqueur with fresh, organic ginger grown in Amherst, Mass. It is subtle and delicate with a treasured spiciness.
Many enjoy Simply Ginger straight up and over ice both before and after dinner. It also proves a versatile ingredient in many popular cocktails including Ginger Martinis. Kate's favorite cocktail is a Simply Ginger/tequila "martini," with or without ice, garnished with a generous slice of lime. Charles favors his in a chilled cocktail with Canadian whiskey and lemon.
Fruit harvests bring exciting times to the winery. We begin in May with rhubarb, closely followed in June by strawberries. July is a prolific month with harvests of raspberries, black currants, and blueberries. In the fall come apples, cranberries, pears, and ginger. During these times our contact with growers reminds us of their dedication to excellence and our deep connection to agriculture and to the Vermont working landscape.
We press the tree fruit and rhubarb on an old hydraulic apple press in our barn, and the berries with a smaller press in the winery. At times our home basks in the aromas of fresh-pressed apples, rhubarb, and pears, and the winery is deliciously redolent of fermenting fruits.
Kate and Charles began Putney Mountain Winery in the basement of their Putney farmhouse in the 1990s. Today, winemaker Jason Hubner and his staff make their liqueurs and wines in a large space inside the Basketville retail store in Putney.
Sales staff Katie Barcellos and Ben Pfosi provide lively, entertaining, and informative tastings at Basketville from 11 a.m. to 5 p.m. daily. You can find Kate on Saturdays at the Brattleboro Farmers' Market. Winery staff pour every weekend in the Cabot Cheese Store in Quechee and in Windsor at The Cheese Board, next to the Harpoon Brewery.