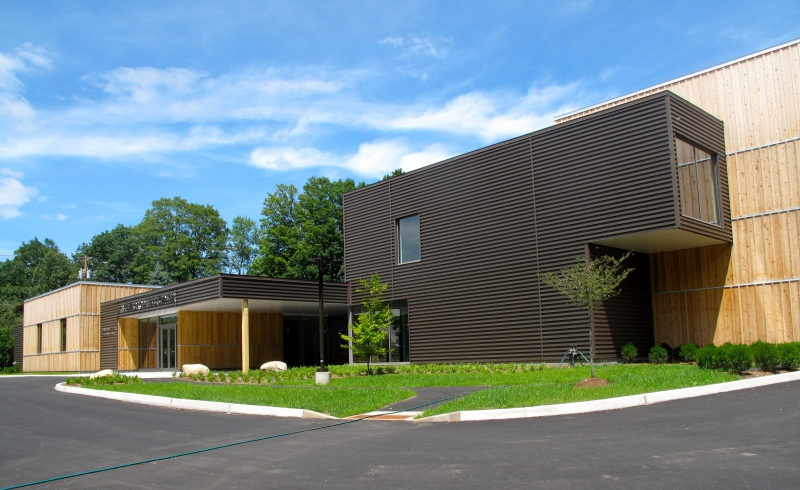 It's been a momentous year for two venerable Southern Vermont performing arts institutions. The Weston Playhouse Theater Company and the Brattleboro Music Center both embarked on ambitious building projects that resulted in state-of-the-art performing arts centers that recently opened, which will allow both facilities to expand their offerings, provide enhanced audience experience and take them into the future.
By Katherine P. Cox
Brattleboro Music Center was designed first and foremost with acoustics in mind. Unlike many theaters or auditoriums, BMC is a purpose built music venue.

The primary performance hall was designed specifically as a chamber music hall with the same size and proportions of the spaces the music was originally composed for.

Aside from performance spaces, BMC has 15 instructional studio spaces to support their music education mission.  All of these spaces were created from a former elementary school.

Rooms were sized and shaped for the instrument being played.  Sound separation between the rooms was the critical consideration.
—Austin K. Smith, AIA, RLA LEED AP, Principal, Scott Simons Architects
The Brattleboro Music Center has been around since Blanche Honegger Moyse founded it in 1952 in a moment in the history of arts in this area that Mary Greene, BMC's managing director and a former member of the board of trustees, describes as pivotal. So it's fitting that the magnificent reimagined music center, which just opened in July, rises on Blanche Moyse Way, across from Living Memorial Park.
The center is a state-of-the-art music facility that houses a music school and auditorium that BMC's staff and board have long envisioned in years operating out of a church on Walnut Street that Greene says was a gracious temporary home, but one simply not designed to house a music school.
The new Brattleboro Music Center, designed by Scott Simon Architects of Portland, Maine, has very definitely been designed with music in mind and motion.
Scott Simon specializes in music education spaces, and Greene says the firm has been integral to the project "since we first started dreaming about it almost 10 years ago."
Also key to the project's success is Acentech, the multi-disciplinary acoustical consulting firm based in Cambridge, Mass., which proved its mettle to BMC with its work on education spaces such as the Berklee College of Music and the New England Conservatory of Music, both in Boston.
With DEW Construction Corp. and The MacMillin Company providing their expertise, the team broke ground last September and brought the project in on time and on budget.
Bringing the dream to resounding life
The new center is a dream come true for BMC, and in Greene's words "another way in which Brattleboro's commitment to and reputation for the arts is made visible."
Visitors see the new school is grand by any measure—and certainly for the Brattleboro Music Center. Here are 14 teaching studios, which include three side-by-side double piano studios, with lighting and temperature control; and a percussion and brass studio with a floating floor and acoustical panels. The latter, Greene said, because "you want to make sure that the music they make here doesn't reverberate along the concrete. Every acoustical treatment we could provide is here."
That includes soundproofing between the studios, so what happens in the studio stays in the studio.
"When you're trying to learn your piano pieces you don't have to try to ignore what you hear from next door," Greene explains.
In addition, there's a library for music collections, two additional library rooms brimming with scores for teachers to use, a dedicated room for Windham Orchestra scores, a faculty and visitors lounge, a recital hall, a classroom for group instruction, staff offices, and a full kitchen.
On the other side of the building is the 40,000 square-foot, 224-seat auditorium, which provides ample space to host BMC's world-class Chamber Music Series and rehearsal and performance space. Undulating wall panels provide sound management. An acoustical ceiling cloud enhances sound in the room, benefiting the performers who can better hear themselves and fellow musicians.
There are even stones on the roof to intercept and redirect rainfall, all for the sake of acoustic perfection.
"When you come here you'll hear music in a way that we haven't been able to offer for quite a number of years," Greene says.
Greene says that the team behind the new center took to heart that they were at the heart of a music community. "There's so much music that happens here," Greene says. So last December the board took what she describes as a leap of faith and voted to build the music school and the auditorium simultaneously.
"We knew it was our one chance to get it right," Greene says. One impressive result of many was that they saved $300,000 by doing the two buildings together.
"It's been a big deal for a tiny arts organization to do this," Greene says.
Here's to excellent activity
Backed by a feasibility study, they launched their capital campaign in 2008. Guiding their effort were the words of Hannah Arendt: "No activity can become excellent if the world does not provide a proper space for its exercise." All the stakeholders believed—and still do—that art and education need to be properly housed.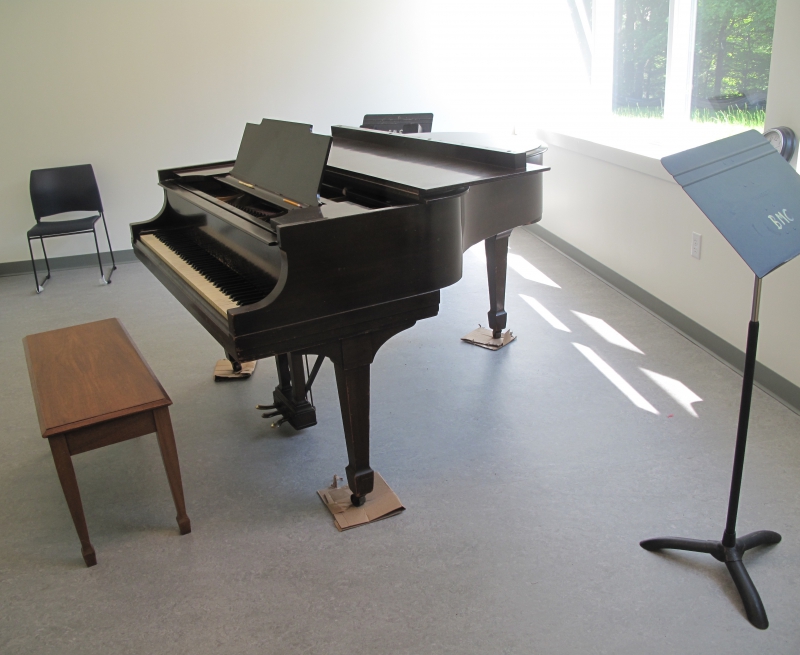 The first phase of the campaign was to raise a $1 million endowment, as the board was determined the new building would not become a financial drain on the organization, Greene says. The campaign met that goal and brought in another $300,000 to boot.
The goal for phase two—the building project—was $4.9 million, an amount that allowed the BMC to construct not only a new music education building but also an adjacent performance auditorium. In addition to the more than 300 generous donors who have a connection to the BMC, the music center received grants from the Thomas Thompson Trust, the USDA, and the Vermont Arts Council. When the campaign closes, the BMC will have raised $5.5 million.
Naturally, the project faced hurdles along the way, including the recession that began in 2008, which forced organizers to regroup. As well, a site they'd selected that fell through. When St. Michael's Episcopal Churchon Walnut Street notified the BMC that its lease would end in June 2017, the hunt was on for a new site. The trustees learned that the former Winston Prouty Center had plans to move to the former campus of the Austine School for the Deaf, now closed, just up the road. BMC snapped up the Prouty in July 2016, and construction that fall.
The BMC opened its doors this July 10.
In addition to listings for its concert season, chamber music schedule, and traditional music festival, the BMC's Brattleboro Music School, which is celebrating its 40th anniversary this year, offers programs for all ages.
"We feel a responsibility to make good use of this wonderful space and to share it with the community," Greene says. And the center of this music community is already in the center of so much more: Located across from Living Memorial Park and around the corner from the farmers' market, "we're in a place where Brattleboro gathers already," Greene says.
According to Greene, the new music center offers the organization the ability to grow and expand its offerings and provide the faculty more flexibility. The faculty are so delighted and appreciative, Greene says.
"It was a long time coming for them. The new space honors their work. Their training, preparation and dedication are able to be expressed fully," she says. "And they can pass it along."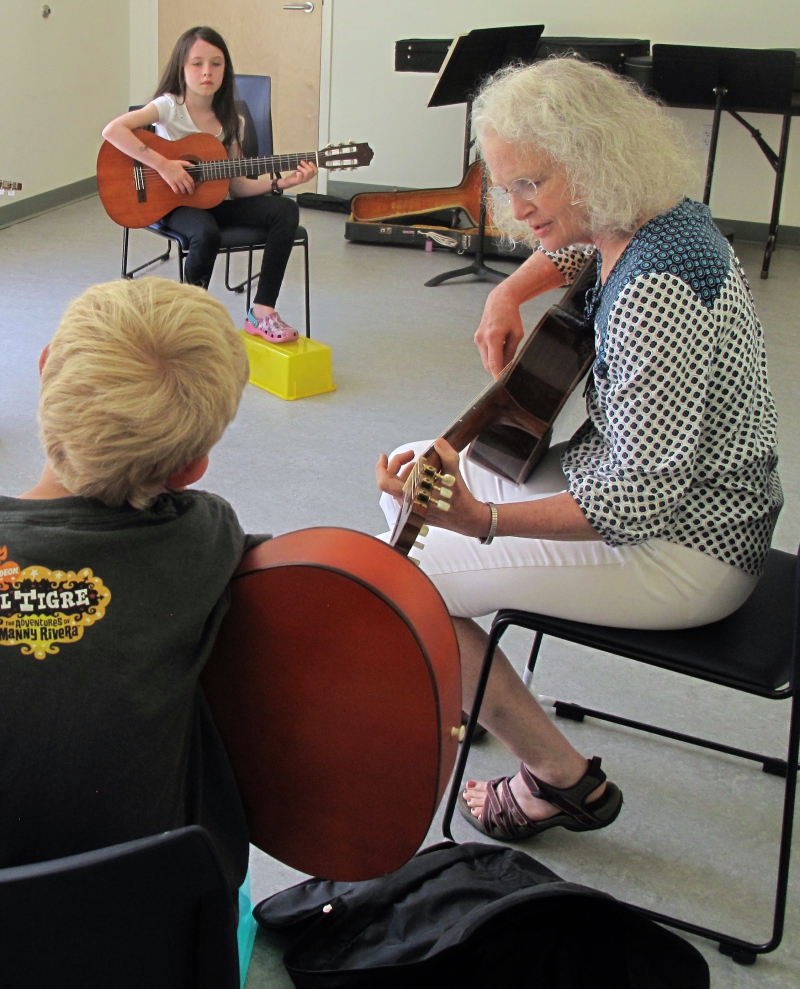 Moreover, she says, the new music center raises the organization's profile in the community and inspires new connections. Enrollments are already growing.
Carol Compton, director of the school's education programs, says, "If nothing else, we have more capacity. We could have one group event going on at a time at the old building. I can have three or four here. And that's everything from organized classes to three or four people who want to get together to play chamber music together. In the past, we would have had to say either no or 'Do you mind taking your cello to the third floor?'"
She adds that the change in how the school thinks of itself is radical.
"For the students, it signals a bit of a change that this is stuff to be taken seriously. That's a really important message to send to young people," she explains.
The new building, Compton says, sends the message that music is something long lasting, important, and worthwhile to stick with.
"Maybe after they've performed a student recital in a tiny recital hall over here, which is considerably fancier than what they were used to, the fact that that's a mirror of the big recital hall is a clear message to the child that I can start over here and end up there," she explains.
Greene, who has shepherded so much that's just starting to reveal new wonders, gets the last word:
"We are deeply grateful to the generosity and commitment of generations of people. We wouldn't be here without them."
For more information, visit http://www.bmcvt.org.
Growing the Arts at Walker Farm — Dramatic new life for the Weston Playhouse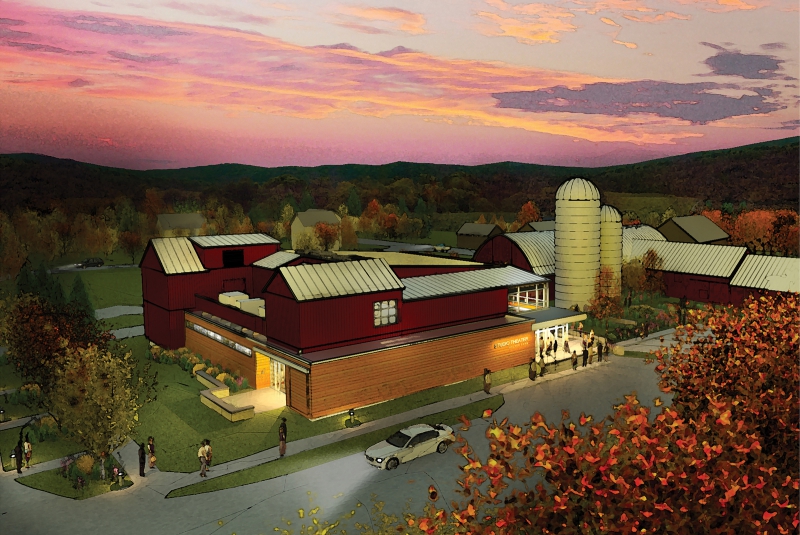 Lesley Koenig relished every aspect of the process as the expansive, new Weston Playhouse Theatre performing arts center took shape over the past year.
Koenig talks as excitedly about the landscaping as the technology embedded in the building. She says it was the artistic vision of producers and directors Steve Stettler, Malcom Ewen, and Tim Fort—who led the venerable Weston Playhouse company for 30 years—that guided the process.
Now, having raised the curtain on perhaps their biggest production, the three are stepping down after the 2018 season.
They said in a press release, "Recognizing the company's solid foundation and its exciting new possibilities, we feel that this is the right time to transition artistic leadership to the next generation."
The new possibilities are exciting, with a building ready to meet today's needs and answer the tomorrow's demands.
For so many, it's been a long time coming.
We reached out to Stettler for comment. Very early in the process, he said, the three knew they wanted an alternative space to complement the Weston Playhouse.
"There are some plays that need greater intimacy, a closer relationship with the actor and the audience. In order to do a broader canon of work and also to have a place to experiment with newer work, we felt someday we needed a different kind of space that would be both more intimate and more flexible," he said.
In 2007 the remaining parcel of the Walker Farm, which had been a dairy farm in town, became available. The Walker family was out of the farming business by then, and fortunately for the playhouse they'd maintained a close relationship with the theater company.
"We went to them saying we were looking for space to create a smaller theater and they were so excited," Stettler recounted. "Ten friends of the theater bought the property and donated it to Weston Playhouse. That's what got the ball rolling."
Not ready for a capital building campaign, for many years the theater company found alternative spaces for a smaller second stage to supplement the larger playhouse. For a while it was a church, then the bar at the Vermont Country Store, and finally the Weston Rod and Gun Club, where the company has been for the past 10 years.
Weston started planning for a new space in 2008, but the recession put the quest on hold. By 2011 the company was moving forward again, but then Tropical Storm Irene hit.
Finally, in 2013 the project was back on track.
In addition to planning a space to complement the playhouse, a year-round facility was planned to expand the theater season and serve as a retreat for arts incubation.
"The idea was that we can grow the arts instead of milking cows. We're preserving a farm but for a new use. We're still growing things and giving back to the community," Stettler told us.
Theater of the future
Koenig was stage manager at the San Francisco Opera at 17. At 23 she was engaged as a stage director at the Metropolitan Opera. She's also directed productions in many other top opera houses and festivals worldwide. At Weston, she came in at the end of the 2013 season as the decision-maker on a $13 million building that excitedly toward the future—and the revenue opportunities the new building can provide.
Organizers have raised $10 million so far, largely from donations. To Weston's abundant gratitude, the Ford Foundation kicked in a $500,000 grant, as did the James and Irene Hunter Trust. The Frederick Loewe Foundation contributed a $150,000 grant.
"There are so many possibilities, not just for producing theater," Koenig told us. "We added in an enormous amount of conduit so that we can bring fiber optic data into the theater and it can be a television sound studio, which there's interest in."
She explained that the area is fast becoming a hotbed for television commercial production, owing to its pool of talent and proximity to New York City.
A function space also is envisioned.
"We're looking at a variety of possible uses of the space outside our producing season," Stettler added, which will expand to May through October. He ticked off the possibilities, which include partnering with existing arts and cultural organizations to bring year-round clubs to Weston and surrounding communities, music groups, concert presenters, film clubs, lifelong learning programs, and farmers' markets.
But mostly it's about theater. The new performing arts center has a 140-seat theater, a lobby with concession space that can be expanded or adjusted to specific uses, a green room, a kitchen, a production office, two dressing rooms, a laundry area, room to handle AV equipment, a room where all dimming equipment is handled, and storage area for chairs and risers.
"It's about creating the theater of the future rather than the theater of the present," Koenig said. "We don't know what the next data will be. We put infrastructure in to be able to take care of whatever form 'it' is."
Organizers broke ground in August 2016 and opened for business in October.
"We nestled the theater behind the Walker Farm barns so it would fit into the landscape of Weston," Koenig said. Working with the design and construction firm Bread Loaf, Koenig said she and her operations manager, Emily Matthees, met weekly with Bread Loaf architect Jim Pulver and ​his colleague ​Bob Eaton to work out details.
"​Supervisor Ryan Ahern coordinated all the subcontractors and knew where every​ single item lay inside each multi-layered wall," Koenig said.
Koenig knows where everything is, too.
"In the theater, we have huge oversized HVAC units, so you won't hear a whoosh. Below that hang steel frames. Each frame has two panels of perforated cherry wood at different angles for acoustics. Pipe grid will be able to hold up to 25,000 pounds of lights. Theatrical consultants Fisher Dachs Associates designed the pipe grid, all the lighting, seating, and risers. Acoustic tests were done to make sure there was not a single sound in that auditorium, such as AC," she said.
In two towers on either side of the building are what she called "the brains of the organization. The infrastructure that will take us into the future."
Broader programming, longer season
Stettler surveyed the team's accomplishments and reported it was time, passion, and money well invested, explaining that the building "answers needs that we've identified over the years to allow us to grow and better run the programs we have and have them reach more people."
"We can broaden, diversify, and solidify the season by coming up with plays that can run longer. There have been plays we were deeply devoted to but knew weren't going to sell the 300-seat Weston Playhouse. Those plays would sell about half a house. Now we have half a house," he said.
​Four shows have been produced at the Playhouse, ​and each ​ran for​ two to four weeks​. Three smaller shows were produced at the Rod and Gun Club, which ​held 80 to 90 seats​. The new space, Stettler said, "means we ​can produce​ three ​shows at the Playhouse and each will have a three or four week run, and we will do four shows at the new theater,​ including ​one in October."
The space is for everybody, he assured us, and then spoke to a brighter future still: "While it will be used primarily for theater half of the year, it's going to be used for a lot more than that. We see it as a community center."