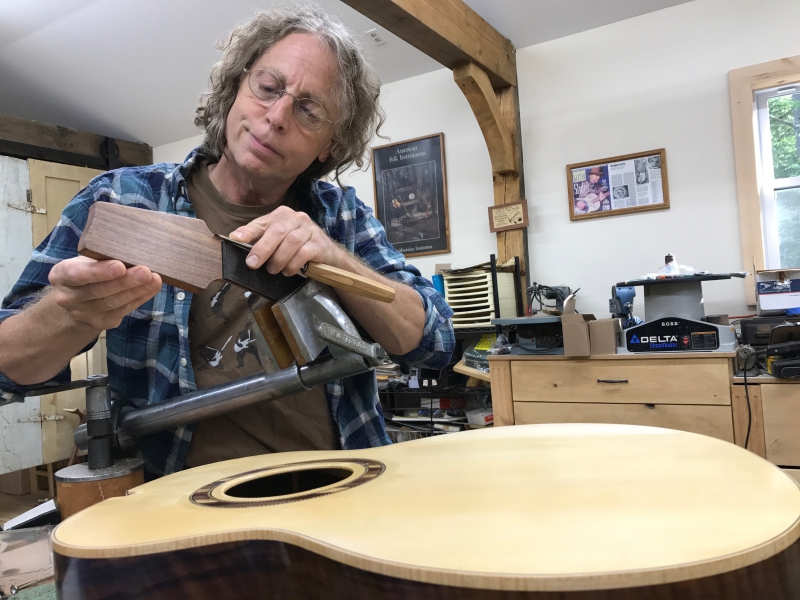 By Meg Brazill
Imagine a cabin at the edge of a woods with everything at the ready, even freshly brewed coffee. Light filters in through a canopy of trees. Outside, it's noisy with birdsong and the rustle of wildlife just out of view.
Scott MacDonald, who makes and repairs guitars and stringed instruments, turned his dream to reality this year: he pounded the last nail in place and moved his luthier business of 25 years from Long Island to Chester, Vt. Moving to a new place is never easy. Moving a business requires planning, confidence and, ultimately, a leap of faith.
MacDonald was prepared for the challenge.
"I've been building, repairing and restoring guitars, basses, ukuleles, banjos and fretted instruments for over 25 years," he says. "I feel blessed to be able to earn a living doing what I love."
Completing the renovations on his 875-square-foot studio fulfills a decades-long dream for MacDonald.
His studio is part hangout, part retreat, and all business: at any given time he's at work on a variety of instruments, especially guitars, and is sometimes playing one.
The studio is light and airy and outfitted with the tools of the luthier trade plus such essentials as a coffeemaker and a couple of paintings by Vermont artist Jesse Azarian to get the mojo right. And the feng shui. It's also climate controlled, which is essential to doing guitar work.
S.B. MacDonald Custom Instruments is a factory-authorized service/warranty center for Martin, Taylor, and Gibson guitars. MacDonald also repairs modern, vintage, and historic instruments by any manufacturer. He splits his time about equally between guitar making and restoration work.
"I've been working on a lot of vintage instruments for a long time," MacDonald says. "When you make guitars, it gives you a lot of insight into them. Vintage instruments are very sacred to me."
'This isn't just a business, it's a calling'
MacDonald is also a banjo and ukulele historian. He's repaired and restored numerous instruments using historically accurate techniques and antique parts to preserve a piece's spirit, appearance, and value. He offers full service repair and restoration for other fretted instruments, including mandolins, lap steels, and resophonic instruments such as Dobro, National and Weissenborn Hawaiian guitars.
He trained by reading and by attending workshops and conferences where he has had the opportunity to get to know some of the world's greatest luthiers. It provided one-on-one information on problem solving. Over the decades, there are few repair or restoration problems MacDonald hasn't come across, and he treats each instrument with the utmost care and respect.
"I'd never do anything on someone else's instrument that I hadn't done on my own first," he says.
For MacDonald, this isn't just a business, it's a calling: "I enjoy taking on projects that others see as hopeless, and love saving the life of these instruments for my customers."
There's no such thing as an instrument that isn't important, he explains.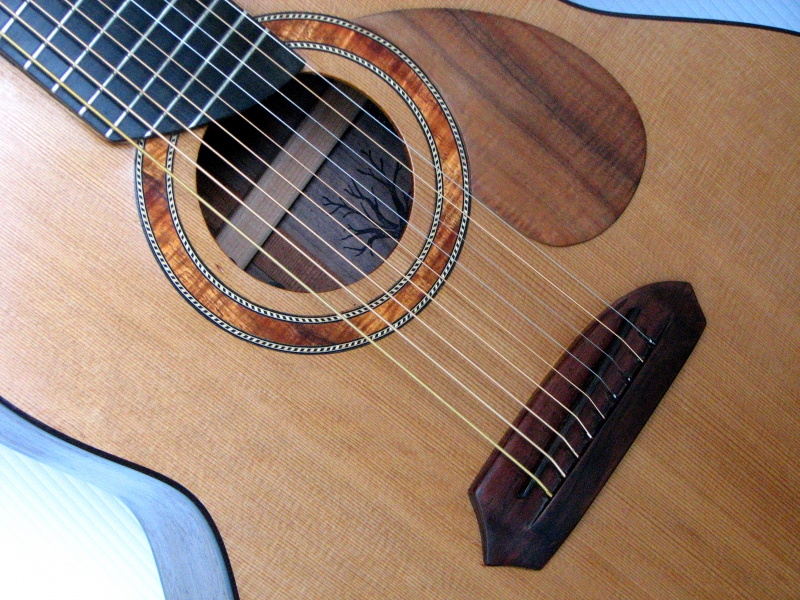 "A guitar is connected to the dreamer inside. When you fix someone's guitar, you're helping keep the dreamer alive inside of that person."
When MacDonald talks, you know he's tapped into something well beyond the mechanics of repair work. And that "something" can turn an instrument into having a better tone or overall sound, or become easier to play. There's physics, yes. But there's also magic.
MacDonald says a lot of instruments simply aren't set up correctly: "The strings are higher than they should be, it's more difficult to play than it needs to be."
To encourage young people over the physical hurdles that can make learning to play difficult, MacDonald will often make an adjustment for free to do that. He says he believes in "paying it forward."
Southern Vermont: You can get there from here
When MacDonald began thinking about a move to Vermont, he found he was particularly attracted to the southern part of the state.
"The drama of the mountains when you cross the center of the state is gorgeous, but I like the rolling hills," MacDonald says.
His studio is surrounded by a mix of meadow and valley and forest. But it's not simply a matter of geography.
"People here seem to be more relaxed and more accountable and able to do more for themselves. My whole family loves it here and we're making friends left and right. Our neighbors are great."
MacDonald recently joined the Rotary Club and has ideas about how to help young people in the area.
"And I get to have a tractor here," he adds with a laugh. "There are always rocks that need moving."
He hasn't spent a full winter here yet, but he grew up in Wisconsin and Michigan so he knows from snow—and cold.
His studio isn't remote by Vermont standards. His road is paved except for the final mile or so. His clients will drive hundreds of miles to have their instruments repaired, or to discuss the possibilities of MacDonald building a custom guitar.
Remember that coffee maker in the studio? It's important to MacDonald to be able to offer his customers a good cup of joe. He says that quite a few repairs can be done in a day or over a weekend. With affordable inns in the area and plenty to do—hiking, biking, wine and cheese tours, and craft brewery tours, to name a few—his customers can make a nice weekend out of it.
He also consults by Skype and instruments can be shipped to him for repair.
'You want the audience to feel things…'
"You can customize a guitar to be really intuitive for someone. If you're a songwriter or a player and you're performing, you want the audience to feel things. Your instrument has to be the podium you're standing on. I want a guitar to be part of them, to fit their hands, for the scale to fit. And, suddenly, they're playing something that feels so good," he says.
"You can play for 20 or 30 years and finally find out how easy it can be. It's like a relationship: you may find someone where suddenly it feels so easy. Whether it's their own guitar or one I'm making, I want customers to feel that. It's kind of the heartbeat of why I do this."
Is he concerned that his clientele won't find him here? Not so much.
"I like to let folks find me when they're ready. I came here to do what I do and to be peaceful, not to be worried about things. I think we were led here for a reason. I'm not from here but this is where I've always belonged. I've known that for years," he says.
Information: S.B. MacDonald Custom Instruments, Chester, Vermont (customguitars.com, 802 875-7397).