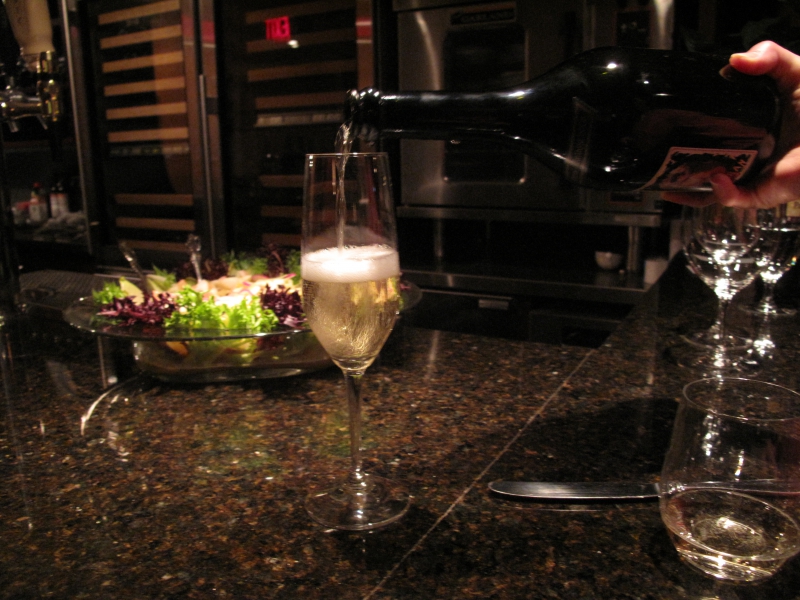 By Marty Ramsburg
Celebrate — 'Tis the season!
No wine connotes celebration more than something sparkling. Those gorgeous little air pockets so excited to be released from captivity set the tone and convey the mood. We have tried to spread the love by starting many of our get-togethers with sparkling. Family and friends, after all, are the relationships that deserve the greatest commemoration.
At our shop, Windham Wines, we have worked to curate a range of sparklings at myriad prices so that we can affordably celebrate the everyday events that bring us joy. Windham Wines stocks sparkling wines from France, Italy, Spain, Austria, South Africa, and the United States. The gold standard of sparkling, however, remains Champagne.
By Champagne, of course, we mean sparkling wine from that region of France just to the east of Paris, demarcated by a governing board that sets criteria for qualification.
Of the 304 million bottles of Champagne sold in 2014, more than 66 percent were produced by a few large houses that controlled more than 90 percent of the export market. Not surprisingly, these large houses are often owned by even larger, diversified conglomerates such as Louis Vuitton-Moët Hennessey (Moët and Domaine Chandon, Maison Veuve Clicquot, Krug, and Ruinart, among others) and Seagram's (Mumm, Perrier-Jouët, Piper-Heidsieck, Pommery).
While the Grande Marques dominate production and sales, they collectively own only 12 percent of all of Champagne's vineyards. In order to produce the quantities of wine that they do — Moët and Chandon, for instance, produce more than 25 million bottles annually — they must buy the majority of their grapes from other growers throughout the region.
Other large players in the Champagne market are co-ops — collections of growers who combine their grapes to sell to the Grande Marques or produce their own brand of Champagne, such as Feuillatte or Jacquart. The combination of big houses and co-ops accounts for more than 95 percent of the Champagne sold in the States.
Should you visit Windham Wines for Champagne you will likely be hard-pressed to find a label you recognize. We select Champagnes principally from a third, and much smaller, group of Champagne producers: farmers who grow their own grapes and make their own wines. Of the 15,628 growers in Champagne, just 2,034 make Champagne under their own label. These are the kinds of enterprises and people we want to support when we sell wine.
As important, we think that these Champagnes come closer to expressing the specificity of place that the concept of terroir and the Appellation d'Origine Contrôlée (AOC) designation are meant to convey.
We have loved exploring the world of grower Champagnes. We've met growers who are passionate about the importance of terroir. Nicolas Chiquet makes a 100 percent Chardonnay Champagne from a village rated Grand Cru for its pinot noir (Ay).
Didier Gimonnet foregoes making his entry-level Blanc de Blanc as a Grand Cru. Rather, he insists on blending Cuis (Premier Cru) Chardonnay with his Cramant Chardonnay (Grand Cru) because he likes the more feminine floral component it lends an otherwise rich and powerful wine.
Grower Champagnes have also let us discover our love for rosé and vintage Champagnes as, at this level, they are much more affordable than those of the Grand Marques.
Champagne is a world within the universe of sparkling wines. We hope that it is a world that you will explore. In our experience this is a very overlooked wine that is nearly always appropriate.
Here we're reminded of Lilly Bollinger, the widow who consolidated her family's estate into one of the most respected Champagne houses, who, when asked when she drank Champagne, said: "I only drink Champagne when I'm happy and when I'm sad. Sometimes I drink it when I'm alone. When I have company I consider it obligatory. I trifle with it if I'm not in a hurry and drink it when I am, otherwise I never touch the stuff unless I am thirsty."