Sign up for our newsletter!
We're planning a newsletter full of SoVermont tips! Become a charter subscriber! Just enter your name and email address here:
We will not share your information with anyone.
Site Search
Look for our latest issue!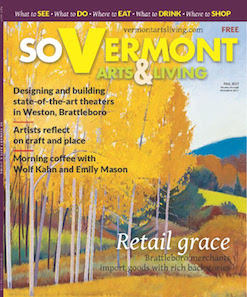 Southern Vermont Arts & Living chronicles the innovative culture and sophisticated country lifestyle of Southern Vermont.
ON OUR FALL ISSUE COVER
Susan Abbott holds a BFA and MFA in painting from the Maryland Institute College of Art, where she studied under renowned artists Israel Hershberg and Grace Hartigan. She has worked as a professional artist since that time, exhibiting in galleries and museums in the U.S. and internationally. Her paintings are represented in numerous corporate and individual collections. Many of her works can be seen at Gallery North Star in Grafton. She is also one of the artists participating in WildLands: A Tapestry of Art and Nature, an exhibition opening at the Great Hall on Oct. 12 in Springfield, Vt.
Subscribe! We'll mail you the next four issues if you send us a check for $15 made out to Primetime Concepts, Inc. The address is 1484 Middle Road, Dummerston Center, VT 05301.
Please visit our advertisers!