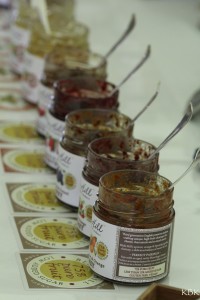 Artists and artisanal food makers, winemakers, brewers, craftsmen, and farmers abound in this small region, bringing to the visitor's mind — and palate — a taste of Tuscany, an area renowned for its fresh food and old-world charm. Fortunately, travelers in search of such a culinary and cultural experience can find it closer to home, nestled in the southern section of Vermont's beautiful Green Mountains.
Southern Vermont has become increasingly well known as for its fine wines and cuisine, and Vermonters are truly supportive of their local restaurateurs, with many towns boasting a magnificent choice of dining opportunities. Vermonters are keenly aware of what they're eating and support the local food system, backed by a thriving network of local farmers.
The area is dotted with quaint villages that offer both traditional values and cultural surprises. Local festivals take place throughout the season, and numerous small farms and farmhouse artisans provide food establishments with local produce, gourmet cheeses, and naturally raised meats, all adding a special freshness to the cuisine.
Chef-owned restaurants, country inns with amazing culinary creations and incredibly good dining values, and farmers' markets bursting with fresh produce all draw discerning epicures and those who are just looking for a few good tomatoes.
Check out these special culinary events and festivals to savor the taste of Southern Vermont.
Four Columns Inn and Artisan Restaurant
Newfane
June 18: Newfane Concours. A car show celebrating enthusiasts of Southern Vermont. Bring your classic car to Newfane for a show on The Green.
Old-fashioned Strawberry Supper
Evening Star Grange Hall, Dummerston Center
June 25: The menu includes ham, baked beans, made-here potato salad, tuna-macaroni salad and coleslaw, with homemade breads, and various beverages. This supper features large, old-fashioned, double-layered shortcakes made with fresh local strawberries and topped with real whipped cream.
Grafton Food Festival
Grafton Inn, 92 Main St., Grafton
www.graftonfoodfestival.com
July 9: The Fourth Annual Grafton Food Festival is a food-lover's event celebrating local food and farms in Southern Vermont. We celebrate our local "taste of place" by featuring local food and beverage vendors with tastings, cooking demonstrations, and farmers' market tables. This year, celebrity chef and cookbook author Sara Moulton joins the festivities as guest chef. Stay in the heart of the Grafton Food Festival scene and enjoy special perks.
Vermont Cheesemakers Festival
Coach Barn of Shelburne Farms, Shelburne
www.vtcheesefest.com, 212 576-2700
July 17: Vermont is the premium artisanal cheese state with the highest number of cheesemakers per capita — more than 50 of them! We invite you to experience our passion for making fine cheeses, taste local and fresh foods and wines, and meet the artisans who make them. Spend a high summer day along the shores of Lake Champlain at the historic Shelburne Farms Coach Barn sampling, buying, learning, and networking. Hosted by the Vermont Butter & Cheese Company and the Vermont Cheese Council, the festival takes place at Shelburne Farms from 10a-4p. The event, which is open to the public, attracted more than 1,100 visitors from across the country in 2015. This year's attendees will sample more than 100 types of cheese from 50 different cheesemakers, a variety of locally produced wines and beers, and several other artisan foods, including maple syrup, honey, chocolates, and baked goods.
Deerfield Valley Blueberry Festival and Parade – Top Ten Summer Event
Various venues in the Mount Snow Valley area
www.vermontblueberry.com
July 29-Aug 7: Berries, vintage cars, music, and food. If it's blue, it's probably happening in the Southern Vermont Deerfield Valley area towns of Wilmington, Whitingham and Dover in late July and early August. Visitors to the Valley will find a big blue parade, a blue street fair, children's activities, jam-making, blueberry-themed specials in the local eateries; blue music events, a blue car auto show, blueberry bake sales, blue beer, and pick-your-own blueberry opportunities. Don't miss Boyd Farm's "Fields of Blue" public art display. Inspired by Christo and Jean-Claude's Central Park orange canvas display "The Gates"; Vermont farmers Janet and Buck Boyd's display of blue tarps in their fields will have you chuckling.