A new look for the heavens and the earth
The Latchis Hotel and Theatre Building, completed in 1938, was built as a memorial to the life and work of Demetrius P. Latchis. A Greek immigrant, Demetrius had developed Latchis Enterprises from a single fruit stand in Brattleboro into a family chain that at one time included 15 movie theaters and three hotels along the Connecticut River Valley. After his death, his four sons decided to honor their father with a building that would be incomparable to anything in the region. The four-story block on Main and Flat streets featured an Art Deco exterior and an interior that honored the family's heritage with murals of Greek mythology, reproductions of the ancient Acropolis in Athens, and statues of Greek gods and goddesses.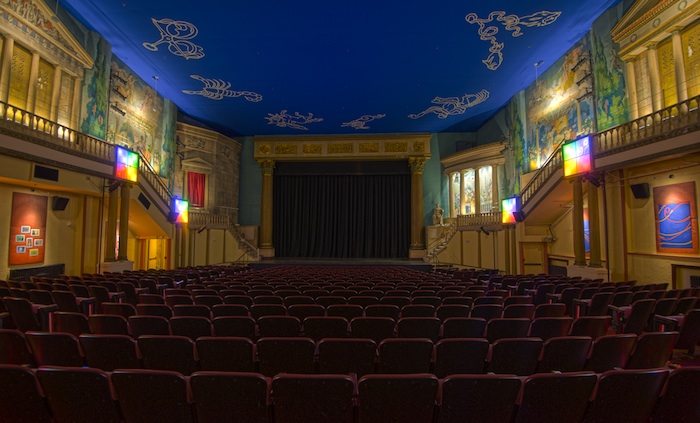 Now, After 75 years of faithful service and two and a half months of reconstruction, Latchis Arts celebrates a successful $550,000 Campaign for The Heavens and The Earth. The theatre's historic zodiac ceiling represented the Heavens. Twelve astrological signs made out of wood adorned the dark blue muslin midnight sky. Years of damage and deterioration (and the fact that the 30 foot ceiling was impossible to reach for repairs) took their toll.
Back on the Earth, the tired old theatre seats were ready to go. Generations of moviegoers since 1938 wore through many a cushion, and metal springs poking through horsehair batting were a common sight… and sensation.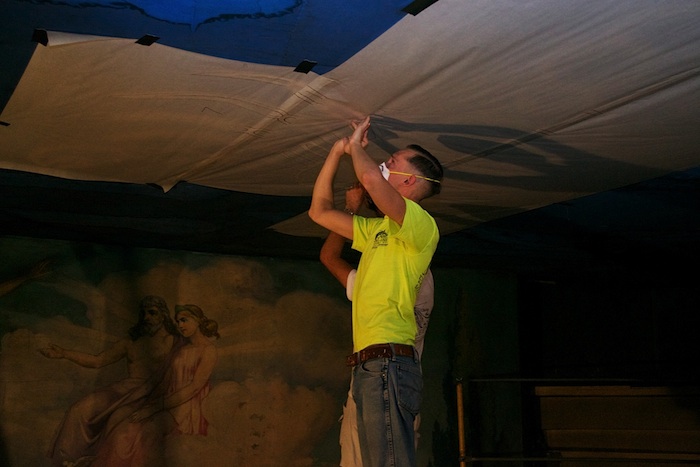 So on August 1, 2013, the theatre was officially closed for renovation. Over the next months and weeks, the old seats were removed and scaffolding was erected. Preservationists scaled to the Heavens to make stencils of the old zodiac designs and remove them and the old muslin. Later on, new fabric and replicas of the original zodiac signs were re-installed. Once the ceiling was done, the scaffolding came down— and then it was onto the seats. Newly refurbished seatbacks and cushions were married with the original art deco aisle ends and maple arm rests.
The addition of enhanced lighting for the hand painted murals that line the walls gave life to these beautiful sections of artwork in the theatre. Other electrical upgrades, new carpet and paint, and the addition of accessibility features rounded out the project.
For generations the Latchis– with its theaters, hotel, brewpub, restaurant, and shops — has drawn visitors to downtown Brattleboro and was a touchstone in the lives of many area residents who brought their dates to the movies, held their wedding receptions in the ballroom, or worked in the theatre selling tickets and popcorn. The preservation of this family legacy continues while at the same time staying true to the family tradition of enhancing the cultural life of area residents.