By Nicole Colson
In the case of Popolo, it truly did take a village to open a restaurant.
The neo-rustic Italian farm-to-table eatery in downtown Bellows Falls, named for the Italian word for "people," came into existence because of the people who wanted a stake in the future of their community.
"We went door to door asking people if they wanted to participate," said Gary Smith, one of the restaurant's three founding partners. The idea worked: there are 26 shareholders who invested in Popolo, which opened in the spring of 2012.
"People are continually supportive," Smith says. "There aren't many community-owned restaurants anywhere."
Popolo's opening is one part of the building's living history. The restaurant is situated in the Windham Hotel building. The original hotel burned in 1932 and was rebuilt the following year. The four-story hotel closed in the 1960s, and, after a coffee shop on the ground floor closed in the early '80s, most of the space sat unoccupied for many years.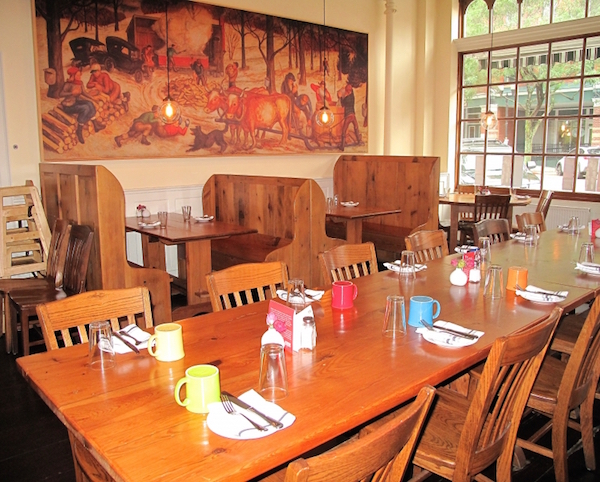 A music producer who helped shape the rise of alternative rock in the '80s, Smith came to Bellows Falls in 2002, moving his studio from its original location in Roxbury, Mass., where it had been in business since 1986. Among the many artists who recorded at the studio over the years are the Pixies, Natalie Merchant, Radiohead, Weezer, and Warren Zevon. Smith set up a music venue and recording space in a corner of the former hotel. Along with Charles Hunter, original producer of the Roots on the River music festival in town, Smith hosted a three-year series of live performances in what was the lobby of the hotel.
The Windham Development Group purchased the property in 2005. After one other party attempted to open a restaurant there, Smith got in contact with Tony Elliot (a friend and head of the group that owns the building) with his own idea. Smith, also president of the local radio station, approached board members Kristen Fehrenbach and John-Michael Maciejewski, who have culinary experience, in early 2011 and the three developed the business plan for Popolo.
The restaurant menu was designed to be casual enough to order pizza or a burger with a level of sophistication at the other end to include a dish such as pan-roasted cod with a potato gnocchi and lemon parmigiano emulsion. Everything in Popolo's kitchen is fresh and prepared from scratch—from sauces to hand-cut vegetables.
As of this year, most ingredients are locally sourced. "We had a shareholders meeting early this year during which we agreed we wanted to connect area farmers to consumers," Smith says.
Menu items procured from nearby farms are clearly listed: sautéed local greens go on the hanger steak, for instance; beef and lamb are Vermont-raised; the cheddar on a burger comes from Grafton Village Cheese in Brattleboro; the bacon comes from North Country Smokehouse in Claremont.
Tim Cocheo replaced Maciejewski as head chef, with a background working in fine dining restaurants in Manhattan and running the kitchen at his own establishment, The Number 9, a farm-to-table restaurant in Millerton, N.Y.
"He made the menu his own," Smith says, adding that cooking fish is Cocheo's strength.
Using his skills as a producer and his experience hosting live music at the former Windham Hotel, Smith has continued the tradition at Popolo with a series of monthly concerts in the same space. What is essentially the restaurant's overflow dining room and function room—and the original hotel ballroom—is the performance space, which seats 100.
Attached to this room is an all-glass sun room also used for private events and corporate functions. "It's a period space you just don't get anywhere [else]," Smith says, noting it boasts original detail and a fireplace.
And with "the people" in mind, a new policy was put in place at the restaurant in June: a living wage adjustment.
All told, "We wanted to put these pieces together to build a community hub to some extent," Smith says. Popolo is the only full-service eatery in town since Oona's Restaurant burned several years ago. "In that context, it isn't good to underpay staff."
The payroll adjustment is funded by a 6 percent service charge on the customer's bill, ensuring each employee is paid $15 an hour. Tipping is no longer required, although it's allowed.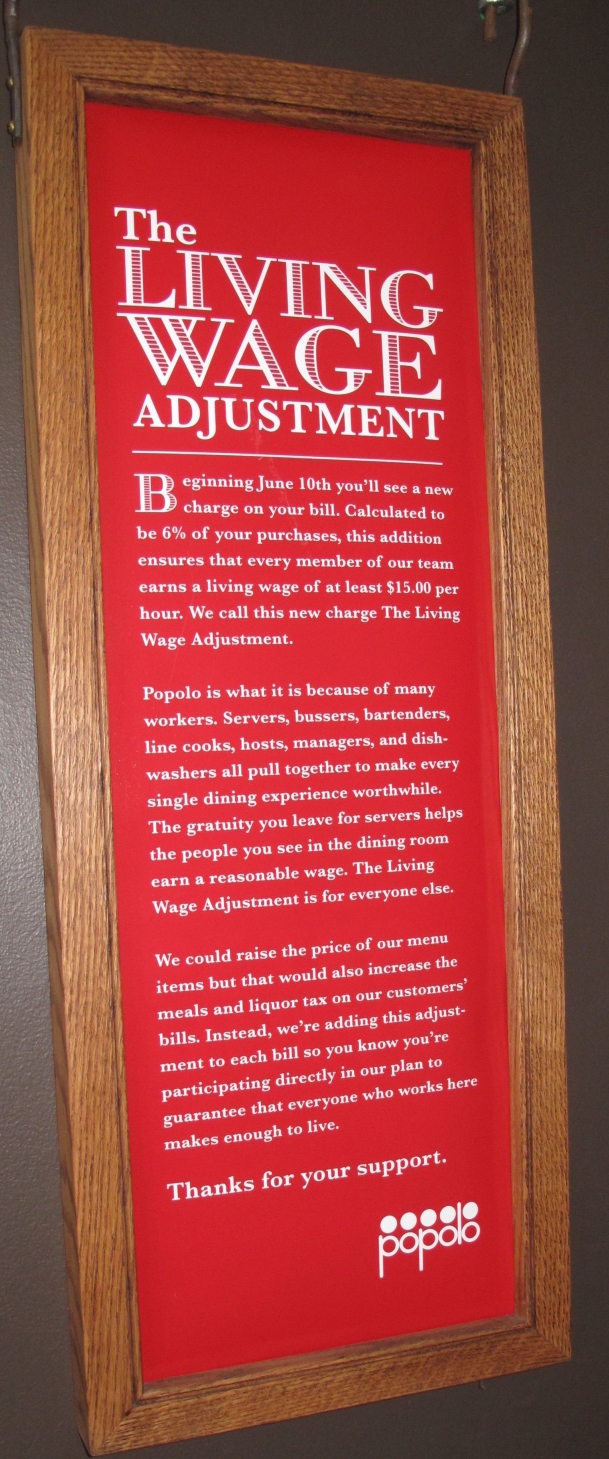 "Even though the shareholders haven't yet been paid they wanted the staff to be paid a fair wage," Smith says. And sales are up, showing community enthusiasm.
The wage adjustment even drew the attention of Democratic Sen. Bernie Sanders. "He sent us a note commending our efforts," Smith says.
The restaurant also aims to draw people from the area surrounding Bellows Falls. And it's working.
"People travel farther to come to a destination restaurant than they would to a bank, hardware store, or insurance agency," Smith says. "People come to us from Brattleboro, Ludlow, White River Junction, Grafton, Keene … that's our market."
The renovation of the space housing Popolo set the next big project in motion: renovating the hotel. A feasibility study has begun and a fundraising campaign will be next. "It's going to be a boutique destination hotel. The focus will be on bringing groups from Manhattan by train," Smith says.
Smith says he hopes Popolo and the village of Bellows Falls, "with its generosity of spirit," can serve as an example.
"It's a great model of how to protect history and rejuvenate American rural communities," he adds. "What we're doing is valuable."
—————————————-
A Place at the Table
Bellows Falls'
Popolo Restaurant Feeds the Future