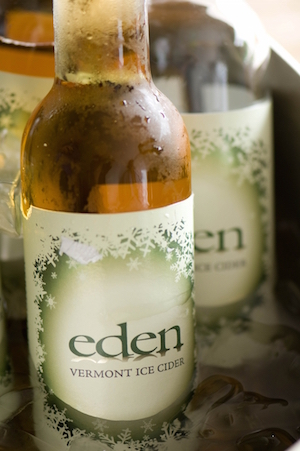 By Marty Ramsburg
Eleanor Leger dropped by our shop, Windham Wines, with a bottle of the first vintage of Eden Ice Cider eight years ago. I took one sip and knew that we would be cheerleaders. Eden Ice Cider was delicious then and its new iterations have raised the high bar even higher.
Ice cider is a dessert wine based on the same concept of ice wines: freezing the berry or, in the case of apples, the cider, to crystallize the water content, thus separating water from concentrated juice. Unlike ice wine, however, ice cider is a recent phenom with New World origins. Vintner Christian Barthomeuf, who migrated from Provence to Canada in the 1970s, is credited with developing ice cider in the 1990s.
Eden Specialty Ciders was Vermont's first ice cider producer. Eleanor and her husband, Albert, first tasted ice cider while visiting Albert's sister in Montreal in the winter of 2006. To Eleanor and Albert, it was an epiphany—why not do this in Vermont? As Eleanor observed, it felt like it was a way of "expressing Vermont 'terroir' right for our climate and for our 300-plus-year history of apple growing."
While Albert's family is Canadian, Eleanor's family is from the Northeast Kingdom, settling in the Craftsbury/Glover area in the 1790s. The couple had a farm in West Charleston and, after that fateful visit to Montreal, they decided to try their hand at making ice cider. Eleanor began researching orchards and taking courses in cider making. Did you know that there are at least 15,000 named varieties of apples just in the United States? How does a neophyte determine from which to make cider?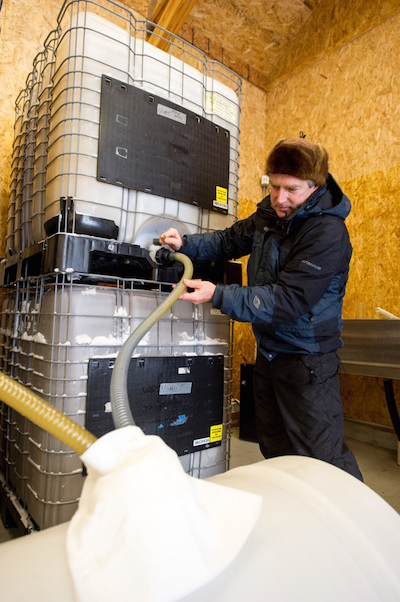 It did not take long for Eleanor to discover Scott Farm in Dummerston, one of the few orchards growing heirloom and cider varieties. Scott Farm harbors approximately 120 apple varieties. Scott Farm's orchardist, Zeke Goodband, arrived in 2001 when Scott Farm had only a half-dozen apple varieties, all the usual suspects, mostly Macintosh, with some Cortland, Empire, Red Delicious, Paula Red, and Jonagold. Goodband defines an heirloom apple as a variety that has been around for 100 years or more but is not generally grown commercially.
So how did Goodband go from six varieties in 2001 to the range of heirloom apples that led Eleanor there as early as spring of 2006? Goodband's apple odyssey began more than 40 years ago when he came across abandoned orchards while working in Maine. He made a deal with the owners to prune and tend the trees in exchange for harvesting the fruit and some cuttings. Through the years of exploring old orchards, he came across trees bearing interesting fruit: blue apples, teardrop shaped apples, and various russeted apples. He took cuttings and started his own nursery.
Goodband began grafting those cuttings onto the existing trees at Scott Farm during his first winter there. What a monumental effort this transformation has been. There are approximately 6,000 trees in the Scott Farm orchard, of which 4,000 or more have been grafted since Goodband's arrival. During his first winter at Scott Farm, Goodband cut and grafted about 1,200 trees, each separated with a handsaw.
The varieties now include Blue Pearmains, Golden and Roxbury Russets, Black Oxford, Sheep's Nose, and Chenago Strawberry, to name just a few. As Goodband quietly observes, "I thought that other people who had grown up eating Red Delicious, Velveeta cheese and Wonder Bread like me would love the flavors, textures, and histories of these old apples."
It turns out that they do and they're willing to pay more. When Goodband arrived at Scott Farm, its average price per bushel was $4.15, with the cost to produce that bushel of apples at about $5.75. The much rarer heirloom varieties to which the orchard is now planted command far greater prices.
Goodband's heirloom rescue at Scott Farm began in time for Eden to reap the benefits. The myriad varieties included many that are prized for cider because they have attributes that contribute to balance: acidity, tannin, and sugar. Though Eleanor and Albert began planting an orchard on their farm in West Charleston, they made their first batch of ice cider with apples purchased largely from Scott Farm in 2007.
Cold calculation pays off
Apples are harvested throughout the fall when the different varietals ripen. Those designated for ice cider are placed in cold storage until December, when the temperature drops. The apples are pressed into cider, and then the juice is run into plastic containers that are placed outside to freeze. Experimentation has taught Eleanor and Albert that allowing the cider to go through cycles of approximately 50-degree temperature variation (between 20 degrees to minus-25-ish) over six to eight weeks concentrates the flavors and acids.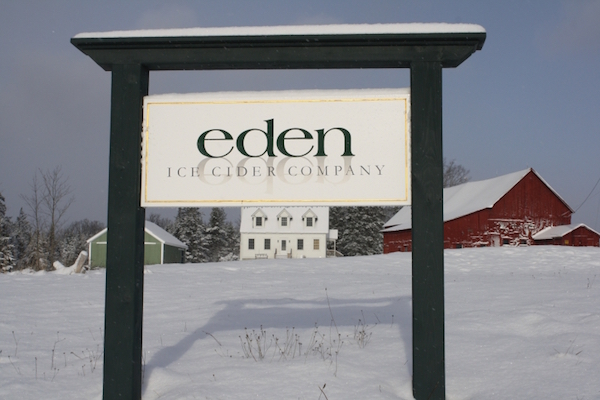 Because the water content has a lower freezing temperature than the concentrated juice, the concentrate can be drawn away as liquid while the water is still crystallized. A refractometer is used to measure the amount of sugar in the concentrate to determine when to draw off that concentrated juice. When the concentrate measures 35 percent to 36 percent sugar, it is drawn off to be fermented into ice cider. Eden's final product is fermented to 10 percent alcohol and 15 percent residual sugar (150 grams per liter).
Eden is now joined by a handful of artisanal ice cider makers committed to creating a uniquely Vermont dessert cider: Eden, Boyden, Champlain, Hall Home Place, Newhall, and Windfall. Collectively they created an entity, the Vermont Cider Association, and agreed to standards meant to ensure quality: using only Vermont apples; adding no sugar, color or flavoring; using only the ambient cold of a Vermont winter to concentrate sugar to at least 30 percent before fermentation; a final cider of between 7 percent and 13 percent alcohol with no less than 130 grams of residual (unfermented) sugar in finished ice cider.
The result is an elixir.
Since Eleanor stopped in eight years ago, Eden's very high standards and resulting quality products have won many accolades. As important, their generosity and collaboration have encouraged others to take the leap, propelling Vermont to the leading edge of this new and now uniquely Vermont product. Windham Wines carries each of the Eden Ice Ciders as well as the Newhall Farm Ice Cider.
Eden also makes two single-variety ice ciders:
•  Honeycrisp is a bit like a Chenin Blanc: rich aromas matched by an intense flavor profile that includes honey, but with a bright zest leaving a clean finish. It has a friskier, crisper feel than either the Heirloom blend or the Northern Spy. Try pairing this with Manchego topped with some membrillo made by Vermont Quince (facebook.com/VermontQuince/home).
•  Eden's Northern Spy ice cider is a brilliant marriage of apples and used French oak barrels (two-years). When they decided to experiment with oak aging, Eleanor and Albert selected Northern Spy for its terrific acidity. The porosity of the oak leads to some micro-oxidation and mellowing of the acids. Aged for a year in oak, Northern Spy ice cider has rich apple pie, caramel, and toffee aromas and flavors. We look forward to having this with crème broulée with its caramelized brown sugar topping.
I suspect that the toffee flavors should also pair nicely with a well-aged (three- to five-year) Gouda that has those crunchy little sugar crystals and tastes a bit of butterscotch. Grafton Village Cheese (http://graftonvillagecheese.com/our-cheeses/cave-aged) has an unusual and very limited five-year sheep gouda that has made regular appearances at our house. It is available only at their shop on route 30 in Brattleboro. A four-year Hollander would also do the trick.
Eden also produces two private label ice ciders for which those orchards send the apples and Eden does the pressing, cold-concentration and fermentation:
•  Newhall Farm is in South Reading. Its certified-organic orchard includes commercial varieties like Liberty, Empire and Honeycrisp, as well as heirloom varieties such as Orange Pippin and Hawkeye Delicious, to which they also add 20 percent wild, mostly crab, foraged apples. As members of the Vermont Ice Cider Association, they eschew any sugar, color, or flavor additions. They specify that it be fermented to 12 percent alcohol, which leaves less residual sugar (130 to 140 grams per liter) than the Eden Ice Ciders.
We enjoyed this with fresh peaches and blueberries, topped with Walpole Creamery's sweet-cream ice cream.
• Windfall Orchard Ice Cider is a very small batch (900 375-ml. bottles) ice cider made from an orchard in Cornwall owned by Brad Koehler, former instructor at New England Culinary Institute, then food services manager at Middlebury College, and Amy Trubek, professor of food anthropology at UVM, co-founder of the Vermont Fresh Network, and author of "The Taste of Place."
Their three-acre orchard of 200 trees includes over 80 varieties, 32 of which are blended to produce this ice cider at 9 percent alcohol and 160 grams per liter residual sugar. This is triple-cream Brie with pear chutney or crème brulée nectar. Windfall is available only through Eden's online store: http://www.edenicedcider.com.