Brattleboro Clayworks Holiday Sale
532 Putney Rd, Brattleboro
http://www.brattleboroclayworks.com
All December long
Brattleboro Clayworks is Southern Vermont's ceramics resource center. Clayworks maintains a casual atmosphere, encouraging visitors to tour the work areas of the studio, and peek over the shoulders of working members. The Clayworks gallery features the work of its twelve members. Visitors will find a wide variety of professional quality works, including functional pots, sculpture and tile work, for home or gift giving, all at affordable prices.
Readsboro Glassworks Holiday Open Studio and Sale
6954 Main St, Readsboro
Dec 13-14 and 20-21, 10a-5p
Vermont glass artists Mary Angus and K. William LeQuier open their Readsboro glass studio to the public for their Annual Holiday Open Studio and Sale on two weekends, December 13-14 and 20-21, from 10a to 5p. Visitors are invited to stop in to see Angus and LeQuier's beautiful hand blown glass and enjoy some hot mulled cider and homemade cookies while visiting with the artists. Studio visitors will find a unique collection of hand blown glass for sale including perfume bottles, bud vases, and colorful handmade glass candy cane and icicle ornaments. Also available are Angus and LeQuier's glass snowflakes, individually sandblast-carved in clear glass.
4th Annual Mount Snow Film Festival
Sundance Base Lodge, Mount Snow, West Dover
Dec 20, 5:30-7:30p
What better way to get excited for the ski / snowboarding season than watching some amazing ski / ride movies? Come by to see some of the best new release ski and ride flicks in the industry. You will also be able to meet and greet Carinthia Team members. All ages are welcome, admission is free, and there will be a free raffle.
Harris Hill Ski Jump
Cedar Street, Brattleboro
http://www.harrishillskijump.com
Feb 14-15, gates open at 10a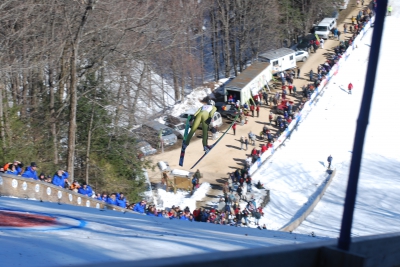 More than 40 of the world's top male and female ski jumpers from the US, Europe and Canada will compete this year at the Harris Hill Ski Jumping Competition, presented by Pepsi, on a 90-meter jump, designed to International Ski Federation (FIS) specifications. Located in Brattleboro, spectators watch the jumpers launch from the takeoff and soar more than 300 feet at speeds of nearly 60 mph. The event is a festive atmosphere for the whole family with food, music, beer tent and souvenirs. Gates open at 10a each day.
Brattleboro Winter Carnival
Various locations in Brattleboro
http://www.brattleborowintercarnival.org
Feb 13-22, various times
Celebrate the winter season at the Brattleboro Winter Carnival. This year's events include an outdoor fun day with snowmobile rides, sugar on snow, sleigh/hay rides, figure skating show, cooking classes, pancake breakfast, cross country skiing, chili cook-off, children's concerts, ice fishing, and much more. Stop by to see Frosty, and to have some good, old fashioned winter fun.
Stowe Winter Carnival
Various locations in Stowe
http://www.stowewintercarnival.com
Jan 17-25, all day
Stowe shines during the 41st annual Winter Carnival. Come celebrate winter with more than 10 major activities for both young and old, including zany sports events, ice carving competitions, movies, snow golf, snow volleyball tournaments and more.
Bennington Winter Festival
Various locations in North Bennington
Jan 31, all day
North Bennington's annual winter festival returns with various fun events to celebrate the season. Start off by visiting the Penguin Plunge event, with hot chocolate at 9:30a followed by the "plunge" at 11a. This event benefits the Special Olympics of Vermont. The day is filled out with an Ice Sculpture Contest at the North Bennington Train Station and an Indoor Winter Carnival. Other events include an After Plunge Party, Pet Winter Fashion Show, After Dark Dance Party, sledding, wagon rides and children's activities.
Grafton Winter Carnival
Grafton Ponds Outdoor Center, Grafton
http://www.graftoninnvermont.com,www.graftonponds.com
Feb 7, all day
Head to Grafton Ponds Outdoor Center for a day of fun in the snow for the whole family. There will be sleigh rides, ice skating, a bonfire, snow tubing and more.
Chester Winter Carnival
Various locations in Chester
Feb 14, all day
For the 25th year, Chester will celebrate its annual winter carnival. There will be an ice carving competition (be sure to vote for the People's Choice Award), art gallery openings, food by local restaurants, street performers, a "chilly" cook-off, a unique tractor parade, and more.
Mardi Gras at Mount Snow
Main Base Area, Mount Snow, West Dover
Feb 17, starts at 11a
During Mardi Gras, Mount Snow transforms into Bourbon Street. There will be Apres Ski parties going on inside Cuzzins from 11a until close, with live music all day long. And what would Mardi Gras be without beads? We will have over 10,000 to giveaway in lift lines, lodges, parties and other locations all day long. So get out your purple, green, and gold and join Mount Snow and Bud Light for this epic Mardi Gras party.
NECCA Circus Spectacular
Latchis Theater, downtown Brattleboro
http://www.necenterforcircusarts.org
Feb 28-March 1, time TBD
rrrThe Circus Spectacular is an awe-inspiring event with high flying trapeze, aerial silks, partner balancing, juggling, comedy and more. This annual fundraiser features professional performers from top circuses from around the world. Proceeds benefit community outreach programming, such as classes for autistic kids, summer camps for at risk kids and free community performances.
Charlie Hunter's Sugaring Season Paint Out
March 10-15, The Grafton Inn, Grafton
http://www.www.hunter­studio.com
866­484­3669 toll­free
Sugaring season is a special time and Charlie Hunter invites you to join a hardy crew of adventurous artists for an unforgettable five days of painting outdoors during one of Vermont's most unpredictable seasons. Each day the group will meet for coffee and an array of alarmingly calorie­laden pastries, then head out to one or another of Hunter's favorite painting spots—a sugaring operation, a working farm in Grafton, to the industrial village of Bellows Falls—and then engage in a later afternoon critique session. Hunter also offers more formal demonstrations of his distinctive painting technique and time is devoted to working one­on­one with artists who wish to explore particular areas of interest. Those participating will head out from the Grafton Inn each day, returning each evening to discuss the day's work and challenges, to socialize, to learn from one another. Patrons can sign up for just one to all five days, with or without lodging and meals. Lunch and dinner are provided each day.
Spring Fling Weekend at Bromley
Base Lodge, Bromley Mountain, Winhall
March 21-22, all day
Come celebrate spring at one of Bromley Mountain's most sun-soaked (or just plain soaked) events. Featuring pond skimming, duct tape derby, live music, BBQ, and even some rides from the summer adventure park. Registration for pond skimming at 9a at the Base Lodge.
Mount Snow Reggaefest
Main Base Area, Mount Snow, West Dover
March 27-29, all day
The Reggaefest returns to Mount Snow for a weekend of fantastic live Reggae music! Featuring great performances at the Snow Barn both Friday and Saturday night as well as a party out in the Base Area Saturday and Sunday. Plus check out our annual Sink or Skim Pond Skimming competition on Saturday and the Duct Tape Derby on Sunday.
Vermont Maple Open House Weekend
Various Locations throughout Vermont
March 28-29, all day
Visit Vermont sugarhouses across the state and watch as maple syrup is being made. Open House Weekend is your opportunity to get a first-hand look at how Vermont's sugar makers are able to take the sap from maple trees and craft something as delicious as pure Vermont maple syrup! Hundreds of locations across the state take part in this tradition. Visit vermontmaple.org for full information, including a map of participants.