Talk of the Arts: Arts Council refocuses importance of arts in education
Fearing a loss of focus on the arts in education, the Vermont Arts Council has set out to redirect attention on the important role the arts play in education. Ben Doyle, Arts Education Program Manager for the state council, said several factors account for that loss of focus. The Vermont Alliance for Arts Education, which received funding from the Kennedy Center for the Arts, was a strong advocate for the arts in education, but folded in 2011 when funding ended. In addition, the state Agency of Education eliminated its content specialist in the arts. There are English, Math and Science content specialists, but no one at the state agency for arts educators to turn to. "Arts education is not an extra; it's a critical part of our children's education," Doyle said.
In some school districts, access to quality arts education is limited, with only part-time or quarter-time teachers. In others, there's a full-time commitment to incorporating arts into the curriculum. According to Doyle, of the 320 public schools in Vermont, 18 percent only employ a quarter-time teacher in the arts or music. Fourteen percent employ quarter-time to half-time arts educators, 23 percent employ between half-time and full-time teachers, and 45 percent – less than half of the schools in the state – employ full-time arts educators.
With a new emphasis nationwide and in Vermont toward skill-based learning for the 21st century, the challenge is to raise awareness of how integrating arts into other disciplines makes for more effective learning among many students. "Kids don't all learn the same way," Doyle said. "We can use arts to teach other subjects. Math through dance, for example. " He cites the Integrated Arts Academy, a magnet school in Burlington, as a successful example of weaving arts into other subjects to reinforce their studies. The fourth-grade Social Studies class was studying the Underground Railroad. Working with a theater teacher, they incorporated the dramatic arts and produced a video about the Underground Railroad. They were able to demonstrate effectively what they learned. "The kids were moving, they were engaged, they were working collaboratively," Doyle said. "It's a pretty exciting way to engage students in the material. Achievement depends on student engagement and the arts engage students."
"The arts" is a broad tent that includes the visual arts, music, dance, theater, media and digital arts. To fill the void left by the absence of a content specialist at the Agency of Education, the Vermont Arts Council has embarked on a new initiative to involve communities and educators and determine the best way forward. Beginning with an Arts Education Summit held last September in Montpelier, the council brought together 120 leaders in education, state legislators, business leaders and non-profit groups to discuss the future of arts education. From there, the council conducted a listening tour of communities to collect ideas about ways to improve arts education. So far, five community forums have been held in Burlington, St. Johnsbury, Randolph, Bennington and Dummerston. "What we're hearing," Doyle said, "is that art teachers don't feel supported, there's a lack of professional development opportunities, funding is an issue because the arts are the first thing on the chopping block, and part-time teachers do not feel part of the community."
Another strain is the increased emphasis and proliferation of assessment tests. There's no common assessment for the arts, so "it's hard to focus on what you're not being tested on," Doyle said. "In the arts, student assessment is left up to the schools. Are they even doing assessments? Who knows? There's no one to follow up or collect data." The council is hoping to remedy that. "We are collaborating with the Agency of Education to improve the standards for arts learning, specifically in the development of proficiency based graduation standards for the arts as well as for transferable skills," Doyle said.
In addition, the arts council funds artist-in-residency programs that bring the arts into the schools. "Ideally, the residencies become school-wide events that engage students of different ages and abilities around common experiences and can provide a powerful example of how integrated learning through the arts can build community. We funded 24 residencies this year," Doyle said.
It's all about "creating opportunities to expand the walls of the classroom so that kids can get a rich arts experience," Doyle said. Another example is the Poetry Out Loud program coordinated by the council and sponsored by the National Endowment for the Arts and the Poetry Foundation. Almost 5,000 students from more than 40 high schools around the state participated this spring in a competition where they memorized and recited poetry. "Poetry should be heard, not just read," said Doyle. "The program is intended to model for schools the effectiveness of integrating performance with the study of literature."
The council also provides teachers professional development in how to effectively integrate arts in the modern classroom. The Head Start Arts Partnership program, with funding from the Henderson Foundation, consists of local arts organizations – including the Vermont Arts Exchange, Brattleboro Museum & Art Center, Catamount Arts, Burlington City Arts, and The Barre Opera House – partnering with the respective Head Start organizations in their communities. Eighteen classroom teachers took part this year.
"All of these efforts are about helping schools and educational leaders realize that the arts aren't an 'extra thing,' but that instead, learning through the arts can be a powerful tool for increasing student engagement and achievement." Doyle said. The arts in education "is an issue that people care about," he said, and the council's revitalized effort to shine a spotlight on schools makes this an exciting time, he said. "The arts are about doing things and demonstrating mastery of skills and collaboration and communication. All the things we need to succeed in our jobs and life."
Sidebar: The River Gallery School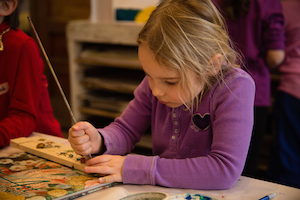 River Gallery School of Art's mission is to foster inquisitive exploration, and then step out of the way. Children, Teens and Adults are encouraged to explore, design, and create. For example, in the Child Studio after school classes, one may find a child drawn to three-dimensional work and spend most of the time in the sculpture room working with wood, clay, wire or plaster. Another may love to paint with large splashes of color on an easel, while a third works on a careful rendition of an animal in pastel, or sketch the river outside the window. Each child is encouraged to follow their own muse, and the teachers are there to guide, encourage, and introduce technique when the oppo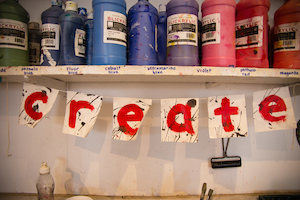 rtunity arises. When given the time and space to explore what it is they want to discover, a child's creative spirit is allowed to blossom. It is truly amazing to watch as a child gains confidence in his or her creative abilities. We witness our students growing in self-confidence and creative decision-making; children newly honoring themselves and their work, and supporting each other. RGS is located at 32 Main Street, Brattleboro. http://www.rivergalleryschool.org (photos provided by River Gallery School.)
Sidebar: Brattleboro Union High School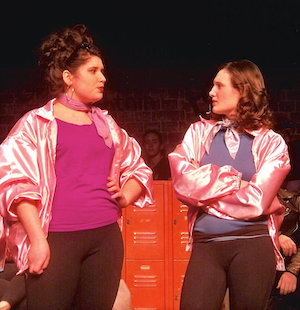 The BUHS Sculpture II class collaborated with Marlboro College's Sculpture class creating cardboard body installations. The class, one of many offered as part of the Collegiate High School, allows students to earn college level credit while in high school.
The Visual Performing Arts Academy at Brattleboro Union High School has 5 different strands:
Fine Arts with concentration in Drawing, Painting, Ceramics, Sculpture and Photography
Digital Design and Communication
Music with a concentration in Vocal or Instrumental
Theater Arts
Movement: Dance and Circus
The academy requires a combination of required and elective course work, a student portfolio, professional interaction within the chosen field and a capstone course.