Wine Observed: Supporting local producers globally
By Marty Ramsburg
One of the beautiful things about living in Vermont is its scale. With 625,000 residents, we are often only one-degree of separation away from knowing each other. While I have not read accounts that attribute Vermont's strong locavore predilection to this connection (proximity), I'm going to offer it as at least a plausible cause. Many of us know some people who farm for their livelihood. We make active choices to buy products that support our neighbors and hope that doing so helps to preserve a culture that we value.
It is possible to use our buying power to support these kinds of producers in other areas as well. Wine is a product that gives the consumer terrific potential to support producers in other areas whose practices preserve the richness of their respective local cultures. When Frank and I visit wineries, we frequently discover a deep connection between those producers whose wines we love and the respect they demonstrate for both the physical and cultural environments in which they are located. It makes it easy for us to share those wines with you.
Below is a small sampling of some who are producing wines in places far beyond what we would call local, but who are choosing practices meant to preserve their local traditions and cultures.
France
Domaine des Enfants, Maury (Rousillon)
Started only in 2006 by the young, energetic, very-hard working (and a good thing they can!) couple Marcel Buhler and Carrie Sumner. They have 23 hectares in vines, which is big for many of our very local producers, but very small for this area of the South of France. More than half of their vines were planted before WWII, and some are over 100 years old, so while the estate is recent, growing grapes is part of the culture.
As Carrie and Marcel write: "From the beginning, our intention was not only to make great wines, but to also preserve the cultural landscape and heritage of the region. " They farm organically, relying on varieties indigenous to the area—Grenache, Carignan, Mourvedre and a local variation of Grenache called Lladoner Pelut. White wines are made from Grenache Gris, Grenache Blanc, Carignan Blanc and Macabeo.
Carrie and Marcel eschew the use of mechanical equipment, guiding a plow behind a horse (Nina, who you can meet on the Des Enfants website), hand-harvesting and sorting the grapes, crushing via foot-stomping , fermenting in concrete tanks or large (600 liter) barrels, then basket-pressed and fermented in concrete tanks or various-sized, multiple-use barrels for the reds, bottled without fining or filtering. The goal is to intervene minimally between the vineyards and the cellar, allowing instead for the wine to "find harmony and balance" naturally.
Domaine de la Voute des Crozes, Brouilly, Beaujolais
While the domaine has a name, everyone refers to it instead eponymously as Nicole Chanrion, the woman who has worked her 6.5 hectares entirely on her own for the last 27 years. Located in the southern Beaujolais appellation of Brouilly, Nicole hand-harvests her grapes, then follows the local tradition of whole cluster fermentation, carbonic maceration via ambient yeasts, longer alcoholic fermentations, aging in larger oak foudres.
Not surprisingly, production is miniscule—only 2500 cases total per year. Included among those cases is a positively brilliant vintage bubbly made from Gamay, the indigenous grape, called simply "Effervenscent." Using the traditional methods of Champagne, Nicole leaves the wine in contact with its spent yeast cells (lees) for 18 months to add roundness to its texture and depth to its flavors. During that time. the bottles are rotated each day, by Nicole, then manually finished and capped.
Chanrion's dedication to her place and its practices have earned her the respect of her peers who, in 2000, elected her president of the Cote de Brouilly association. She is affectionately referred to as "La Patronne de la Cote," the boss of la Cote.
Italy
Collecapretta, Umbria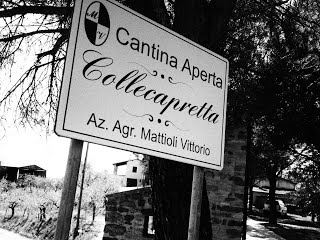 The Mattioli family has been in the tiny hamlet of Collecapretta, translated as "hill of goats," since the 1100s. Currently, there are 3 generations of the family living in the tiny village, working an 8 hectare farm of which 4 hectares are planted in olive trees and 4 in vines. The 4 hectares of vines are varieties traditional to the area, mostly Sangiovese and Trebbiano, but there is a small amount of Merlot.
Total production is 8000 bottles per year, just 670 cases of wine. The family farms naturally, using only composts made from their own animals, for instance. Tradition and natural are nearly synonymous here. The Mattiolis hand-harvest, then ferment the grapes in open-topped cement vats using ambient yeasts and without temperature control. Bottling is done in sync with the waning lunar cycle.
Our friend, Matt Mallo, met the Mattiolis during his career leading bike trips throughout Tuscany. His great palate and appreciation for the Mattiolis give us the opportunity to enjoy these wines that, because of their limited quantity and local demand, were never available beyond a 100 km radius of the winery. Thanks, Matt!
I Vigneri di Salvo Foti, Etna, Sicily
I wrote about this icon a few issues back. Only for the past few years have Sicilian wines offered much of interest to the wine curious. Waves of migration and two world wars left Sicily economically devastated. Rather than producing wine meant to reflect place, Sicily became an industrial producer, selling grapes to be made into low-end, bulk wines sold to the mainland to be blended to add color to lighter reds like Sangiovese and Nebbiolo.
Salvo Foti, an Etna native, has been making and consulting to other growers for over 30 years. In 2000, he resurrected an association, I Vigneri, a winegrowers guild, that originated in 1435. It is worth quoting the association's charter at length. Those who join the association commit to:
Use non-invasive methods and systems, to respect local traditions and our own ancient grape varieties as far as possible, and to avoid the damage that over-reaching ambition and egoism can cause. Our work ethic lies in the pleasure of work well done, without frenzy, in harmony above all with ourselves, and with all that surrounds us: environment, nature, the volcano Etna, which is so much a part of us.
Thirty-five different producers have joined the guild. If you would like to hear Foti speak to its purpose with the passion he brings, you can explore further at this video. I particularly like that he believes that happy workers will convey that to the vines, which in turn convey that contentment to the fruit and ultimately to the wines and, … why not? His wines are always a welcome addition to our table.
There are many more producers like these in France and Italy, as well as in all the major wine-producing countries and regions, from Spain and Argentina to California and Oregon. If you shop at a local, independently-owned shop such as Windham Wines, your local wine merchant will love sharing the stories of the people behind the wines they carry. You can shop locally, and taste globally.