By Arlene Distler
This is Terry Hauptman's moment. One of her works on paper, from the group of large drawings in ink and acrylics she calls "scrolls," will be part of a group show at the Brattleboro Museum & Art Center in October titled "Drawing On, In, Out." The same month her "Songline Scrolls" will grace the walls of the Robert H. Gibson River Garden, just in time to serve as sublime backdrop for the Brattleboro Literary Festival. Since Hauptman is also a published and highly regarded poet she is, she says, very happy about the timing for that exhibit.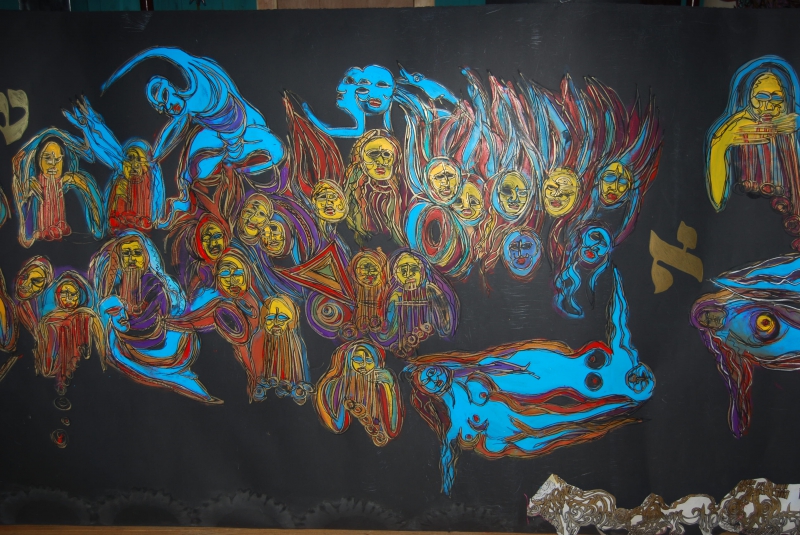 A "moment" is arrived at via many moments. For Hauptman, an especially important moment was when Mara Williams, chief curator at the Brattleboro Museum & Art Center, came to "First Night," a New Year's Eve celebration in Burlington. Hauptman had a show up, and Williams walked into the gallery. She was impressed and asked for a studio visit "sooner than later." Williams loved what she saw and chose one large scroll, "The Singing of the Soul is the Nature of Art Itself," to go into the BMAC show. Williams calls Hauptman's work, "mysterious, worshipful, and joyous."
Walking into the River Garden on an impulse was another fortuitous "moment." There she met Stacy Conn, manager at the time of the Strolling of the Heifers office. While Hauptman says she'd been thinking about the River Garden as an ideal place to show her scrolls for years (there are not many venues with comparable uninterrupted wall space), everything seemed to click into place that day. "There was a spark," says the artist. "I felt Stacy and I understood each other, and she was enthusiastic about the work." Furthermore, while in the past there was no full-time presence at the River Garden, and therefore a risk to hang work there, now, with the Strolling office open all day, and volunteer "ambassadors" at the entrance to greet visitors, that risk factor was no longer a big concern.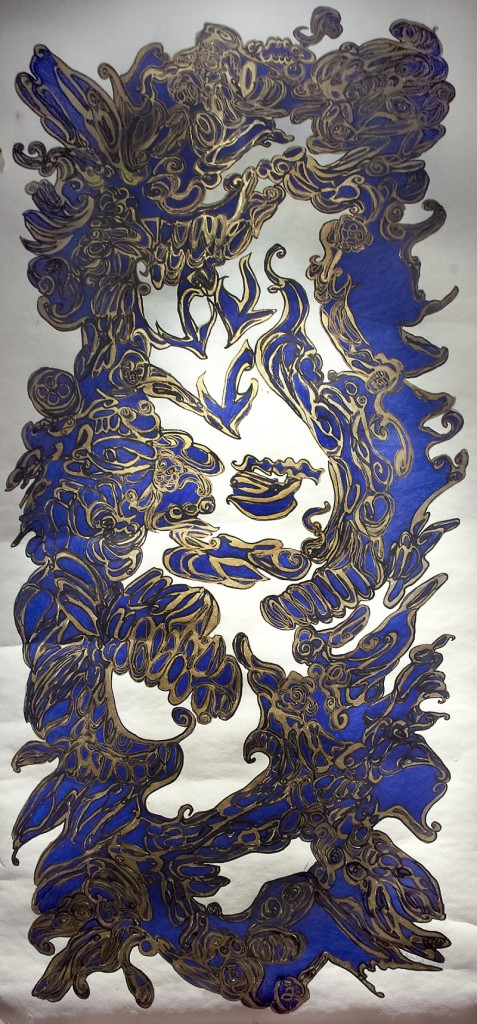 Hauptman's work is a dancing, vibrant intertwining of cultures: Judaic, Arabic, Native American, Christian, to name a few. As a young woman she traveled to many countries, and throughout the United States. "Geography," she says, "swims inside the pieces." New Mexico's indigenous culture was a particularly strong influence, the dominance of turquoise and other vibrant colors. "But really," she says, her poet coming to the fore, "it's about interior geographies." If she hadn't traveled anywhere, she asserts, her art might still look like this.
Nevertheless, there are moments. When in Ireland many years ago Hauptman had the opportunity to see The Book of Kells, an illuminated manuscript of calligraphy and drawing that depicts the first four Gospels of the New Testament, scribed by monks around 800 A.D. It is considered one of the most important religious relics of the Middle Ages. It made a deep impression on Hauptman. Each manuscript page is made up of interlocking linear designs of letters and symbols that convey the gospels in a kind of shorthand. Especially in some of her less figurative pieces, this kind of ancient illuminating, the use of gold within curving lines, figures and runic symbols morphing into each other, is clearly an inspiration. Hauptman brings it to a fever pitch. At times the swirling, enveloping line resembles fire – the fire of insight, of passion, of creation.
This "fire" that emerges in some of the scrolls, enveloping forms, may be seen as connected to the mystical Kabbalah of the Judaic tradition (a well-known collection of stories of Jewish mysticism is titled "Souls on Fire"). The format of Hauptman's work, on heavy long pieces of paper, has a Judaic connection as well: the Torah, the commentary on Judaism's holy books, itself considered holy. An aspect that is particularly resonant, says the artist, is the play of the "revealed and the hidden." When the Torah is read, only that part being read can be seen, the rest waits its turn to be revealed.
Teaching commitments and a three season house has meant living in Southern Vermont has been sporadic, even though, she says, "Brattleboro has been my 'soul home' for forty years." For many winters she taught poetry at the University of Oklahoma, and at a small college in Minnesota; then the family wintered in Burlington.
Last winter she, her husband Bob, and daughter Kira rented an apartment in Manchester, Vermont––practically down the street! Being in Manchester for the winter, Hauptman says, she has a warm studio, an accessible cultural community, and an excellent school for Kira that does not involve driving over icy winter backroads.
Happily, closer proximity means greater visibility for Hauptman's unique and powerful work in the southern part of the state. These shows provide a welcome into what she calls a "vibrant community of artists" that she is delighted to be a part of. Hauptman's addition to it is a soulful note, steeped in ancient iconography and richly imagined.