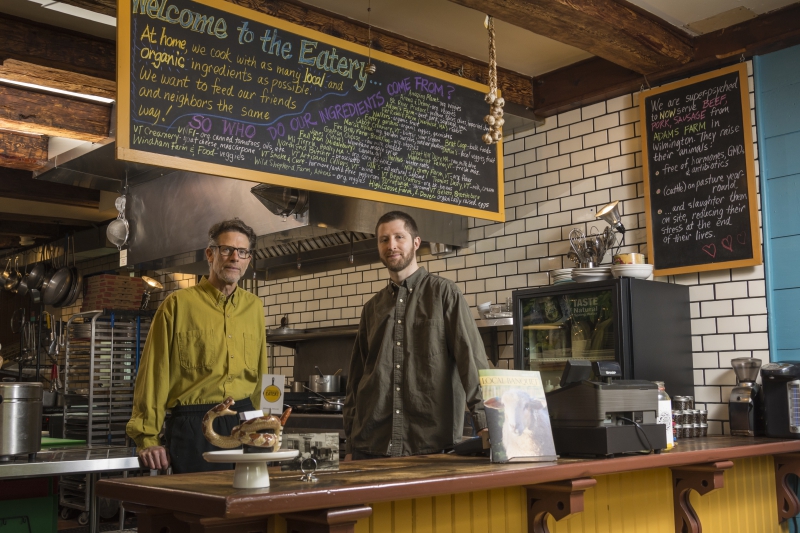 By Nicole Colson
When Dylan Richardson was in high school, he worked making pizzas at what was then the 185-year-old Williamsville General Store. The store, which opened in 1828 and closed in 2007, still enjoys standing as one of the longest continually run general stores in Vermont. At the time, however, Richardson couldn't have imagined that he'd be operating a restaurant on the same spot years later with his family.
But opportunity knocked six years ago when Richardson, then 25 and living in Boston, received a phone call from the store's former owner, Robert Goldenhill, who told Richardson he was considering turning the building into housing. That said, went the offer, would Dylan like to lease it for his own business?
"I wasn't thinking about doing something at the scale of a restaurant," Richardson recalls, "but I also didn't want to pass this up."
So he called his father, Glenn, who along with Richardson's mother, Lauri, was running a graphic design business in Newfane and was also a food enthusiast.
"He'd entertained the idea of doing something in the culinary world," Richardson says of his father. "That started the ball rolling."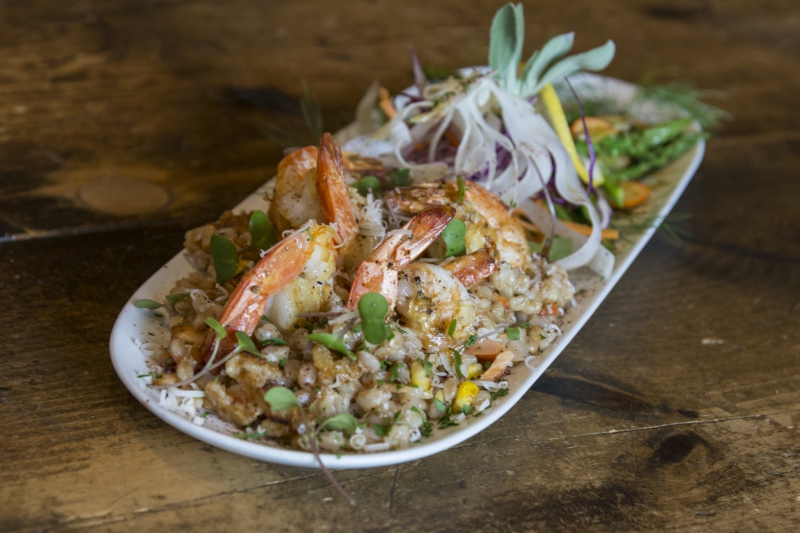 Richardson moved back to Williamsville, and father and son opened the Williamsville Eatery in July 2014.
The co-owners and chefs initially envisioned the restaurant as similar to the former general store, with casual counter service that would also serve as a café in the morning hours.
"It evolved into something completely different," Richardson recalls. The new owners created their own menu for the eatery.
The men also wanted the space to be comfortable and welcoming, so they adapted the space to include a combined 25-seat dining room, a bar, and an open kitchen. They made sure to preserve key features from the general store: an old, wooden walk-in cooler and exposed beams.
"We don't want pretension in anything we do," says Richardson.
The men still work together in the kitchen, along with two additional chefs. Glenn sometimes works behind the bar. Lauri, a pastry chef who makes desserts—try her tiramisu, panna cotta and polenta lemon cake with lemon curd, which glow among her specialties—also serves the crowds.
"It's been trial by fire, learning as we go," Richardson says.
And trial by fire means more here. Much of the Williamsville Eatery's menu is prepared in the 1,000-degree brick oven. Thursdays and Sundays are pizza nights. The eatery serves a variety of pies made with pizza dough mixed by hand that has gone through a multi-day bulk fermentation process to build flavor. Making pizza dough is Glenn's specialty, as he has breadmaking chops honed at the Culinary Institute of America.
Although pizza is a casual staple at the eatery, the menu's flavor profiles are sophisticated: among them are a white pizza with wood-fire-roasted mushrooms, spinach, Vermont goat cheese, roasted artichoke hearts, and white truffle oil. Another marvel is a white pie with wine-poached black mission figs, blue cheese, and caramelized onions.
Fridays and Saturdays the eatery is "a completely different restaurant," Richardson says. These nights are reserved for entrees such as carnitas-style pork tacos with citrus braised pork, shredded cabbage, and fresh cilantro, and pan-seared shrimp over organic farro risotto and meatballs made from grass-fed beef and pork.
The eatery's menu is eclectic, although heavy on the rustic Italian food the founders enjoy. Hand-made fresh pasta is also a highlight.
"We make what we like and what we eat at home," says Richardson.
Lessons from mom's garden
Farm-to-table eating is hardly a new concept for the Richardsons. The family moved to Williamsville in the late 1980s and learned about fruit trees, beekeeping and, sugaring from their neighbors. Dylan was raised eating the harvest from his mother's garden.
Today, father and son forage for mushrooms, ramps, and fiddleheads, and compost and keep raised garden beds on-site. They use eggs from their own chickens and preserve their own harvest by drying, pickling, and freezing foods.
Importantly, they also rely heavily on local farms such as Nitty Gritty Grain in Charlotte (organically grown and milled wheat for pizza crust); Oak and Elm Farm in Williamsville (organic salad greens, heirloom tomatoes for pizza sauce, garlic); and Maplebrook Farm in Bennington (fresh mozzarella and burrata).
Most of the local produce used on the eatery's menu is grown using sustainable farming practices, free from pesticides and herbicides.
Pasture-raised beef and pork (antibiotic- and hormone-free) comes from Adams Farm in Wilmington.
Richardson went to school with Adams Farm's butcher and says he plans to purchase whole animals from there for the eatery.
"Whether by supporting our farms you're serving food that's healthier, minimizing transportation of food, or keeping money in the community, you can look at it from any perspective," Richardson explains.
Richardson is also working with Vermont Artisanal Cellars, a distributor in White River Junction, to debut a wine program. The nine taps in the bar feature brews hailing from home in Vermont and from across New England.
The eatery is particularly proud of its "Snail of Approval" certification from Slow Food Vermont, which is awarded to restaurants, bars, food and beverage producers, stores, and markets that have been deemed "outstanding among peers" and that contribute to "the quality, authenticity, and sustainability of Vermont's food supply."
While local sourcing is important for the certification, other factors include low environmental impact, support of humane farming, and community engagement.
"I feel we're successful in terms of community building based on the diversity of people who come (to the eatery) and interact. It's a pretty special thing. Food is always a common denominator," Richardson says.
Williamsville Eatery, at 26 Main St., serves dinner Thursday through Sunday from 5 p.m. For reservations, call 802-365-9600. For more information visit williamsvilleeatery.com.