Chef-owned T.J. Buckley's: Eight tables, dinner only, and amazing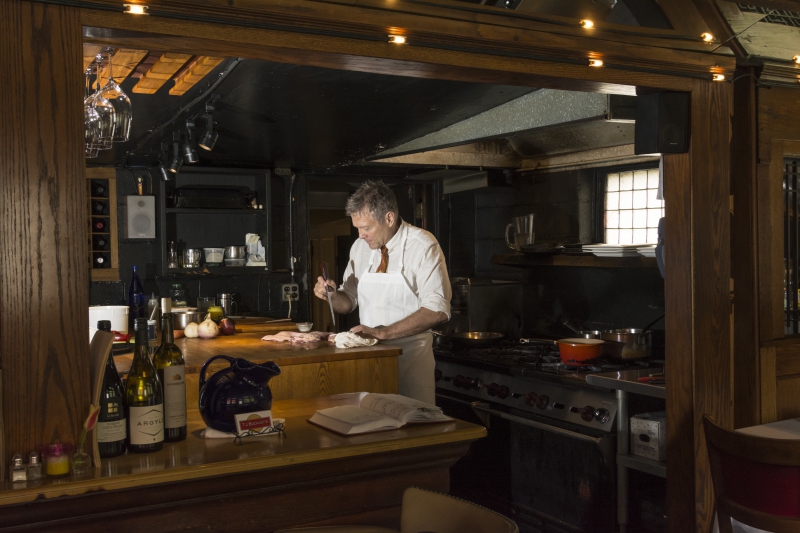 The movement that would sweep the world didn't yet exist when Chef Michael Fuller went into business 34 years ago, but even then he was running his restaurant and living his life according to its main tenet: local is king.
Fuller opened T.J. Buckley's in a restored 1925 Worcester dining car that had housed a so-called greasy spoon eatery.
"We served breakfast and brunch. It was a small place with a limited menu and a lot of attention was given to detail," Fuller recalls of the restaurant's early days.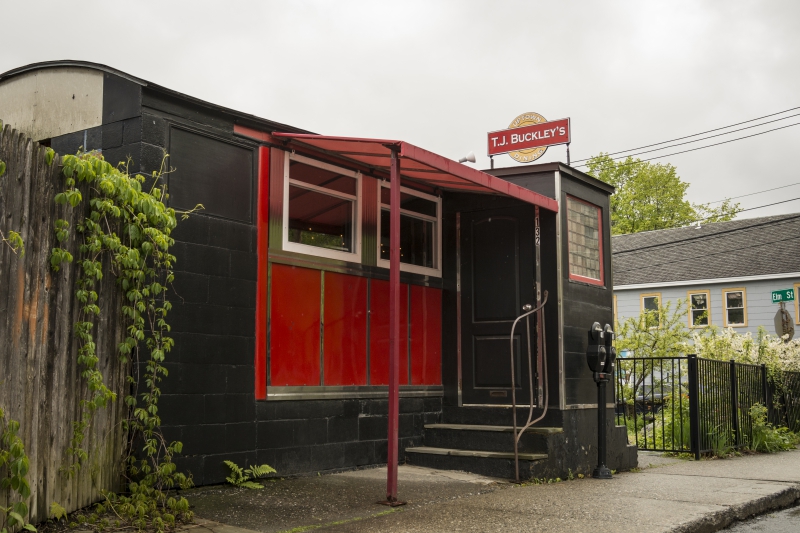 A few years later, he decided to serve dinner only and focus on an ingredient-driven menu. The evolution of serving local produce and products started immediately, he says.
"It was before farm-to-table was a thing. I know all the area produce growers within a 15-mile radius, some for more than 30 years."
These days, the intimate eight-table Elliot Street restaurant, which features an open kitchen and vintage decor, is listed as one of two reasons Brattleboro enjoys its standing among Fodor's and Frommer's Top 10 Best Small Towns in America and best restaurant rankings in America, respectively.
Fuller has lived the farm-to-table lifestyle since he was 19 years old in the mid-'70s. He lived in a collective household and helped care for communal organic gardens. There were many communes in the area then, Fuller recalls.
By the time he had the opportunity to apprentice for Rene Chardain, then owner of Four Columns Inn and Restaurant in Newfane, he was comfortable working with these ingredients. Four Columns was the first true farm-to-table restaurant, preceding Alice Waters's Chez Panisse, in Berkeley, Calif., by four years.
"Rene was an old-world French chef who ran the Four Columns like a country inn," Fuller explains. "The menu was very seasonal, and the restaurant closed during the off-season."
He adds of Chardain, whose property boasted a trout pond and visiting birds, "he had a patch of wild watercress I used to pick from, and I'd collect chanterelle mushrooms. It introduced me to foraging."
Fuller's French culinary training is evident in that he cooks simple, elegant food with clean flavors.
A vegetarian along with his wife and children, he has perfected the art of—and often builds his menu around—what he collects in the wild during his mountain biking excursions. His skills were featured in a recent episode of "Filthy Riches," a National Geographic series that focuses on foraged and wild foods and the chefs who integrate them into their cuisine.
Fuller's favorite wild edibles include ramps (wild leeks, which he either candies or pickles), and morel, chanterelle, hedgehog, and maitake and matsutake mushrooms. Black trumpet mushrooms feature in his diver scallops and crispy pork belly dish on the seasonal menu.
"These all thrive in certain environments," he says. "You can cultivate a spot to ensure they'll continue to grow in the same area."
Though he holds his foraging locations as a close secret, he readily divulges the sources of the rest of the ingredients he uses in his menu, which changes daily depending on what's local and seasonal but always includes vegetarian, vegan, and gluten-free options.
Meats such as pork belly come from Wild Shepherd Farm in Cambridgeport; Japanese greens and Asian pears, which Fuller serves in desserts such as his pear-apricot layered rustic tart with apricot almond filling, come from Akaogi Farm in Putney.
Sheep milk cheese from Peaked Mountain Farm in Townshend was the star ingredient in the ricotta gnocchi and polenta he prepared for his appearance on "The Big Cheese," a Cooking Channel show that promotes America's artisanal cheese producers and the chefs who work with the food they produce. The episode marked the first time T.J. Buckley's was the focus of a national cooking broadcast.
The cornmeal he uses for the polenta he serves with his scallop dish comes from Lost Barn Farm in Putney.
Fuller says he feels locally sourced food still suffers from the stigma that it's inaccessible, but he argues good food is worth the extra expense.
"I know there's a cost factor but I tend to overlook that," he says.
And that's easy to do considering the rewards of serving food prepared with ingredients grown and raised by one's neighbors.
"It's a huge incentive to stay with a farm-to-table menu, having that asset in this community," he says. "It's been inspiring and it continues to be."
T.J. Buckley's, at 132 Elliot St. in Brattleboro, is open for dinner Thursday through Sunday year-round, and seasonally on Wednesdays. For reservations, call 802-257-4922. For more information visit tjbuckleysuptowndining.com.
______________________________________
Chef-owned Williamsville Eatery: Keeping it real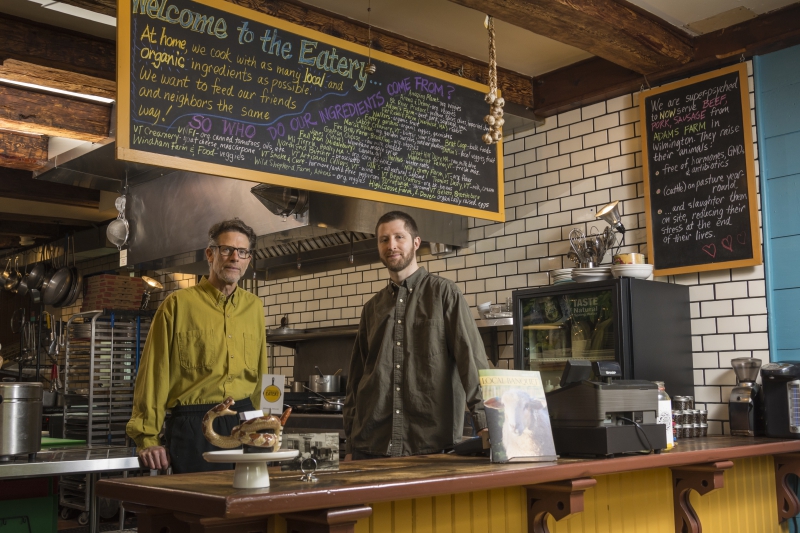 By Nicole Colson
When Dylan Richardson was in high school, he worked making pizzas at what was then the 185-year-old Williamsville General Store. The store, which opened in 1828 and closed in 2007, still enjoys standing as one of the longest continually run general stores in Vermont. At the time, however, Richardson couldn't have imagined that he'd be operating a restaurant on the same spot years later with his family.
But opportunity knocked six years ago when Richardson, then 25 and living in Boston, received a phone call from the store's former owner, Robert Goldenhill, who told Richardson he was considering turning the building into housing. That said, went the offer, would Dylan like to lease it for his own business?
"I wasn't thinking about doing something at the scale of a restaurant," Richardson recalls, "but I also didn't want to pass this up."
So he called his father, Glenn, who along with Richardson's mother, Lauri, was running a graphic design business in Newfane and was also a food enthusiast.
"He'd entertained the idea of doing something in the culinary world," Richardson says of his father. "That started the ball rolling."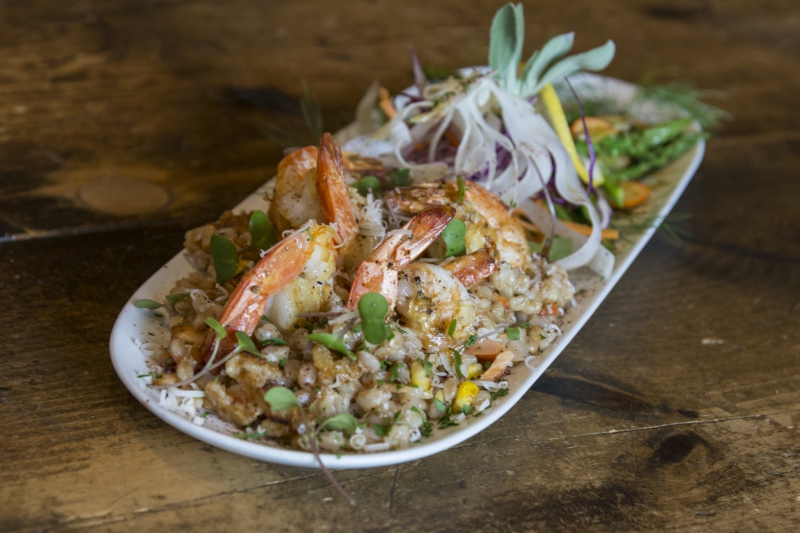 Richardson moved back to Williamsville, and father and son opened the Williamsville Eatery in July 2014.
The co-owners and chefs initially envisioned the restaurant as similar to the former general store, with casual counter service that would also serve as a café in the morning hours.
"It evolved into something completely different," Richardson recalls. The new owners created their own menu for the eatery.
The men also wanted the space to be comfortable and welcoming, so they adapted the space to include a combined 25-seat dining room, a bar, and an open kitchen. They made sure to preserve key features from the general store: an old, wooden walk-in cooler and exposed beams.
"We don't want pretension in anything we do," says Richardson.
The men still work together in the kitchen, along with two additional chefs. Glenn sometimes works behind the bar. Lauri, a pastry chef who makes desserts—try her tiramisu, panna cotta and polenta lemon cake with lemon curd, which glow among her specialties—also serves the crowds.
"It's been trial by fire, learning as we go," Richardson says.
And trial by fire means more here. Much of the Williamsville Eatery's menu is prepared in the 1,000-degree brick oven. Thursdays and Sundays are pizza nights. The eatery serves a variety of pies made with pizza dough mixed by hand that has gone through a multi-day bulk fermentation process to build flavor. Making pizza dough is Glenn's specialty, as he has breadmaking chops honed at the Culinary Institute of America.
Although pizza is a casual staple at the eatery, the menu's flavor profiles are sophisticated: among them are a white pizza with wood-fire-roasted mushrooms, spinach, Vermont goat cheese, roasted artichoke hearts, and white truffle oil. Another marvel is a white pie with wine-poached black mission figs, blue cheese, and caramelized onions.
Fridays and Saturdays the eatery is "a completely different restaurant," Richardson says. These nights are reserved for entrees such as carnitas-style pork tacos with citrus braised pork, shredded cabbage, and fresh cilantro, and pan-seared shrimp over organic farro risotto and meatballs made from grass-fed beef and pork.
The eatery's menu is eclectic, although heavy on the rustic Italian food the founders enjoy. Hand-made fresh pasta is also a highlight.
"We make what we like and what we eat at home," says Richardson.
Lessons from mom's garden
Farm-to-table eating is hardly a new concept for the Richardsons. The family moved to Williamsville in the late 1980s and learned about fruit trees, beekeeping and, sugaring from their neighbors. Dylan was raised eating the harvest from his mother's garden.
Today, father and son forage for mushrooms, ramps, and fiddleheads, and compost and keep raised garden beds on-site. They use eggs from their own chickens and preserve their own harvest by drying, pickling, and freezing foods.
Importantly, they also rely heavily on local farms such as Nitty Gritty Grain in Charlotte (organically grown and milled wheat for pizza crust); Oak and Elm Farm in Williamsville (organic salad greens, heirloom tomatoes for pizza sauce, garlic); and Maplebrook Farm in Bennington (fresh mozzarella and burrata).
Most of the local produce used on the eatery's menu is grown using sustainable farming practices, free from pesticides and herbicides.
Pasture-raised beef and pork (antibiotic- and hormone-free) comes from Adams Farm in Wilmington.
Richardson went to school with Adams Farm's butcher and says he plans to purchase whole animals from there for the eatery.
"Whether by supporting our farms you're serving food that's healthier, minimizing transportation of food, or keeping money in the community, you can look at it from any perspective," Richardson explains.
Richardson is also working with Vermont Artisanal Cellars, a distributor in White River Junction, to debut a wine program. The nine taps in the bar feature brews hailing from home in Vermont and from across New England.
The eatery is particularly proud of its "Snail of Approval" certification from Slow Food Vermont, which is awarded to restaurants, bars, food and beverage producers, stores, and markets that have been deemed "outstanding among peers" and that contribute to "the quality, authenticity, and sustainability of Vermont's food supply."
While local sourcing is important for the certification, other factors include low environmental impact, support of humane farming, and community engagement.
"I feel we're successful in terms of community building based on the diversity of people who come (to the eatery) and interact. It's a pretty special thing. Food is always a common denominator," Richardson says.
Williamsville Eatery, at 26 Main St., serves dinner Thursday through Sunday from 5 p.m. For reservations, call 802-365-9600. For more information visit williamsvilleeatery.com.
______________________________________
Chef-owned bistro Folly: Serious whimsey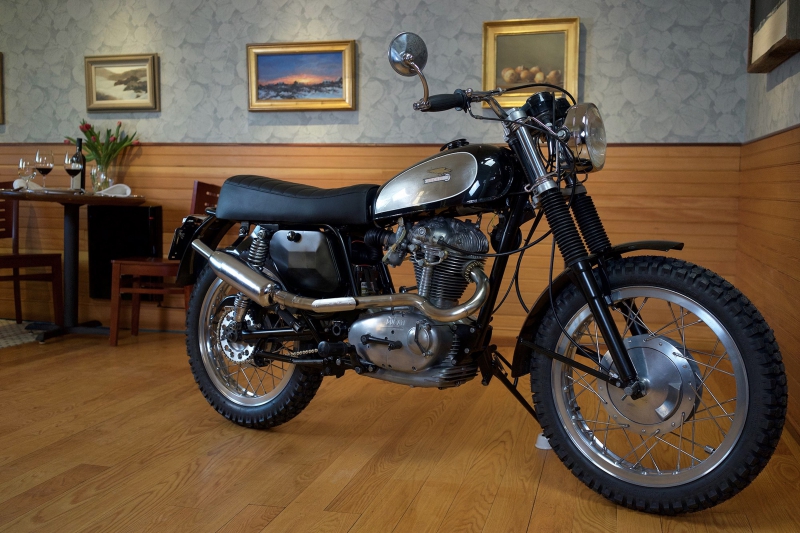 By Nicole Colson
Peter Wallace, chef and co-owner of Folly, a 14-seat "modern neighborhood bistro" on Main Street in Wilmington, considers food a moving target.
"I change the menu each week," he says.
At the same time, he brings his years of experience to the table. "I rely heavily on it," he says, "so my food becomes more simple."
His bold flavors reflect his colorful life of travel and both working at and operating several restaurants.
A Vermont native, Peter attended the Culinary Institute of America and moved to Nantucket, Mass., where he met his wife (and Folly co-owner), Kathleen, who was then working as a sous chef.
The pair ran a restaurant together for nine years—òran Mór, which the couple sold—and raised two children throughout their 35 years living on the island. They also ran a café, Up for Breakfast, in Manchester, Vt., before moving back to Nantucket.
Both avid skiers, the pair decided to transition out of Nantucket to live nearer to Mount Snow.
"The 110-day war got tiresome," says Peter of the summer season at the restaurant. He adds that both of their children were then in college.
"Once we got to know more about Wilmington, we found a clientele we thought we could feed."
In 2013, the pair opened a café, Folly Foods, in the wake of damage left in town by Hurricane Irene.
"It opened up a void in town," Peter says. "Wilmington needed a coffee shop."
When Kathleen was recovering from knee surgery, the couple were mulling over what they wanted to do at that stage.
"We'd always done dinner-only fine dining," Peter says. They reopened a year and a half ago.
Peter describes Folly as a reflection of the couple and their careers. Hurricane globes adorn the wooden tables, which Peter made. Artwork on the walls depicts oceanscapes.
"It's extremely comfortable," Peter explains of the atmosphere. "Physically, the restaurant feels like both the restaurant we met in and the one we owned."
Kathleen, whom Peter says has an incredible palate for wine and a great eye for detail, runs the front of the house. Peter works the kitchen. And though the atmosphere is relaxed, Peter's food is refined—and reflects his life.
In the winter months away from Nantucket, Peter, who was once a commercial fisherman, and Kathleen traveled to such locales as South America, Nicaragua, the Caribbean, Spain, and France.
"I spend a lot of time on spice mixes," he says. "That defines the cooking, as far as I'm concerned."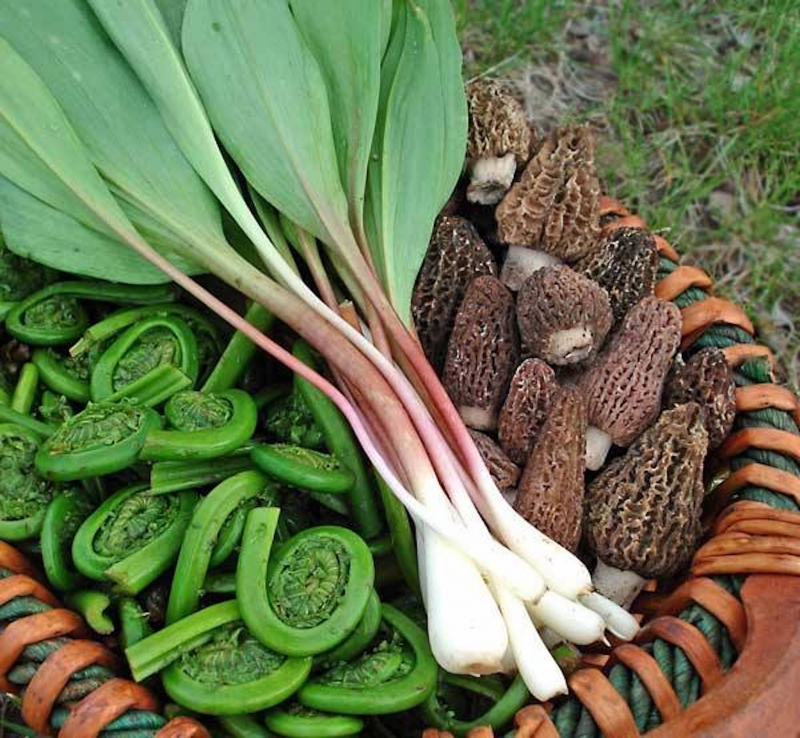 Taste of the world
Diners will find that worldly influence on the menu in such Folly dishes as Spanish octopus with hot pepper relish and avocado crema, and spicy Brazilian bourride, a fish stew with cilantro aïoli and charred croutes.
Peter also relies heavily on locally grown ingredients for his menu, starting with those he plucks from his own garden on a plot about five miles from the restaurant.
"We grow things like edible flowers and herbs, black and red currants—things that aren't easy to obtain at local farms," he says.
Peter also enjoys taking the dog for walks in the woods to forage for ramps and chanterelle mushrooms.
What he doesn't grow himself he sources from several area farms. Greens, beets, carrots, squashes, leeks, and kale arrive from Boyd Family Farm in Wilmington; tomatoes roll in from Full Plate Farm, a CSA farm in Dummerston.
"If I'm at the farm and can see things growing in the fields ready to harvest, it gets me going, thinking how I can showcase them on the menu," he says.
Grass-fed beef comes from Boyden Farm in Cambridge; seafood comes from Brown Trading in Portland, Maine. European cheeses come from Spoonwood Cabin Creamery in Jacksonville; and whole milk, from Strafford Organic Creamery, Peter uses in ice cream for the Folly Guinness sundae, a popular carryover from Folly Foods.
The Wallaces also support local farms as part of a culinary team hosting the annual Farm in the Field Dinner at Boyd Farm, which aids the Guy Hawkins Cancer Fund for families struggling with the high costs of cancer treatments.
Also baked into the Wallaces' bistro: well, fun. The restaurant's name is a nod to the couple's whimsical, carefree stage in their careers.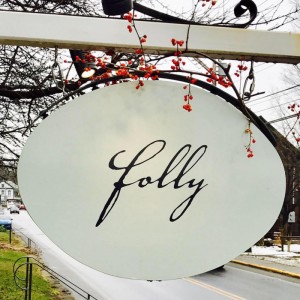 "We play by our rules, focusing on our craft and on our service and food," Peter says. "We're not driven by anything or anybody else."
Folly, at 33 West Main St., Wilmington, re-opens from spring break June 16 and serves dinner from 5:30 to closing time Friday, Saturday, and Sunday. For reservations, visit vtfolly.com.