Weston Antiques Show
Weston Playhouse, Weston
http://www.westonantiquesshow.org
Sept 28-30, 10a-5p, preview Sept 28, 7:30p
Featuring renowned dealers from across the United States with American and English furniture, accessories, Americana, folk art, silver, samplers, paintings, Oriental rugs, jewelry, and more. Since the Weston Antiques Show's inception, more than 85,000 attendees have enjoyed the show and more than $1 million has been raised for historic preservation. The Weston Antiques Show, one of the oldest shows in the country—and widely regarded as one of the best small shows—is distinguished by its dealers, location, attendees, community support, and where the proceeds go.
12th Annual ITV Fest
Manchester and Dorset, VT
Oct 11-15
ITVFest (the Independent Television and Film Festival) is the original public festival and network of the world's best independent television pilots, web series and short films. Every year, we bring together more than 1,000 filmmakers, actors, writers, directors, producers, financiers, Hollywood executives and general public fans to relax and connect in the Vermont mountains. Unlike big city festivals, where it can be difficult to interact with the right people, ITVFest in Vermont offers a unique opportunity to meet fellow professionals and make lasting connections that can lead to prosperous careers. ITVFest broke its previous submission record with 466 independently produced television pilots, web series, short films and documentary films submitted for consideration to the 2016 festival. The previous record was 298 submissions in 2015. Projects were submitted from 35 states and from Australia, Canada, France, Germany, Hong Kong, India, Ireland, Israel, Italy, Japan, Mexico, New Zealand, Norway, Poland, Singapore, South Africa, Spain, Switzerland, Taiwan, Trinidad and Tobago, the United Kingdom, and Uruguay. This makes ITVFest one of the largest international competitions of independent television in the world. Forty to 50 shows and films are selected.
Brattleboro Bacon Fest
Fairgrounds in Guilford
http://www.facebook.com/brattleborobaconfest
Sept 9, 11a
Come by the Guilford Fairgrounds to enjoy all things bacon! There will be bacon beer, along with samples from many different vendors. The Brattleboro Baconfest, "Bacon, Blues, and Brews," brought to you by Classic Hits 92.7 WKVT and the Brattleboro Area Chamber of Commerce.
Chester Vermont Fall Festival on the Green
Chester, on the Green
http://www.chesterfallfestival.org
Sept 16-17, 10a-4p
At the peak of Vermont's preeminent fall foliage, the charm and elegance of the Chester Village Green will come to life as it hosts the 40th Annual Fall Craft Festival. The Chester Annual Craft Fair is a celebration of Vermont's gifted artisans, Chester's unique history, Vermont's peerless beauty and its timeless, rural traditions. More than 70 artisans, craftspeople and tantalizing food purveyors from across Vermont and New England will grace the green with their stories, skills, and exquisite wares.
Fantastic Wantastiquet
http://www.facebook.com/fantasticwantastiquet
Thru mid to late October
Envisioned as "the annual fall foliage multi-disciplinary arts, crafts, and cultural festival for the Wantastiquet region: Brattleboro, the West River, and environs.
River Valley Kids Fair
Brattleboro Common
http://www.windhamchildcare.org
Sept 16, 11a-4p
Come by for fun family events, including entertainers, games, bouncy houses, and face painting. Presented each year by River Valley Credit Union.
Vermont Wine & Harvest Festival
West Dover and Wilmington
http://www.thevermontfestival.com
Sept 22-24, 10a-5p
Set in the backdrop of our world-renowned Vermont fall foliage, attendees of the Vermont Wine and Harvest Festival will discover and savor Vermont vintners, small specialty food producers, chefs, painters, publishers, cheese makers, potters, jewelers, photographers, and farmers.
New England Street Food Festival
Kampfire Campgrounds, Dummerston
Sept 23
Stop by for an evening of food, beer, fun and community. Events include music, circus entertainment and, best of all, street food. Participating food trucks include Jamaican Jewelz, Anon's Thai, Ferguson Maple Farms, Vermont Gelato, and Tito's Taqueria. The Whetstone Station will provide a beer garden. Music will be performed by the Gaslight Tinkers and Ohwego.
Springfield Steampunk Festival
Hartness House Inn, Springfield
http://www.springfieldvtsteampumkfest.com
Sept 23-24
The festival is a weekend-long event held in a Victorian mansion in Springfield, Vermont. Although the festival lineup changes annually, it always features music, workshops, activities for kids and adults, vendors, food, a fashion show, and absinthe tasting. The 2017 Springfield Steampunk Festival has a Circus Spectacular theme.
Brattleboro Literary Festival
Various locations in Brattleboro
http://www.brattleboroliteraryfestival.org
Oct 12-15
The Brattleboro Literary Festival takes over downtown Brattleboro with more than 70 authors in a series of provocative readings, panel discussions, and special events. A festival for those who read books and those who write books. Appearances this year by such authors as Stephan Burt, Jacob M. Appel, Katherine Arden, and Carolyn Forche.
Brattleboro Film Festival
Various locations, Brattleboro
http://www.brattleborofilmfestival.org
Nov 3-12
The Brattleboro Film Festival presents films from the United States and around the world that inform, challenge, entertain, and inspire, emphasizing viewpoints and characters often unseen in mainstream media. Partnering with local organizations, the Brattleboro Film Festival (BFF) produces and promotes special events, spotlighting issues to raise awareness, facilitate dialog, and increase audience diversity through community participation.
Fairy House Festival
The Nature Museum at Grafton, Grafton
http://www.nature-museum.org, 802 843-2111
Sept 23-24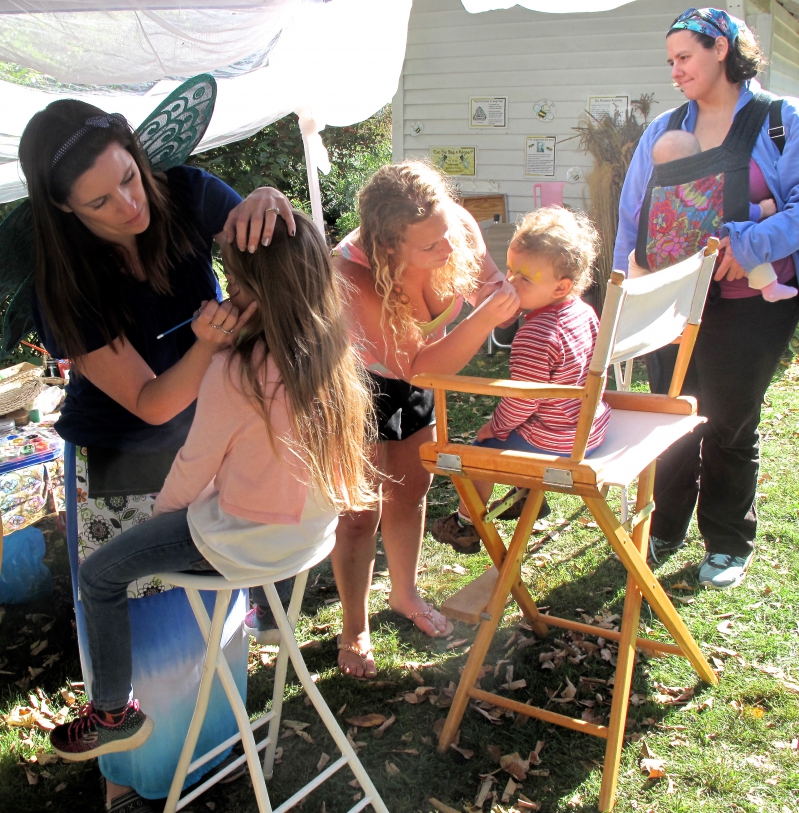 The 9th Annual Fairy House Festival runs from 10a-4p each day. Visitors will follow a nature path sprinkled with charming fairy houses, where the acorn cap dinnerware and shelf fungi table remind them to walk sprightly on the earth. Visitors then return to The Nature Museum to create their own fairy dwellings in the gardens.