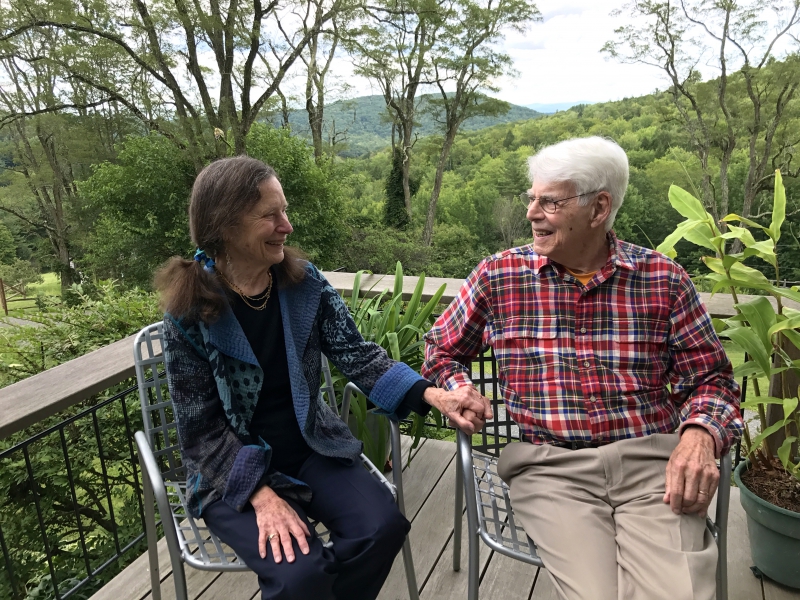 By Joyce Marcel
In the summer, artists Wolf Kahn and Emily Mason live and paint in paradise: a blessed hillside in Southern Vermont. At 90, Kahn is a colorist; Mason, 85, is an abstract painter whose focus is color. The rest of the year the treasured members of the Windham County community live in New York City, where they each have a studio.
They arrived in Brattleboro somewhat accidentally. In 1967, the couple began looking for a summer home; they found a house on a large parcel in Maine.
"Only problem was it was on the road to the dump, and there was a long line of seagulls on the roof and that didn't sit so well with my wife," Kahn told me on a recent visit. "Then a friend drove us around Vermont and we found this house."
"This house" is an old, mostly renovated shingled farmhouse tucked into the side of a hill. The views are spectacular. Lush, green mountains roll off to the distance, while closer in, landscaping that has taken years to develop encircles the house and hillside. The trees and bushes bend with blueberry, peach, and apple, all soon to be jams, jellies, and cordials. Colorful flowers bloom everywhere. The water-lily-covered pond is home to large frogs and two-foot-long koi.
Next to the house sits a huge, shingled barn. Two smaller outbuildings at hand house the artists' studios.
Inside the main house, a kerosene light mounted in the kitchen pantry gives a flavor of how the place looked when the couple bought this 1900-era property in 1968. The price: $9,000. Back then water came into the house through a gravity feed. The bathroom was in the basement.
Changes, of course, have been made. Today the plumbing is modern, and electricity courses through the wires. The couple enjoys a cathedral ceiling in their bedroom: a more recent addition.
The rugs on the floor are old and Oriental, and the paintings on the walls are not by Kahn and Mason.
"I never have my own work in my own home," Kahn told me. "It makes me too nervous. It's never good enough."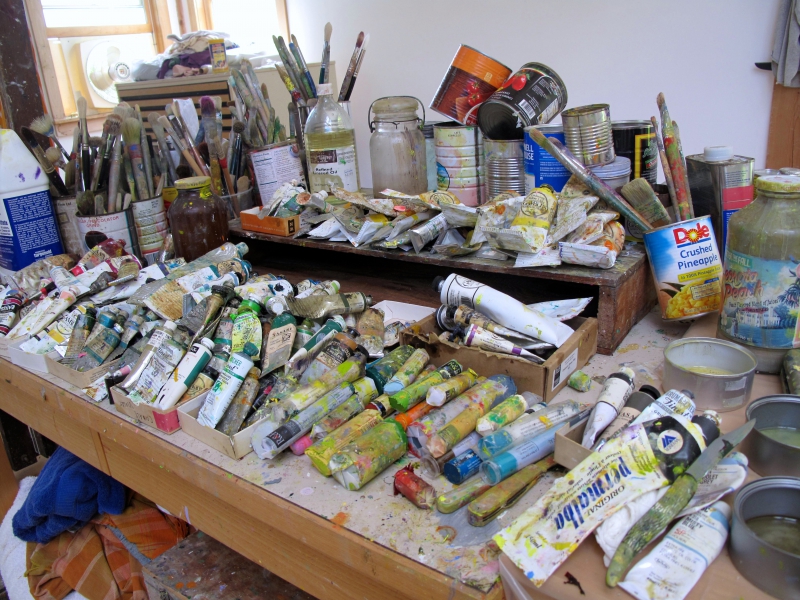 We were sitting in an alcove dining room that's walled with old barn board and filled with vases of flowers—including a collection of enormous pink and white peonies. Orchids bloomed on a coffee table nearby.
Outside the window, three bird feeders were hung high in a tree, out of the reach of any errant bears. A multitude of colorful birds flew among the feeders seeking seed. I saw orioles, goldfinches, woodpeckers, red-winged blackbirds, cardinals, and scarlet tanagers. They made it hard to pay attention to the conversation.
Kahn, with his shock of white hair, sported a sweatshirt and worn jeans. He talked as if he were a comedian working an open mic in a comedy club, all funny quotes and one-liners. Mason, barefoot and braided, made sure that everything her husband said was factually correct.
Asked his favorite painter, he he said, "Tell your readers that with the exception of Titian and Rembrandt, I'm my own favorite artist."
Then he added, "I'm joking."
He continued in the same comical vein when asked why the couple chose to live in Vermont.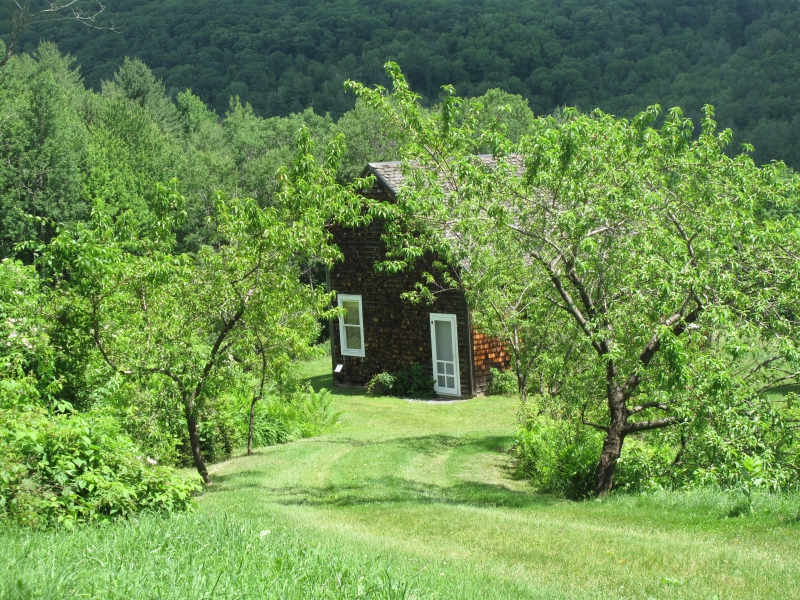 "A lot of things in Vermont I enjoy," he said. "The black flies, I don't enjoy."
The story continued: Once the couple was installed, they were surprised at how much they liked the area. "I had no idea there were music festivals like Marlboro and Yellow Barn," Kahn said. "There are decent restaurants, good walks, and vegetable gardens."
The best part, he said, might be the absence of other famous artists and the lack of a competitive commercial art scene.
"I'm glad that Brattleboro hasn't been an art colony like Provincetown or the Hamptons," Kahn said. "Yes, there are artists here. But compared to other places, it's a pittance. In the summer I like to avoid commercial entanglements."
* * *
Kahn was born in Stuttgart, Germany, in 1927. His father was a popular musician, composer, conductor, and teacher.
Kahn was drawing by the time he was 4.
"I drew the orchestra at the botanical gardens in Frankfurt at the age of five," Kahn said. "My father was the conductor. By the time I was 10, my painting teacher was a German aristocrat. She was a painter herself. The first thing she taught me to do correctly was to paint the fuzz on peaches. And ever since I've been painting equally far-out subjects."
Fleeing German anti-Semitism, the family ended up in the United States. Although Kahn graduated the University of Chicago with a bachelor of arts, his real training came from his mentor, the great abstract expressionist Hans Hofmann, who was his teacher in New York.
"He was a great painter and a wonderful teacher," Kahn said. "And I lived with him. He was German and spoke an English, which was almost un-understandable. He didn't believe in systems. He said at some point some genius would arise who would know how to systematize color, but until then you have to use your intuition. There were all kinds of color theories, but Hoffman didn't believe in any of them."
Although Kahn celebrates his European roots, Mason is American art royalty. One of her ancestors was the Revolutionary War-era painter John Trumbull (1756-1843). Her mother was the famous early abstract painter Alice Trumbull Mason, who was one of the founders of the group American Abstract Artists.
Kahn and Mason met in 1956 at the National Arts Club in New York City.
"They had such a thing in those days, before the artists all began to hate each other," Kahn said. "She had some guy with hair in his eyes and I figured, 'Hey, she's not hard to pry away from this guy.'"
Mason had just won a Fulbright scholarship to study and paint in Venice. "I didn't want to get involved with anybody," she said. "Of course, that's all I had to say to Wolf. I went to Europe and he came over."
At his going away party before he left for Italy, the great painter Willem de Kooning more or less told Kahn to bring Mason back.
"He said to me, 'I want her to come back with you. She's a wonderful girl,'" Kahn recalled.
The couple were married in Venice in 1957.
"We had to post the banns on the church door," Kahn said. Banns are a public announcement of a wedding, made in case anyone in town might have reason to object to the marriage.
Did anyone object to theirs?
"The whole town," Kahn joked. "And Emily's mother didn't like me anyway because I was a representational painter and she was an abstract painter. I didn't make Emily's mother happy by marrying her daughter. I don't know if she ever came around; I never asked her."
The couple lived in Venice for two years on Mason's Fulbright. Four years later, Kahn got a Fulbright himself and the couple returned to Italy, living in and near Rome for the next two years.
Then they returned home and began building their careers as painters, as well as finding time to raise two daughters. Over time, they established a routine of each going to separate studios to work, then meeting for dinner and social evenings.
Kahn taught at The Cooper Union for 17 years, as well a number of workshops at various locations. Mason also taught painting at Hunter College for more than 30 years.
No matter where they are living, the couple continues to work every day—even weekends and holidays.
"We're still able to work at our age while everyone else has to play golf," joked Kahn.
Both artists' works are represented in books, private collections, and museum collections.
Kahn's paintings are instantly recognizable: a rural setting, perhaps a pond, a line of trees and brilliant color built with multiple layers of paint applied in quick strokes.
Mason's paintings are luminous sheets of brilliant colors in abstract forms.
People often ask Kahn if his paintings are inspired by his life in Vermont.
"I say, No, it's just painting," he said. "But without any intention on my part, I guess it's Vermont."
* * *
Ameringer McEnery Yohe of New York City represents both painters. Mason's exhibition was in January, and Kahn's opens November 16. A collection of Kahn's recent paintings are on display at the Brattleboro Museum and Art Center, where he and Mason have long been important supporters and where the main room is named in their honor.
The Wolf Kahn and Emily Mason Foundation has also given grants to other New York and New England arts nonprofits, including New England Youth Theater; the River Gallery School of Art in Brattleboro; the Smithsonian American Art Museum; the Vermont Studio Center, National Academy, New York; In-Sight Photography, Brattleboro; the Provincetown Art Association and Museum, Provincetown, Massachusetts; Parrish Art Museum, Watermill, New York; and many other institutions large and small.
"I believe in a tithe," Kahn said.
And he refuses to theorize about color and paint.
"I have my own system for color but I've never formalized it," he said. "I know, for example, when I start putting in a color that doesn't seem to be appropriate, how to correct it. It all goes through my intuition instead of any knowledge. In fact I don't believe in knowledge."
Kahn said he doesn't believe in intelligence, either, at least when it comes to art.
"It's about intuition, imagination and fantasy," he said. "I try to use color as a compositional element rather than an emotional or decorative element. Hofmann used to come around and say things like, This blue is too dense. And we'd look and, sure enough, it was too dense. Once you have your nose pointed in the right direction, you can start smelling something. It's not about expertise. I don't believe in it. I believe in innocence of spirit."
Kahn said he feels he's led "a very fortunate life."
"And whenever I want to settle, Emily doesn't let me do it," he said with a wave of his hand.
Then he went off to feed the koi, and then to paint.