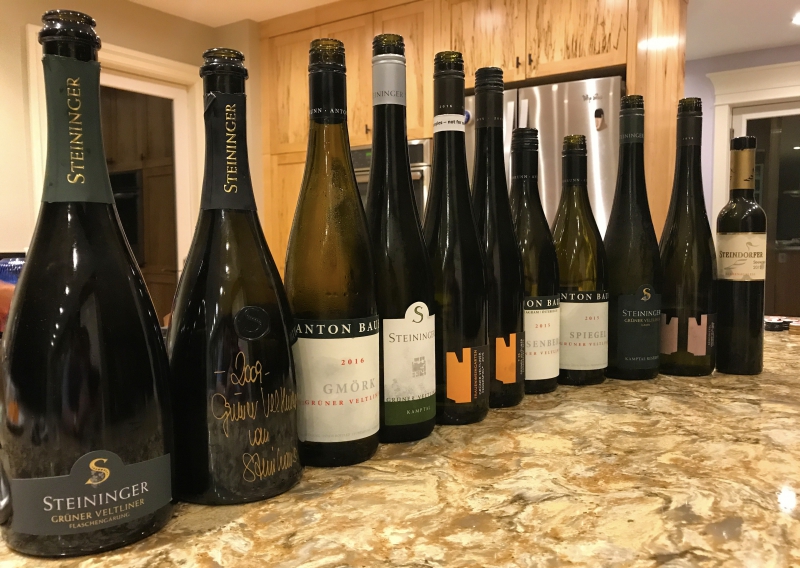 By Marty Ramsburg
One of the great things about owning a wine shop is that we have to try a lot of different wines. (I must say here that the greatest thing about owning a shop—hands down—remains our terrific, interesting and loyal customers. I am sorry if it sounds like pandering, but it is nonetheless true). We first became enamored with Austrian wines in 2006 just after we opened Windham Wines. Until then, we drank wines made mostly from the handful of grapes with which we were familiar. Within that small world we narrowed further to mostly red wines. We had a lot of catching up to do to stock a wine shop.
Our introduction to Austrian wines was Grüner Veltliner, and we were smitten. As Jancis Robinson, Master of Wine, notes on her website, "no self-respecting restaurant wine list, whether in New York or Hong Kong, can afford to be without at least one example of this, Austria's signature wine grape."
Why? Because "the quality of all Austrian wines has become so excitingly and consistently high," she says.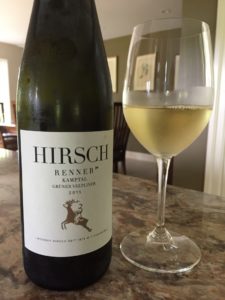 The path to that glowing reputation was rocky. After WWII, the Austrian wine market focused on bulk production of Grüner and Riesling, both for its home market and for its principal export market, Germany. Then in 1985, a group of Austrian farmers, pharmacists, and wine brokers was caught adding diethylene glycol, also found in antifreeze, to its bulk wines to enhance their perceived sweetness. The market for Austrian wine collapsed. Millions of bottles were destroyed, dumped into the ovens of cement plants so that their contents wouldn't contaminate sewers. West Germany banned the import of Austrian wine.
That scandal produced at least two consequential changes for Austrian wine: the passage, in August of 1985—just before that year's harvest—of strict regulations to ensure wine purity over quantity, and a search for sweetness that led wine brokers to search for substitutes to ripeness and natural sugars in the berries, causing Austrian wine producers to shift to drier wines that could be made even in cooler years when natural sugars were lower.
The highest quality of wines within the resulting six-tier Prädikatswein system pass rigorous testing in which each wine is examined visually and chemically, tasted, and found to be typical for the variety and vintage. The wines that qualify for the level of quality and pass those scientific and taste requirements boast an examination number on their cap or cork.
Austria now makes what Karen MacNeil's "The Wine Bible" describes as "some of the raciest, most exciting wines in Europe. To taste them is to be convinced."
We're convinced, and so are many of our customers.
Sixty-five percent of Austrian wine is white, and the lion's share of that is made from the grape Grüner Veltliner, a grape that can run the gamut from light, lean, green apple and lime flavors to lush, tropical fruit, flowers, and something refreshingly green like fresh peas, parsley, occasionally cilantro or tarragon. Our favorites tend to finish with a nervy jolt of acidity and spice.
After our first trip to Austria for wine purposes in 2008, we began to look forward to the arrival of the new vintage Austrian wines each year. In recent years, we've assembled our good friends who are also Austrian wine devotees, and enjoyed evenings together tasting the new vintages.
In mid summer, we collected again at Weingut (not really) Ramsburg-Larkin and sampled the newly arrived 2016 entry-level Grüners. We also eagerly anticipated single-vineyard Grüners from the historic 2015 vintage: 13 wines including two sparkling Grüners, all from the lower Austrian subregions of Kamptal, Wagram, and the Wachau.
There are too many wines for me to review here, so just know that it was a delicious evening, with the entry-level 2016s exceeding expectations and a single-vineyard (Lamm, the lower area of the Heiligenstein butte) wine from Weingut Steininger in the Kamptal leaving us all wishing we had a magnum. What a beauty! We had to agree with Robinson and MacNeil: Austrian wines, particularly their whites and—for our tasting, the Grüners—provided an impressive tasting experience with consistently high quality.
Windham Wines has one of the largest and strongest collections of Austrian wines in Vermont. Among the 25 to 30 Austrian wines we have in stock are 12 Grüner Veltliners: 11 still and one sparkling. We invite you to come in and select a few, collect a group of friends, and taste them together to discover for yourselves what makes Austrian Grüner Veltliner so compelling.