By Nicole Colson
Vermonters have plenty of reasons to rejoice in living here, including the more relaxed pace, the beautiful, bucolic setting, and the friendliness of people that comes from this charming lifestyle. We met three husband-and-wife teams of restaurateurs who relocated to the Green Mountain State for all those reasons — and one more. They have freshly grown and raised food at their disposal thanks to the bounty of nearby farms.
Here's something else these couples have in common: They all came up in restaurants in more metropolitan areas and then opened their own in Vermont. And why not? Patrons love the high-quality food and dining experience a farm-to-table eatery provides. Our restaurateurs' shared experience of working in the industry adds ease in their business relationship as they can share ideas in everything from menu planning to running the dining experience — with their offerings rooted in authentic cultural flair.
The Silver Fork
4201 Main St., Manchester
802-768-8444; http://www.thesilverforkvt.com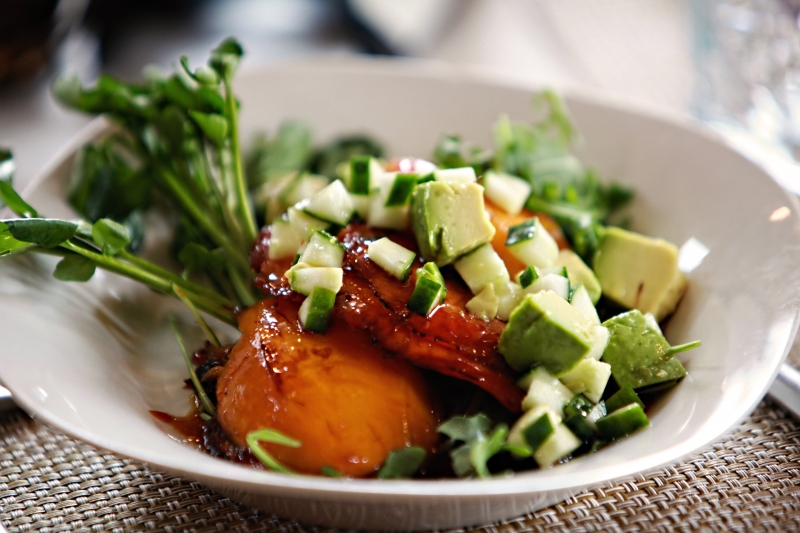 Creating an ever-changing international menu is the ultimate challenge for Mark and Melody French, owners of The Silver Fork in Manchester.
It's a culinary muscle Chef Mark is used to flexing; he worked for Hilton International for a decade.
"The hotel clients were well-traveled so we cooked international dishes," says Mark, who, then 27, was Hilton International's youngest chef.
What really has shaped the intimate six-table restaurant's cuisine is the couple's experience running their own restaurant in Puerto Rico for 13 years. Their Caribbean influence shows up everywhere on The Silver Fork's eclectic menu, from offerings such as tamarind mofongo (fried mashed plantain) with barbecued shrimp to pulled pork empanada to tuna ceviche to chicharrón de pollo (fried chicken fritter) — and even in desserts such as bread pudding soufflé with bananas and coconut crème anglaise.
Raised in Baltimore, Mark began working for a German chef when he was 16. His dishes, such as Wiener schnitzel and spätzle, have appeared on The Silver Fork's menu, which also reflects his background working in international hotel kitchens. With Mark, a French entrée such as escargots in pastry might well follow Middle Eastern lamb meatballs with cucumber, mint, and yogurt.
The pair were living in St. Louis, where Mark worked as a chef for a professional football player, when Mark's brother, who lives in Manchester, told them about the space availability in town. Two weeks later, they flew to Vermont to visit it. Within three months they'd relocated and renovated and opened their restaurant in 2012.
"We like that Manchester is a ski town and there are good schools here," Melody says.
Melody, who runs the front of the house at The Silver Fork, also began working in restaurants when she was 16. She's waited tables, hosted, stewarded wine, and managed.
The couple rely on each other for menu inspiration.
"I'll find an unusual ingredient or set of bowls and say to Mark, 'Hey, what could we do with this?'" says Melody. "In a half hour he'll have created this brand new, amazing dish."
Melody tells the story of how, one day, when a sales representative left behind an Asian balsamic vinegar for the couple to sample, Mark whipped up sautéed pears and onions over field greens with sliced almonds — then added the balsamic as dressing.
"It had sparked his imagination," Melody says.
The concept of farm-to-table is the same as what Mark calls "working with what's available." He would often visit a large farmers' market south of San Juan as well as a nearby mango farm for ingredients on his menu at their restaurant in Puerto Rico. "It just made sense," he says.
The pair carried the thread of sourcing ingredients locally at their Vermont restaurant. Cheese comes from Bardwell Farm in Pawlet and Thistle Hill Farm in North Pomfret.
Vegetables come from nearby Dutton Farm Stand (which has provided Gilfeather turnips this winter for Mark's gratin).
Manchester's Earth and Sea fish market provides a lot of the restaurant's seafood, which comes from Boston. "I buy live lobsters every other day," Mark says. He uses the shellfish in such dishes as risotto and pionono, a South American pastry.
The local concept carries through the cocktail menu, too: Melody uses local liquor, including Sapling maple-flavored liqueur distilled in Saxtons River; Silo Cucumber Vodka made in Windsor; and Tom Cat gin from Caledonia Spirits in Hardwick. She makes crème de cassis and vanilla bitters in-house.
Vermont-brewed beers served here include Switchback Ale, Long Trail Ale, Harpoon Pumpkin Ale, and Von Trapp.
The couple say they're especially proud to operate their business in such a self-sustaining community.
"I love the attitude in Vermont," Melody says. "Everyone is all about the local food movement and supporting each other."
SoLo Farm & Table
95 Middletown Road, South Londonderry
802-824-6327; http://www.solofarmandtable.com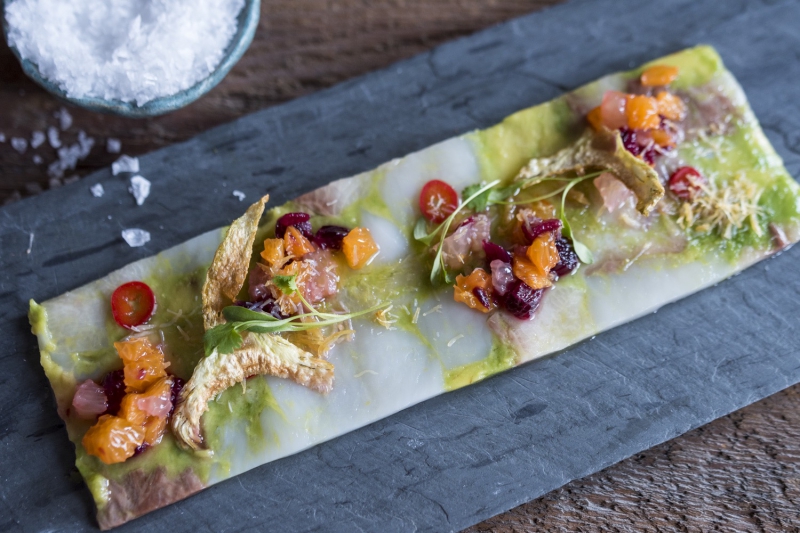 When Chloe and Wesley Genovart opened SoLo Farm & Table in South Londonderry five years ago, they wanted to bring hard-won metropolitan flair with them.
"We wanted to keep the same elegance and focus on quality, warmth and professionalism we love when we go out to eat," says Chloe.
Wesley, from Spain, leads with his heritage when creating the menu. "It's what he relates to," Chloe says. "What you can do in New York City and South Londonderry, Vermont, are two different things. In the beginning it was a constant struggle to find balance of doing food that both inspires us and fills the seats. We're at the point now that we have an amazing clientele who trust us."
By the tail end of her time there, their son, Rafael, was born. "I wanted to be able to see family in Vermont," she says. "Also if you're working in New York City, your salary would go toward a nanny."
Wesley also makes pork (aged and cured) sausages on a commercial scale. Moreover, the couple are in their second year vending at the West River Farmers' Market in Londonderry.
Respect for locally sourced food runs deep here. All of the restaurant's meat is sourced locally, some from just up the road. Wesley, who fondly recalls his grandmother butchering a pig every Sunday and saving the blood for blood sausage, butchers whole animals in-house and uses the entire animal on the menu.
"It's important to us that our son be able to walk down to the kitchen and into the walk-in and see a lamb hanging there or see the chickens we keep for eggs," Chloe says. "I want our children to know the source of their food."
Dosa Kitchen
At Grafton Cheese Village
400 Linden St. (Route 30), Brattleboro
646-388-2221; http://www.ledaskitchen.com/dosa-kitchen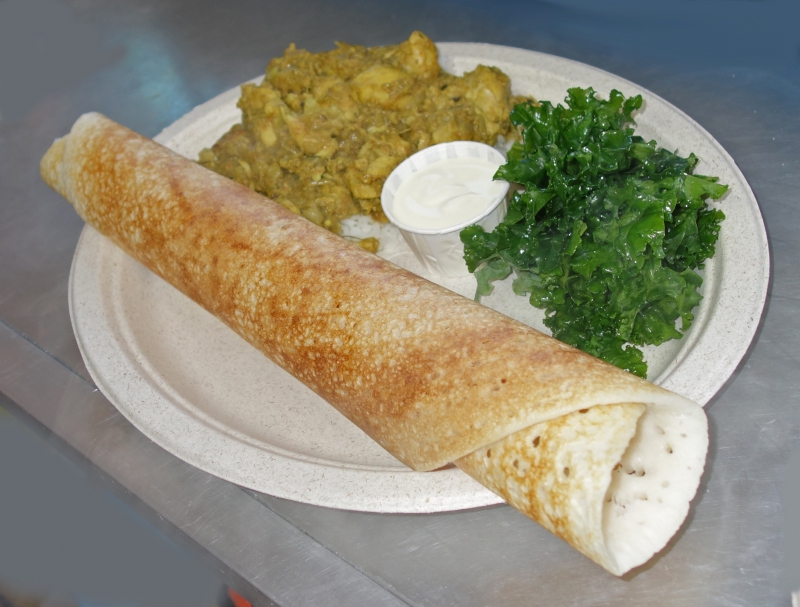 Chef Nash Patel and his wife, Leda Scheintaub, opened their food truck to showcase their shared worldly love of food.
It might be a stretch to imagine South Indian-American fusion cuisine, but that's the concept of Dosa Kitchen, Brattleboro's South Indian eatery.
The couple's relationship began nearly nine years ago in New York City, where Patel waited tables at an Indian restaurant and Scheintaub was his frequent customer.
"He would come to my table and tell me what to eat and how to eat it," Scheintaub recalls. "One day I asked him out and it's been one food adventure after the next ever since."
Patel, who moved to the United States in 2005, learned to cook from his mother. Scheintaub has written several cookbooks. She says her passion is fermented foods.
They traded the city for small-town life when they moved to Brattleboro in 2009.
"I love that Brattleboro has a vibrant downtown," Scheintaub says.
They talked about opening a food truck as a good way to fulfill their dream of running a restaurant while leaving their winters free to travel — mainly to India.
"We knew our cuisine would be Indian but we didn't want it to be traditional," Scheintaub says of the food truck, which debuted in 2014 and opens each season May 1. "As a couple we're nontraditional. We like to mix things up when we create recipes."
From her work on a cookbook filled with "Monday Night Football"-worthy recipes, her husband developed an appreciation for American food.
The cornerstone of the Dosa Kitchen menu is, fittingly, the dosa, a fermented rice and lentil (and gluten-free) crêpe that is a staple of breakfast in South India. "It's on every street corner there," says Scheintaub. "They're versatile — anything you can put between two slices of bread you can roll into a dosa."
These treats require only a few ingredients, and because they're fermented they're very easily digestible.
When Patel reached Brattleboro he didn't know how to cook South Indian cuisine. "When I started, it came right to me," he says. "Although I still often calls my mother and consult with her on how to cook some things. There have been a lot of Skype calls, some at late hours."
Patel makes from-scratch dosas ranging from the classic masala dosa (rice, lentils, potato, methi, curry leaves and served with chutneys and sambar) to his signature creation: a "dosa dog" featuring a beef and pork hot dog with house-made cultured mustard, Patel's own masala sauerkraut (with turmeric, mustard seeds, and fennel), and Grafton cheddar cheese.
Other dosa recipes the pair created include one filled with falafel and hummus (the hummus made with lime juice and Indian spices), a lox and cream cheese dosa, and a Thai-Indian fusion dosa with curried lamb.
In addition to showcasing South Indian food, it was important for the couple that their restaurant be farm-to-table. They purchase ethically raised meats and dairy products from local farms. Pork comes from Center Mountain Farm in Marlboro, and beef from Black Watch Farm in Springfield. Wild Carrot Farm, five minutes from the truck, provides greens such as kale for their kale and masala sauerkraut salad.
The rest of their produce they procure from Windham Farm and Food.
"We look forward to the different seasons and what veggies we can get," Scheintaub says. "This winter we used a lot of cabbage from the winter farmers' market and made a lot of sauerkraut and kimchi. It's easier to keep those foods seasonal because they're fermented."
The couple are at work on a book about dosas. "Every recipe features a dosa," Scheintaub promises.
Most importantly, they are having fun working with each other. "We're constantly testing and sharing new recipes," says Scheintaub.